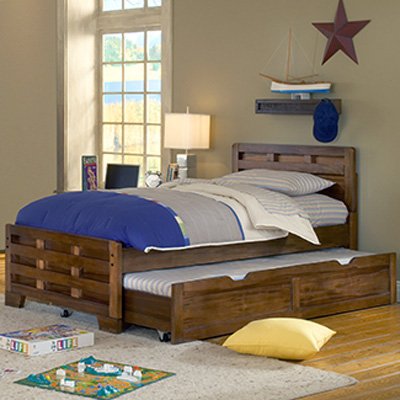 Trundle beds are a convenient space-saving option for buyers with limited space. They normally consist of two single-size mattresses. Users store one mattress beneath the other by rolling it into the frame on built-in wheels or casters. Manufacturers create a broad variety of trundle beds. Some products double as day beds, while others serve as a standard bed with a headboard and footboard. Both innerspring and memory foam mattresses are available for trundle beds, allowing buyers to select the option that is most comfortable for them. Products vary in terms of their price, craftsmanship, and style, so buyers should consider the full range of trundle beds in order to find the best items for their needs.
Frames
Manufacturers build frames for trundle beds from either metal or wood. The specific material used affects the cost, weight, visual appearance, and longevity of the bed.
Wood
Wood is the most common material used in the construction of trundle bed frames. If buyers would like to use the product as a day bed, they should look for products with a high back along one side of the bed. This allows pillows to be stacked for a backrest. Otherwise, several frames exist in a basic bed style, with slats beneath the mattress and the option for a headboard or footboard.
Wooden frames vary greatly in terms of price and durability depending on the species of wood that is used. In general, hardwoods are a better option than soft woods, though they are also more expensive. The following table lists common woods used for trundle beds along with a description of each.
Type of Wood

Description

Durable hardwood

Red oak has a pink tint and is popularly used for furniture

Sometimes stained in other colours

Medium to hard wood

Features a distinctive reddish hue

One of the most expensive woods

Medium to hard wood

Highly durable

Commonly stained in different colours

Medium wood

An inexpensive option

Less durable than hardwoods

Softwood

Features a light yellow colour

Often stained to appear darker

A budget option
The craftsmanship of a trundle bed also affects durability and appeal. For example, a well-made beech frame is preferable to a poorly constructed maple one. When possible, it is best to examine product reviews for information about a bed's quality before committing to a purchase.
Metal
Some manufacturers also use metal for the frames, and a handful of products on the market combine wood and metal. For example, a frame with a wooden platform may feature metal posts. These frames are typically less expensive than wooden ones.
Mattresses
The two primary mattress types used for trundle beds include innerspring and memory foam. A hybrid of the two also exists. These mattresses differ in several important ways, so it is useful for buyers to be familiar with each type.
Innerspring
Innerspring mattresses are the most common type found on trundle beds. They are comprised of steel coils surrounded by a layer of upholstery and fabric for comfort. These beds provide support for sleeping or sitting. They also breathe well, which means they stay cooler than mattresses made from memory foam. There are several types of innerspring mattresses, and the types of coils used affect the overall comfort and stability of the mattress. The number and type of coils found in a product varies between manufacturers, so buyers should try mattresses from multiple brands to find one that matches their needs.
Memory Foam
Memory foam is a newer type of mattress built with polystyrene foam or latex. The material shapes itself around a person's body when in use and returns to its natural form afterward. Manufacturers construct memory foam mattresses with varying levels of firmness. These mattresses provide more natural support than innerspring mattresses, though they are also warmer due to their thickness. Users who are accustomed to innerspring products may find they need a period of adjustment before they feel comfortable on a memory foam mattress.
Hybrid
Some mattresses use the foundation of a steel coil innerspring mattress and pair it with the softness of a memory foam layer. These mattresses remain cooler than memory foam units and provide a more traditional feel for users who are accustomed to innersprings.
How to Buy
Sellers list all types of trundle beds on eBay. Buyers can also look for deals while they shop. The easiest way to locate items on the eBay website is to enter keywords into the search field on the homepage. Search results can be refined by clicking on category links or by adding new terms. Take a moment to review seller profiles to ensure a positive buying experience. Look for eBay users with a high number of completed transactions and a strong positive feedback score.
Trundle beds offer a flexible space-saving solution for any room in a home. Consider the type of materials used for the bed and compare listings between sellers to find the most suitable products available.