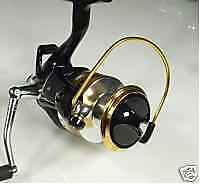 An Aussie company cocky enough to call itself "TuffTackle" would have to produce tuff tackle or they just wouldn't be Australian, right? As far as the XTA 6000B Bait feeder reel goes, the tuff claim is not being facetious. Their words are even backed up with a 3 year warranty. I was fortunate to get one of these reels on eBay at the reserve price; I wouldn't be surprised if I can't repeat that luck.
My partner and I do a lot of jetty fishing for largish fish using live bait and get broken off quite a lot, and more often than not, it was the tackle that lets us down. We want to only use stuff that works well, otherwise fishing would be just a frustrating experience and we would go home without a feed. Tackle, especially fishing line and terminal tackle are so important, but without the foundation of a decent enough reel, the use of the best line in the world would be an injustice.

We don't go to extremes and purchase $1,000 plus fishing reels as we would need to kill an awful lot of fish to break even in the food gathering stakes, so we look for and demand reasonably priced stuff that actually works. While fishing, I hear a lot of other people complain that so much fishing gear is just crap and simple doesn't work at all, they feel ripped off. We have found that the XTA 6000B is a real choice, it's a "fair dinkum" reel.

A big problem we had to solve was to get the right tackle combination to bring in 20 to 25lb fish such as Spanish mackerel, giant Trevelli or the odd Barramundi, all of which require a lot of fishing line on the spool as they can go like freight trains. We only use P-Line Spectrex 30lb braid, which gives a great line gauge (.33mm) to strength ratio, this size line puts us in the right fish range we chase. Its green, the same colour as the waters we fish in and thin enough to be stealth when mackerel are on the bite. It's very difficult to find a reel that will hold enough fishing line for the long runs these fish are capable. If this ability isn't satisfied or a person tries to stop these fish short and "skull-drag" them in, they will get free. The XTA 6000B suits this purpose well when other similar sized reels won't, a lot of line fits on the spool.

We like the drag, which is rated as 14lb and is so smooth because of its bearing spool. This not only allows these fish to take long runs, it is good insurance when the fish decides to take their hard second and third runs. It's so nice to use this reel with confidence, knowing it can cope and won't jam up allowing the fish to break the line. This drag will hold when the pressure is applied though, the ability to turn and actually bring in the fish is well within this reel's capabilities. Some other reels might be hopeless in this regard causing lose of all the fishing line, but not the XTA 6000B.

Another feature we like about this reel is the handle, which allows for a firm grip so that the reel won't get torn out of your hand. It is chunky and cushioned so a firm grip can be made.

Unlike older style reels with this line capacity, this reel is lightweight enough to be held for long periods. This is great when waiting for hours to get a bite or for using with a fast tapered rod for casting with artificial baits. We have our reel combined with a medium sized 9ft rod to allow for lifting the line over the high jetty piers as the fish run around the jetty or it becomes necessary to head for the beach to land a big one.

The beauty about this company is that they back up their product by supplying parts such as spare spools. It's real easy to order online and the service is quick. Spare spools are necessary these days to allow fishing with braid or mono and should really be standard with all new reels bought. We change over to 20lb P-line green fluorocarbon or 17lb cxx x-tra strong when fishing from the dingy chasing Mangrove Jack, Threadfin Salmon or Bream with bait or lures. It just seems better and more practical to use mono around snags and rocks. A person doesn't need to pay through the nose to obtain a spare reel or two from Tuff Tackle, unlike other brands.

The XTA 6000B has many other worthwhile features added to suit Australian conditions, they have put thought into their design. Quality stainless steel components ensure this reel will last long enough to become a dependable old favorite in the tackle box. I believe that one day it will be an Aussie classic, particularly as the company moves more and more towards Australian manufacture.

The XTA 6000B looks and feels good even when it is first taken from the box and placed on a rod, and it's performance satisfies this initial introduction.