Tupperware Lifetime Warranty
I myself love Tupperware products a lot :) There are no other products in the world that I know of is providing lifetime warranty to their customers. But there are a lot of people had misunderstanding about Tupperware Lifetime Warranty works. A lot of folks will just take their tupperware containers that had defect and bring to Tupperware Center to ask for replacement, but end up the Tupperware representative told them that the defect is not entitled for the warranty.
TUPPERWARE PRODUCTS ARE GUARANTEED BY THE COMPANY AGAINST CRACKING, WARPING, PEELING AND CHIPPING UNDER NORMAL DOMESTIC USE.
TUPPERWARE LIFETIME GUARANTEE DOES NOT COVER INSECT & PEST BITES, STAINS, MELTING, CUTS, SCRATCHES, IMPACT DAMAGE PRINT AND DISCOLORATION.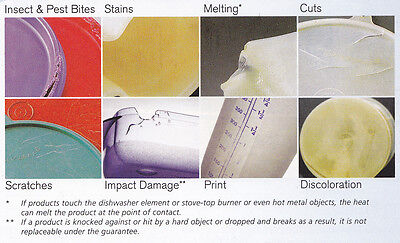 What To do if the Tupperware Center do not have the replacement parts with them?
Please note that sometime when you ask for Tupperware replacement, the tupperware center you visited may be unable to replace for you since they do not have the parts. What you shall do is get their tupperware center contact number, and the item code for the parts that you wish to replace for, and ask them an exact date when will be the replacement part will arrived.
When it reached the promised replacement date, make a call to Tupperware center, give the item code over the phone to make sure the replacement part is there before you drive to the Tupperware center directly. This method will prevent you from wasting time on revisit the tupperware center again and again to seek for the unarrived parts.
* If the Tupperware parts that you asked for replacement is a discontinued item, Tupperware will compensate your replacement as the price when your brought your existing Tupperware container.
For example, If the tupperware container that you asked for replacement, you brought at selling retail price of AU 30.00, and it is no longet produced by Tupperware anymore, you can replace with other current Tupperware products that is also having retail price of AUD 30.00. If you wish to replace with a current product with AUD 35.00, you will need to top up AUD 5.00 to the Tupperware center.
But please note that if you chose the current product retail price that below AUD 30.00, Tupperware center wont refund the balance to you, that is their policy.. Well, when think of I can replace my existing tupperware container that I used for past 20 years for a new one.. it is really nothing I want to complain about :)
It is also important to bring full set of the tupperware container that you need to ask for replacement for when visit the Tupperware center in dry and clean condition. Why?
Tupperware wont do the replacement for you when your container is fill with water or other food content, they will only take back your defect item that in clean and dry condition. Secondly, if your item is not replaceable due to it is a discntionued Tupperware products, then you want to replace for new current product, you will need to return the full set of your existing defect tupperware container to them in order for the replacement entitlement.
You can Check The tupperware products that we are selling Here
Thanks for taking the time to read my guide.
If you found this guide helpful, please vote YES below.
Voting YES helps others in the eBay community.
Cheers :)