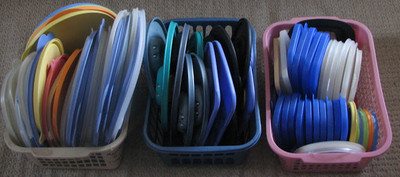 Too many Tupperware taking up all your cupboard space? Do not fret, here are some storage tips!
1) First, pull out all of your containers and lids and lay them on a counter or table. Examine everything and recycle, repurpose, donate, or discard any containers that don't have mates or are broken, warped, or otherwise damaged. Also, ask yourself whether you truly need all your containers and get rid of any you realistically never use.
2) Sort and store containers by shape and size. Depending on your containers and space constraints, you might want to nest and stack smaller containers inside larger ones and store the lids separately. Or, match lids to containers right away vow to always store them together.
3) Store containers and lids in a single location, such as a cupboard or drawer, with room to arrange, stack, and easily access them. The more accessible the space, the easier it will be to keep the containers well organized. Prevent containers from getting lost in the back of a cupboard by installing a pull out drawer.
4) Keep lids together in a box, basket, or zip-top bag, or arrange them standing in a dish rack or napkin holder. If you need boxes to store lids or smaller containers, check out lovelydesign's photos and tutorial for making custom-sized boxes.
5) Consider starting fresh with a new, matching set of containers. Look for designs with interchangeable lids or that can nest easily, like these Tupperware's Modular Mates. If space is limited, you might be interested in collapsible containers such as the
Tupperware Goflex
!
6) Resist the urge to save every take out box, margarine tub, etc. Saving them might make you feel temporarily "green," but there's no point if all they do is clutter your cupboard. Recycle what you can, and eliminate packaging in the first place.
7) Finally, make a conscious effort to put your containers and lids away properly, and ask household members to do the same. Soon, it will become habit and you'll never again have to worry about container clutter :)