A guide for buyers of ethnic and tribal gemstone jewellery.
This guide will help you know what you are buying.
The two most common fake stones are turquoise and Lapis Lazuli.
GENUINE TURQUOISE:
Natural Turquoise is very expensive and very hard to find these days.
We visit a large numbers of jewellery producers in our travels all over the Americas and the only place we have found high quality natural Tourquise (outside the big dollar jewellery galleries and the odd artists workshop) has been at the Gem Expos and down a mine in New Mexico! So needless to say there is alot of fake stones out there!
How to tell if it Fake
Its appearance:
Many items labelled "TURQUOISE" are not.... and yes while it may look real and even feel real... the sad truth is that more often than not, it is usually made from cheap artificially manufactured stones that have been expertly dyed to imitate natural turquoise. Even the black veins are reproduced in these so called stones!. A real good clue is that if the stones look too perfect or like a shiny turquoise coloured PLASTIC that is because they are!!! They are made from epoxy resins.
The Feel:
These man-made stones are generally lighter in weight and don't have that cool / cold feel of real stone.
Inside:
In some beaded items you can have a look in the hole in the bead if its white then it is probably imitation turquoise produced by using chemical dyes to tint and colour other cheaper stones such as Howlite.
Price:
99 cents ? as usual it is buyer beware as most Turquosie sold on eBay is fake especially that out of China.
The following quote is from the Gem and Mineral section of the Wikpedia enclycopedia and sums the situation up nicely...
Even material used in Authentic Native american and Tibetan Jewellery is often fake or at best heavily treated......
CHRYSOCOLLA:
also called "Torquoise, Peruvian Torquoise or Mesoamerican Torquoise".
Peruvian Turquoise is actually "Chrysocolla", a semi-precious gemstone that comes in a wide range of appearances and colours. It is the copper in this silicate based stone which gives it the intense blues and greens. When it has been intermixed with chalcendony and or opal it forms a stone hard enough to be cut and polished, it is in this rare form that it becomes suitable for use in high quality jewellery. A more common low grade chalky and soft chrysocolla can be dyed or painted to look like high quality chrysocolla. Beware these stones scratch easily and they look cheap when examined closely, they also lack the stunning veins seen in high grade stone.
Chrysocolla often can be found to have a similar colour to genuine Turquoise.
It has been valued in jewellery by the Incas, Aztecs and other ancient cultures for its colour and beauty.
As you can see in the example the photo below, Crysacolla or Peruvian Turquoise can look absolutely stunning .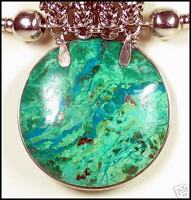 GENUINE LAPIS LAZULI
Lapis Lazuli (stone of blue) has been treasured by anicent cultures from as long ago as 5000 BC! It is formed from a combination of other minerals but its lazurite which gives it its famous blue colour. The finest examples are of an extemely intense blue (known as ultramarine) which is not to be mistaken for the very dark blue of dyed imitation stones as commonly found for sale on eBay etc.. these stones just look far too dark a shade of blue and will often show a grey cast under lights.
They will also fade with time!
Imitation Lapis Lazuli is very common. In more recent times large volumes of synthetically produced Lapis have flooded the market place. Some of it is such a good quality that it is hard to tell apart from the real thing. A good rule of thumb is most high quality Lapis goes into making exactly that high quaility jewellery you buy from 5 star stores or galleries at corresponding prices!
SODALITE... sometimes sold as... Lapis Lazuli
Most handmade ethnic style jewellery ( especially from Central and Sth America) is made not of Lapis but from a semi-precious stone know as Sodalite. It varies widely from pale blue- grey (common) to quite deep royal blue (rare), it does not reach the true ultramarine colour of Lapis though. Sodalite is actually a constituient mineral component of Lapis Lazuli as Lapis is technically a rock. It is still a very beautiful gemstone in itself which is hard and polishes well it can look stunning if of high quality.
Example of a stunning disk of Sodalite.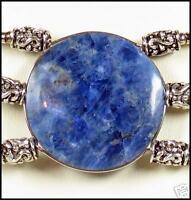 How to recognize fake and genuine LAPIS LAZULI:
Colour:
Lapis Lazuli has that gorgeous deep dark blue (ultramarine) colour, it is like looking into a bottomless pool or well of water. The fakes just look like a dark flat blue some show a grey colour cast.
Iron pyrites:
Natural Lapis usually has silver or gold colour particles that glitter (from the iron pyrites) which are seen inside the stone, these shine when observed in the sunlight and are a good indicator that it is real. Though some good quality fakes are now showing this feature also.
Price:
I rarely come across genuine Lapis in my travels these days although ten or so years ago it was very common. Good quality Lapis is expensive! When I do I buy all that the artist has on offer!
The photo shows an example of the blue colour of the Lapis Lazuli from the only mine in South America producing it which is in Chile.



ABOUT PHOTOS & COLOURS
When buying any item where colour and how it looks are important it is wise to be aware that both the process of digital photography and the variation in computer monitors can cause a wide difference between the product and what you are seeing on your screen. Always something to keep in mind......
A FINAL THOUGHT . . .
It is not my intention to put folks off buying plastic, glass or imitation over real stones... but to educate buyers so that they understand the difference between these stones and as such do not end up paying more for something else and are therfore able to make a well informed purchase.
Maybe one day vendors who sell both PERUVIAN & OTHER JEWELLERY will label stones by their correct names and will not mislead customers into thinking they are buying something different or more valuable.
I hope buyers who have read this page are now more knowledgeable and are able to make a more educated jewellery purchase here on eBay.
HAPPY EBAYING!!!