Let's sort out the confusion surrounding buying Twilight trading cards in boxes, shall we?
These cards are out of stock, with no more of this particular series to be printed, hence they are very valuable to fans! The Pieceworks cards, in particular, are the "pot of gold". These cards have an actual piece from a costume worn in the movie and there are 12 to collect, with Edward and Bella's cards being the favourites. These cards came ONLY in certain boxes (one per box), which is where the confusion begins! There are quite a few disappointed buyers out there!
If you are buying a box and expect to get a Pieceworks card pay attention to the following:
1) Pieceworks cards are only included in HOBBY boxes. According to Inkworks own website, "they are found
exclusively
in packs sold at hobby stores, card and comic book retailers".
2) Boxes which contain a Pieceworks card have the words "Look for Pieceworks Cards One per Box" prominently displayed on the front of the box AND on each individual pack in the box. The other boxes don't. Search eBay for "Twilight Cards Hobby Box" and then "Twilight Cards Box" and you will see the difference.
3) Hobby boxes are sealed with clear plastic that has the "Inkworks" logo printed all over it. The other boxes are sealed in clear plastic.
4) Sellers who are selling hobby boxes on eBay know that these are the ones everyone wants and will be sure to make a point of letting you know that it is a HOBBY BOX.
5) The seller is really only obliged to tell you what the item IS, not what it's NOT so
the onus is on you to check! DON'T ASSUME!
6) Some newer or inexperienced sellers may not realise the distinction and claim that there is the chance of finding a pieceworks card when they actually selling one of the other type of box so be alert to that!
For a detailed checklist and information straight from the horse's mouth, go to Inkworks website (sorry, eBay policy prohibits me from including it here but it's pretty obvious - you're smart...I'm sure you'll figure it out!).
I hope this information prevents an expensive mistake. May you all find a PW-2 (Edward's T Shirt) in your Twilight box! :)
OK, so I took a picture for you!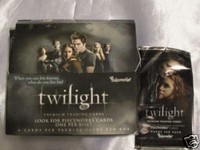 A hobby box & wrapper - The second and third lines of text under the twilight title are missing on the boxes which went to retail chains. If you want a hobby box, look for those extra lines of text.