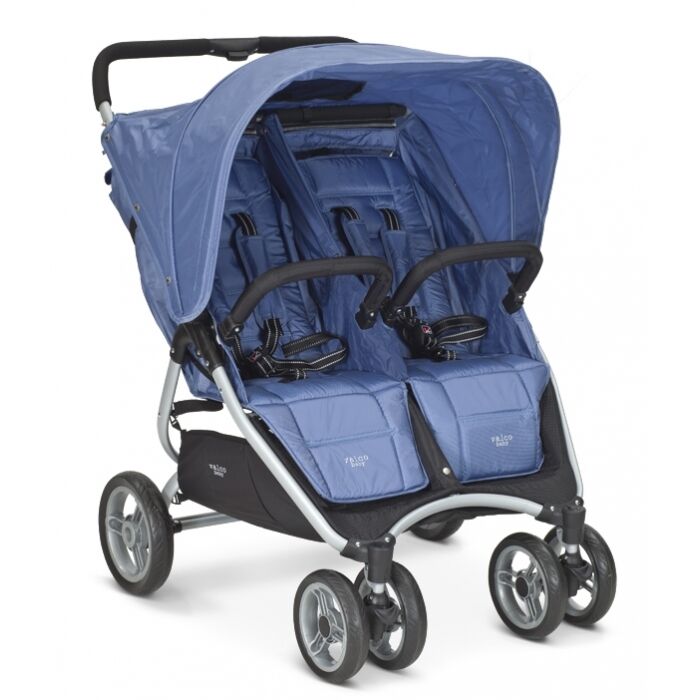 One of the most difficult decisions a twin parent must make is picking the best twin stroller. Whether one is looking for a tandem twin stroller or a double stroller, there are multiple models to choose from. Parents should take into account all the features and characteristics of different products prior to making a purchase. Parents should keep in mind the fact that the twin stroller they buy can make their life as new parents easier or, on the contrary, frustrating. This is why it is important to learn more about different types of twin strollers before buying one for the little bundles of joy.
What to Look For When Shopping for a Twin Stroller
Having twins is a remarkable experience, but it can also be quite a challenge, especially for first-time parents. As parental responsibilities entail extra effort and time, buying a twin stroller is a necessity. The main purpose of a twin stroller is to offer the twins a safe place to sit during travel. Strollers also come with extra space for shopping or carrying various items that are essential for the babies. Twin strollers come in various styles and colours and parents can choose from several brands, including Valco, Maclaren , Mountain Buggy , BabyLove , and more.
Durability
Durability is one of the most important things to consider when shopping for a twin stroller. Taking into account the fact that parents should be able to rely on the stroller they buy for at least two or three years, they should not waste their money on a cheap stroller that could break easily. A high-quality twin stroller does not necessarily have to be very expensive, but it should have a solid build as well as metal joints instead of plastic ones.
Style and Convenience
When it comes to style and convenience, buyers should consider both the looks of the stroller and how easy it is to push it. Parents should keep in mind the fact that they are going to use the stroller every time they leave home with their infants, so this is why the stroller should look nice. The comfort of the infants is also important, so the stroller should feature padded seats as well as removable washable fabrics that allow parents to take care of the inevitable spills.
Lifestyle
The parents' lifestyle is important when shopping for a twin stroller. There are parents who love to go on long walks every afternoon and there are parents who want to be able to fit the stroller in the boot of their car. Whether parents are living in a big city on in a rural community, they should take their lifestyle into account and choose a stroller that works well for most situations.
Types of Twin Strollers
Twin strollers are available in two types. Each type has its pros and cons and parents should review these prior to making a purchase. The two main types of twin strollers are front-to-back or tandem style and side-by-side style. In a tandem stroller, infants sit one in the back of the other, facing forward. In a side-by-side stroller, infants sit next to each other. The chart below summarises the main characteristics and features of each of these strollers.
Type of Twin Stroller

Main Characteristics

Features

compact strollers ideal for travel

ideal for a newborn and older child

single canopy hood

individually reclining seats

fully retractable rear seat for a sleeping infant

rear wheel brakes

separate foot rests

removable and washable pads

restraining straps with safety buckle

lightweight

easy to fold

fits through normal-size doorways

may sometimes be difficult to manoeuvre

thick padding

individually reclining seats

removable and washable pads

storage basket

footrest

single shared canopy

restraining straps with safety buckle
Many twin strollers come with various accessories that can make a parent's life easier. Among the most common are bottle bags, travel systems, stroller blankets, cup holders, parasols, rain covers, shopping baskets, and baby changing bags.
Buying a Twin Stroller in the Right Fit
When shopping for a double stroller, one of a parent's main concerns is whether the stroller fits into their vehicle or through the doors in their home. In order to make sure the stroller has right fit, consumers should not forget to check the dimensions of the product prior to purchasing it. They should also take into account the weight of the stroller, not only because a heavy stroller may be difficult to lift, but also because some parents may have a hard time pushing a large stroller with two infants. Buyers should also consider the weight limits of a particular stroller, particularly if they plan to use it when the infants get to the age of two or three. This is also important for parents who have a newborn and an older child, as not all strollers are suitable for this situation.
How to Buy a Twin Stroller on eBay
Buying a twin stroller on eBay is one of the easiest ways to find the exact type of stroller you are looking for. Simply by typing the words 'twin stroller' into the search bar of the website you get access to a multitude of items, in both new and used condition. Narrow down the results to speed up the search and make sure you read the product description carefully, especially when it comes to dimensions. Twin strollers are an excellent way to make sure your two infants travel safe at any time. By taking advantage of the large selection available on eBay and eBay Deals, you can get the right stroller in no time.