Twylite ceramic electric jugs strike as unforgettable, featuring an electrifying lightning bolt motif on each side, its ultramodern style embodied the belief that electronic inventions like this would revolutionise the world.
Lightning Bolt Motif



Height = 230mm Width = 170 Depth = 200mm
Made by Twylite starting 1930s
Electrical appliances originally took the shape of the pre-electric item they replaced but by the 1930s they were redesigned to create a modern look. The streamlined bodies of Twylite jugs bear images of the new energy source... electricity!
The earliest jugs with ceramic lids are the most sought-after, they've lived through a world war so finding them intact after so many decades is lucky. During the 1940s durable Bakelite plastic lids replaced the fragile ceramic ones and these became a favourite all through the 1950s and 1960s.
Two transfer stickers were applied, the Twylite brand logo occupied and left circular centre of the lightning bolt while underneath electrical specifications are given.

Outstanding as ornamental kitchen features, they have made a huge comeback in the form of stunning retro collectables. For those who've used them, its flash of lightning strikes you as unforgettable as the cuppas you enjoyed from it. They are just as appealing today.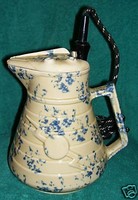 c.1930
Since you've read this far I'm sure you found this guide useful so please vote!