Types of 12x12 Paper Storage
One of the biggest issues for scrapbookers is storing 12x12 paper. There are several systems for storing 12x12 paper and these are outlined below. Each has it's advantages and disadvantages, and you need to think about issues of space and use before selecting the best system for yourself.
Horizontal Storage
There are several types of horizontal storage:
Wire Racks
These come in two varieties. Wire systems are good because they are very light and can be collapsed for easy storage when not in use and for shipping.
Cubes:

There are those based on storage cubes with shelves in them. You can usually make these yourself, constructing as many racks as you need or you can buy them in pre-made kits.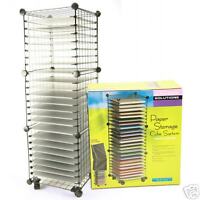 Racks:

These are more shelf like constructions, which usually come in 10 shelves per rack. These are the sort of storage system often used in scrapbooking shops.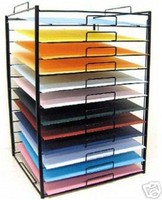 Plastic Stackable Shelves
These come individually or in sets. They are plastic storage shelves, similar to the Wire Racks. These offer good protection from dust as there are no gaps like the grids of the wire systems. They are also lightweight.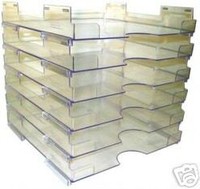 Wooden Shelves
The wooden system again comes in units of 10-12 shelves. Good protection from dust and the elements. These systems can be very heavy and this adds to postage costs.

Paper Storage Totes
This option is available only in one brand that I am aware of. The Crop in Style P3 tote. This is a wheeled tote that has collapsable shelves. You put you paper on the shelves, when in use you open the shelves up to access the paper. When not in use, you collapse the shelves and store the tote.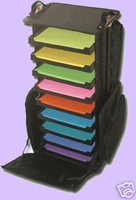 Folders
A very compact paper storage system is that using vertical folders. These are very similar to magazine folders. You can put all the paper in, using dividers or you can buy smaller pouches, which fit into the folders to divide/sort your papers. This is a very good system if space is an issue. I find it easy to get the paper out, though some people feel edges can be damaged using this system.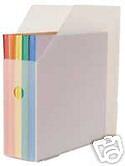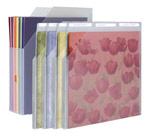 Concertina Folders
This system is similar to old manilla concertina folders used to store papers. It generally has several divided areas with tabs to identify what is in each section.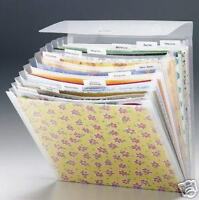 Hanging Files/Filing Cabinets
These are special, 12x12 hanging file or filing cabinet systems. They tend to take up a fair bit of room, and I've found that the paper can tend to bend and mis-shapen. However, it is easy to sort your paper and to access it when needed.
Which System to Use?
When deciding which system to use there are several things to consider:
How much space do you have?
Where is your space? On your desk, wall mounted, book cases etc?

How much paper?
Do you want to be able to take it with you to crops?

I hope you've found this guide useful. If you have, please take the time to vote for the guide. If you have any questions not answered in the guide or suggestions for other guides (I love writing them!), please click on my username in the top right hand corner to send me a message.