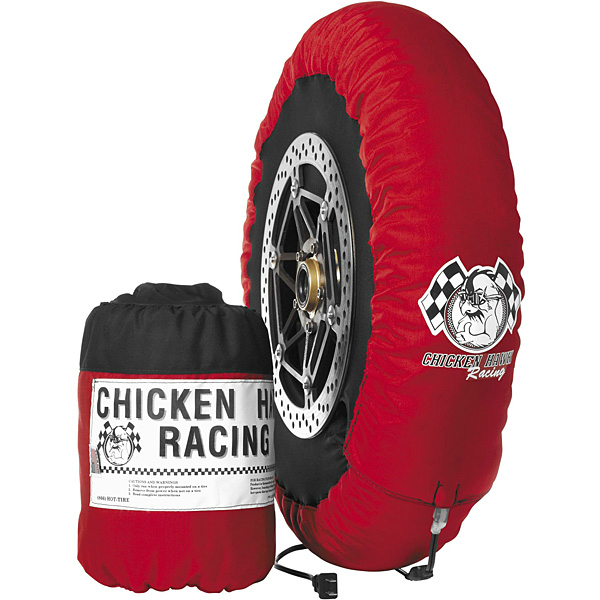 When racing a motorcycle, it is important to have the tyres at operational temperature, which is usually between 95 and 100 degrees Celsius. Reaching operational temperature by riding alone can take four to six laps, which may be a significant portion of the race. To prevent this loss of time, racers can use tyre warmers to heat their tyres just to just below operational temperature. Tyre warmers are special-shaped electric blankets placed over the tyres before the race.
When shopping for tyre warmers, buyers should inform themselves in advance about the features and specifications to look for, since poor-quality warmers are ineffective and potentially damaging. With the right information, buyers can find a set of warmers that can heat their tyres evenly and effectively, so they are ready to race their best from the start line.
Advantages of Tyre Warmers
Before tyres reach operational temperature, they do not perform optimally. Tyre warmers help improve performance by ensuring that the tyres do not start off cold. Ultimately, this improved performance gives the racer more confidence, letting them focus without distraction.
Improved Adhesion
When they are cold, tyres are less flexible, and because their hardened surface does not grip the track optimally, the driver has less control. Tyre warmers improve traction from the very start so that drivers can handle the first turns with ease and race with confidence. When every second counts this can prove to be a significant advantage.
Increased Tyre Life
Tyre warmers also help in the long run by preventing what is known as cold tearing or cold shedding. When tyres start cold and gradually heat through contact with the road or track, surface rubber tears off and forms small balls at the edge. Since warmer tyres undergo less shedding, using tyre warmers can reduce wear and increase the overall life of the tyre.
Preliminary Considerations Before Buying Tyre Warmers
There is a range of tyre warmers on the market, from basic models to customised, professional versions. Before investing in a set of tyre warmers, riders should take a few things into consideration. Casual, occasional, or beginner racers, particularly those who may change bikes in the near future, may be perfectly suited by a basic set of quality warmers. More serious racers should consider additional features and customising options, as top-of-the-line tyre warmers give professionals the advantages that can help them race their best. That said, quality should be a priority for any buyer, since low-quality tyre warmers may be ineffective or even damaging.
Tyre Warmer Construction
A tyre warmer's basic construction consists of a nylon or fabric sleeve that fits around the tyre tread area, and a set of resistance-wire, heating elements inside the sleeve. The wire may be arranged in a zig-zag configuration or circumferentially, with the latter being the preferred choice, as it reduces potential for wire breakage and distributes heat more evenly. The heating elements connect to a bi-metallic temperature switch, which then connects to a mains supply or power generator. Higher-quality tyre warmers feature additional options, like multi-temperature switching, on/off LED indicator lights, digital control, superior materials, additional insulation, and sidewall skirts.
Insulation
Without proper insulation, much of the heat generated by the tyre warmers dissipates. As a basic requirement, quality tyre warmers should have an outboard layer of silicone or glass fibre to direct the heat towards the tyre. Additional inboard insulation, featured in more sophisticated models, helps distribute the heat evenly, and may prevent burning or melting in the case of improper use.
Heating Elements
Most quality tyre warmers use silicone rubber-coated wound wire, which is lightweight, durable, and tends to radiate heat more evenly. Although wire bonded into silicone sheets or printed carbon heating elements are superior when it comes to even heating, they are more expensive and fragile, and therefore costly to repair. Buyers should avoid low-quality warmers with non-insulated heating wire, fabric-coated wire, or non-wound stranded wire.
Heating Rate
A tyre warmer's heating rate refers to how long it takes to achieve the desired temperature, e.g., 80 degrees Celsius. The majority of tyre warmers operate at around 500 watts per warmer. Heating elements with higher resistance take longer to heat with the same amount of energy than those with lower resistance. While some manufacturers boast fast heating rates, this may not actually be desirable, since it may drive out some of the tyre's natural and necessary water content. Furthermore, damaging hot spots may occur before the bi-metallic switch recognises the temperature.
Sidewall and Rim Heating
Warmers that heat the tyre tread surface only may do little service to the overall tyre performance. If the sidewall and rim are still cool, the tyre loses heat more rapidly once the warmers are removed. For that reason, better-quality tyre warmers feature a sidewall skirt, fabric that extends over the tyre sidewall, and preferably covers the wheel as well.
Additional Tyre Warmer Features
Buyers have the choice of additional features for their tyre warmers. The following chart outlines these common options.
| | |
| --- | --- |
| Feature | Description |
| Thermostatic Control | Allows user to adjust temperature; range of optional temperature settings; good for those using tyres with higher or lower operational temperature |
| | User can control warmer temperatures for individual tyres; digital display show exact temperature; four- and six-face versions for team use |
| Moveable Thermostat | Thermostat can be moved to different places on the warmer to read temperature at various points on the tyre |
| Customised Design | Option to customise tyre warmer to match team or individual colours and logo |
| Elastic Tension | For fast and easy warmer mounting and removal |
| Pull Cord | Warmers tie on to tyre with securing loop and toggles for tighter fit |
| Velcro Straps | Hold warmer securely in position |
While quality construction should be a priority when selecting tyre warmers, these extra features add convenience and customised control, which can also be an advantage on the track.
Choosing Tyre Warmer Size
Tyre warmers are sized to fit certain tyre sizes. Sizing may vary from manufacturer to manufacturer, so it is important that buyers understand the brand's sizing system, and choose according to the size of their bike's tyres.
Where to Buy Tyre Warmers
Tyre warmers can be purchased from motorcycle accessories suppliers, both in person and online. Buyers have a wide selection of online sources; they can order directly from the manufacturer, through online retailers, or on websites like eBay.
Buyers should note that warmers made overseas may require a transformer to work in Australia.
How to Buy Tyre Warmers on eBay
If you are shopping online for tyre warmers, be sure to check out eBay's website, which regularly features deals on all your motorbike needs. To search for tyre warmers, simply go to the eBay home page and type "tyre warmers" into the search bar. You can then narrow the search results by selecting factors like seller location, condition, and price range.
Once you find a set of tyre warmers that interest you, read the full listing carefully. Check for specifications and sizing information, and see whether there are additional postage fees. If you have questions, you can contact the seller through eBay. Finally, you should get to know the seller a bit more. Check their feedback score and comments from past buyers to make sure they are reliable and knowledgeable.
Conclusion
Tyre warmers can give racers a distinct advantage on the track by heating motorcycle tyres to just below their operational temperature. Because tyres perform better at that temperature, riders benefit from secure grip and responsive handling, which can in turn improve their confidence and race time. Tyre warmers also help increase the life of the tyre by reducing cold shedding.
When shopping for tyre warmers, buyers should look for certain features that ensure even and effective performance, such as silicone rubber-coated wound wire, circumferentially-arranged heating elements, and outboard insulation. Inboard insulation and sidewall heating add to the overall quality, while features like digital temperature control make the warmer more convenient and versatile. By informing themselves about what to look for in tyre warmers, racers can find a durable, quality product to enhance their racing performance.
tyre warmer|tyrewarmer|motorcycle tyre warmer|digital tyre warmer|race tyre warmer