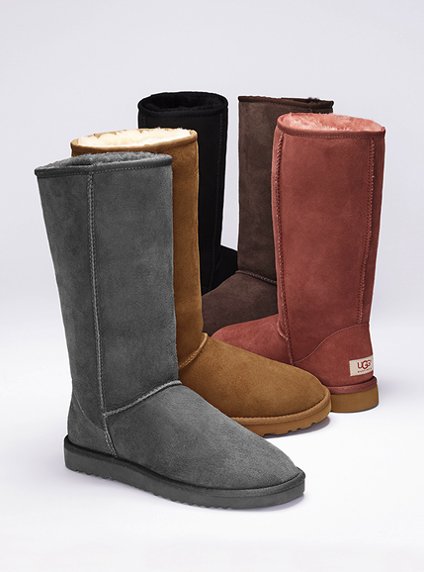 Ugg-style boots were originally developed in Australia and New Zealand in the early 1900s as a casual footwear option that provided warmth and comfort, and are sometimes referred to as "ugh" or "ug" boots in their native lands. Made of sheepskin with a flat sole, ugg-style boots were adopted in the 1950s by Australian and New Zealander surfers as a means of keeping their feet warm during surfing competitions. International surfers began to export the style of ugg boots back to their home countries. In 1978, Australian surfer Brian Smith co-founded the UGG Australia company to respond to the growing global popularity of the boots. Since their introduction to the global marketplace, UGG boots have become a fashionable footwear option with the general public. Buyers can purchase UGG boots through local retailers and online marketplaces like eBay. Before shopping for UGG boots, however, buyers should be aware of the debate concerning the authenticity of UGG boots vs. competitor products, UGG product descriptions, the construction of UGG boots, and the features available to be certain they purchase the exact pair of boots to match their personal preferences.
Debate Over the Use of the UGG Name
Because the term "ugg" was generically applied throughout Australia and New Zealand to describe flat-soled, sheepskin boots, the trademarking of the UGG name has been disputed by a number of manufacturers. This has led to some confusion for buyers who want to purchase authentic UGG Australia items. UGG Australia, which was sold by Brian Smith to the American company, Deckers Outdoor Corporation, in 1995, distinguishes its boots from its competitors by using its UGG brand name, spelled in capital letters, and its trademark logos, like its mark depicting a starburst orange sun that is engraved on the soles of UGG boots. Before purchasing any boots, buyers should look for authenticating markers to establish if a pair of boots is indeed produced by UGG.
UGG Boot Product Terms
UGG is continuously developing its product offerings to match the demands of the marketplace. There are a number of descriptive terms that they have applied to various boot product lines that buyers should know to distinguish between the different types of boots that UGG sells.
| | |
| --- | --- |
| UGG Boot Product Terms | Description |
| Mini | Reach to a wearer's ankle |
| Short | Extend upward to just below the middle of a wearer's calf |
| | Reach almost to the top of a wearer's calf |
| Button | Feature an UGG logo button and can be designed in mini, short, or tall UGG boot styles |
In addition to these descriptive product terms, UGG has a specific product line called "Classic", which replicates the simple form of the ugg-style boots first used in Australia and New Zealand. Because the Classic line for UGG is so popular, the company manufactures Classic UGG boots in a rainbow of colours and heights. Thus, a buyer can purchase Classic Mini UGG boots in electric blue and Classic Tall UGG boots in black, for example, to have a variety of options when they want to wear their UGGs.
UGG Boot Construction
UGG boots may look like simple constructions, but they include a number of distinct parts. The design of these construction elements helps UGG boots provide wearers with the warmth and comfort strongly associated with the brand. Before shopping for UGG boots, buyers should determine their preferences for boot construction techniques and materials to narrow their purchasing focus to a select group of UGG boot product lines.
Upper
The upper of an UGG boot is the section of the boot that stretches across the top of a wearer's foot and extends upward towards the ankle and knee. Although Classic UGG boots feature Grade-A, twin-faced sheepskin, different product lines include a variety of materials.
Shaft
The shaft is the specific section of an UGG boot's upper that rises vertically from the lower part of the upper and covers a wearer's ankle or calf, depending on the height of the shaft. To create the shaft, additional pieces of the fabric used to construct the upper are added to the bottom part of the upper and stitched in place. Because UGG places a high importance on quality, the stitching used to attach the shaft to the lower section of the upper should be evenly-spaced and secure.
Insole
The insole of an UGG boot is the interior section of the boot's sole. To provide superior comfort, UGG uses a sockliner made of curly sheepskin that can contain synthetic materials that offer wearers reflective thermal protection. The reflective materials in an UGG boot's insole minimise heat loss in cold weather conditions and decrease heat build-up in warm weather conditions.
Outsole
The outsole of an UGG boot is the exterior section of the sole. Classic UGG boots feature a lightweight outsole that is created with moulded ethylene-vinyl acetate (EVA). UGG boot product lines that are developed for rainy or snowy conditions include a proprietary Vibram outsole with repetitive lug patterns to increase traction while still allowing flexibility. UGG boots developed as fashion boot alternatives can include outsoles made with materials like beachwood or rubber.
Heel
Although the Classic UGG boot has no discernible heel, other types of UGG boot product lines include a heel to give wearers some elevation. Depending on the style of the UGG boot, the heel could be fashioned out of a separate piece of material and attached to the boot's outsole, or the heel and outsole could be moulded from one piece of material.
UGG Boot Features
When comparing different types of UGG boots, buyers need to determine which features they find most beneficial. The Classic UGG boot is a slip-on boot style, but other UGG boots can include zipper or lace closures. To increase the warmth of some boot product lines, UGG applies real fur, which is typically sourced from Australia, the European Union, or the United States. UGG boots can also include stylish design elements like dome-shaped studs or turn-down shaft cuffs with contrasting interior fabric.
How to Buy UGG Boots on eBay
Buyers committed to finding authentic UGG boots can use eBay as a source to locate a variety of popular UGG styles. Since eBay sellers can offer both new and pre-owned UGG boots, buyers should check the condition of a pair of UGG boots before making a purchase. If buyers opt to purchase used UGG boots, they should look for any signs of serious damage, such as holes or tears between a boot's sole and upper. Although eBay features UGG boots at a variety of price points, buyers looking for a bargain can check out what is available in eBay Deals' Women's boots as part of their search for UGG boots. If buyers have any questions about the size or condition of a pair of UGG boots, they should contact a seller directly to request information. This direct access between buyers and sellers helps to promote a satisfactory eBay transaction process.
Conclusion
Ugg-style boots had humble beginnings as a utility-type boot used in Australia and New Zealand. Because of their popularity with the international surfing community, their customer base grew outside of their home countries and began to include wearers around the world who liked the boots for their look and comfort. The UGG Australia brand boots have become the most recognisable ugg-style boots globally and include some product lines that stray from the original appearance of the classic ugg-style boot. Before buying UGG boots, buyers should understand how their unique construction can improve a wearer's comfort in a variety of conditions. Buyers should also determine which features they want their UGG boots to contain before shopping. Once buyers identify what they are looking for, they can visit eBay to find a range of UGG boot purchasing options.