Professional, Safe and Secure for attaching your new charms yourself
The locking design link lock is safer than an open or split jump ring, no soldering required.
Size: approx 4mm wide x 6mm height
Metal: sterling silver
Design: locking jump ring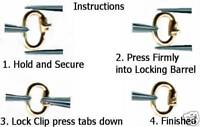 Step 1
Attach your jewellery the same as you would a jump ring and holding your jewellery press both the two ends of the Link Lock together with a pair of pliers, to a closed position with the notch in the barrel.
Step 2
Use a pair of pliers push the flap down to permanently lock the Link Lock.
Your jewellery is now securely joined together without using a solder join.