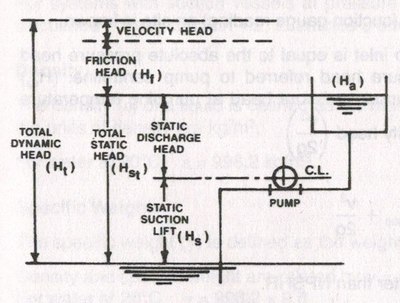 What is Total Dynamic Head?
What happens when you read H Max: 120m? Like many others, you will probably assume that H Max means the pump is able to deliver the fluid vertically up to 120m (Static Discharge Head). It sound very impressive and chances are you will be disappointed when you found out that the pump flow rate does not deliver anywhere close to that. There are two reasons why the pump does not perform up to your expectations:
Reasons #1: The H Max refers to the Total Dynamic Head and this is made up of the Total Static Head (Static Suction Lift + Static Discharge Head) + Friction Head + Velocity Head. Most buyers only have the information "How high do they have to pump the fluid? i.e. Static Discharge Head. They may also have some vague ideas how much water they would like to have at the end of the pipe discharge.
The Velocity Head and Friction Head data can be found in the Australian Pipe Friction Handbook. Since the eBay seller is not a mind reader, they may not be able to advise you of the Velocity Head and Friction Head without actually speaking with you and understand your pump system requirements. The Friction Head and Velocity Head can be quite substantial for smaller pipe diameter with high flow rate and longer pipe distance between the dam and the rain water tank in rural property.
Reason #2: Buyers sometimes leave out the Pump Curve from the Product Description. This means that theoretically, even though the pump H Max is 120m, the corresponding flow rate is actually often ZERO. Please read my Buying Pump guide:
Understanding Pump Curve.
Most buyers too often blame cheap pumps that doesn't do the job, however the buyer needs to understand that they do need to be able to provide the correct information such as the Static Lift (The distance between the water level and the pump suction Hs), The Static Discharge Head (The vertical distance between the pump discharge and the water level Ha), Flow Rate (LPM), Types of Pipes (Polythylene- Rural) and Pipe Diameter in order to have a seller determine the Velocity Head and Friction Head before they can recommend the appropriate pump that will do the job.
No two pump applications are the same, what works for Joe next door may not work with you. Take your time to discuss your requirements with the eBay seller and ask them for their technical expertise in recommending the most appropriate pump for your application. For further information, please contact Andrew at 0481-585-994 or visit us at
our store.