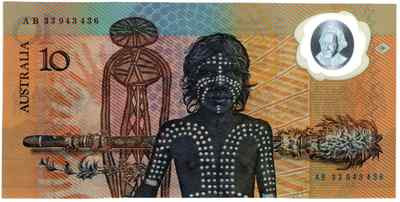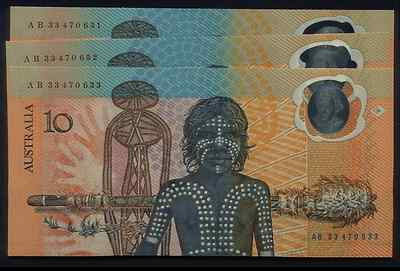 The $10 polymer note adds much confusion to the novice collector, so here is some info which will help you understand what happened, why there was two print series, and how to identify 1st and 2nd release notes. There is also the commemorative issue overprinted with the release date and available in the blue folders.

The NPA started printing on a single sheet, prefixes from AB10 to AB33, 24 notes to a sheet, which started from 000 000 specimen, and then from 999 999 down to say 900 000 (estimated) and released these notes, but noticed during printing most notes were of low quality.

Only notes in the ranges of AB10 - AB33 949 999 to 930 000 and 969 999 to 960 000 were technically released - the rest were probably destroyed due to low quality. So perhaps just shy of a million first print notes at most made it out into circulation. (24 prefixes from AB10 to AB33 with 3 ranges of 10,000 notes each makes 3 x 10,000 x 24 = 720,000)

The printing run ceased after a few days, and better improvements were made. The notes were then REPRINTED from AB10 to AB57 starting from 999 999 and going down. However - NO two notes may share the same serial, so notes in the second print run ranging from AB10 - AB33 949 999 to 930 000 and 969 999 to 960 000 were skipped meaning that they were not printed at all (or they were and set aside to be destroyed)

So what are we left with:

For a note to be first release it must:

1) be in the range of AB 10 to AB 33 (because anything after AB33 was on the 2nd print run and the 2nd lot ranged from one sheet being 10 to 33, the other being 34 to 57, 24 notes on each sheet)

2) it must have the 3rd and 4th numerals as 93, 94 or 96.

Therefore AB 25 334 549 is not first prefix, nor is AB 34 933 123. The photos show two notes with similar serials. The stand alone note (AB33 943436) is a genuine last prefix note of the first release. The trio (AB33 470031-3) is not a last prefix and actually from the second release. The trio sold for well over $500 on eBay because buyers most likely believed they were getting a good deal. In reality, as second release notes they can be found for $25 each quite easily, even in runs. The seller in this case had done nothing wrong and stated they were second release.

I have seen countless auctions of people bidding hundreds for serials in the AB33 range that are mistaken for first release and last prefix. Remember to confirm that the 3rd and 4th digits match the requirements above.

As for the Commemorative issue, there are also notes that formed part of a special release to staff at the NPA and are worth significantly more, with serials from AA00 0... onwards. However it should be noted that standard AA notes in the commemorative issue can also share a AA00 0 serial so it is best to not buy these notes if you are looking for the staff presentation notes specifically. It would be much safer to purchase these from a well known dealer.

Hope that helps!