Unique Customised 1973 VolksWagon Beatle Convertible!!!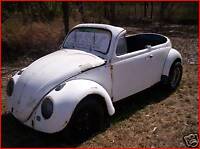 1973 VolksWagon Beatle Convertible
This VW Sedan has been cut into a Convertible
and has been registered in Qld with Extensive Engineering that would pass any inspection.
The body is complete but has the normal rust repairs needed for a vehicle of this age.
This old VolksWagon has all it's Instruments but has no Interior or Motor,
and all its lights are there with wide wheels fitted to the back.
The Front end & Rear drive assemblies are complete & in good working condition,
and all that needs to open & shut does so without any difficulty.
This vehicle will make a great Micro Custom / Rat Rod,
which are getting harder and harder to find!!!
We can arrange delivery, at buyers expense.
So don't miss out on this Remarkable Old Vehicle
at a bargain price!!!
Returns
As a bonus you also have my 100% Guarantee...
If the item is not exactly as advertised,
just contact me and i will happily refund your money!!!
Good luck with your bidding
and check out my eBay Store for more amazing bargains...;-]
I really hope you find this guide useful and if you have,
please make sure you place a "vote" for it by hitting the Yes button at the bottom of this guide where it says "Was this guide helpful?"
By hitting "yes" you place a vote for it which increases my ranking.
Be sure to check out my other guides and have a wonderful day!
suan