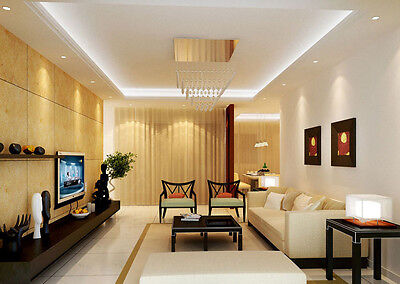 Lets face it LED lights are the future...
You may consider CFL (compact fluorescent lights) dangerous or bad for the environment, perhaps you want a more efficient light source or just like the look of LED lights! Whatever the reason you have decided to replace your halogen or CFL with LEDs. This guide is to help you avoid some common traps and give you some tips to make it a little easier. I have tried to keep it simple and brief.
The first step is to work out how to go about it. Generally speaking you have to decide whether to replace the bulbs of change the whole fitting. Of course that will depend on what you have now, for example if you have low voltage halogen downlights you may be able to get them replaced for free by your local electricity supplier.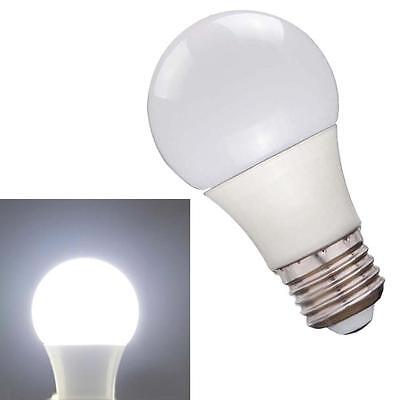 Replacing CFL bulbs with LEDs
If you wish to simply replace your existing bulbs with LEDs it should be simple but unfortunately its not that easy. Most LED's only transmit light between 120 and 180 degrees and are usually located in the middle of the light bulb this means only half the bulb is illuminated. Although that works well for downlights and other recessed type light fittings it can be a bit of a problem in a simple batten mount light. Some of these LED light bulbs still look quite nice when used with certain light fittings. Another solution is to buy the speciality type or retro LED bulbs many of these are available on eBay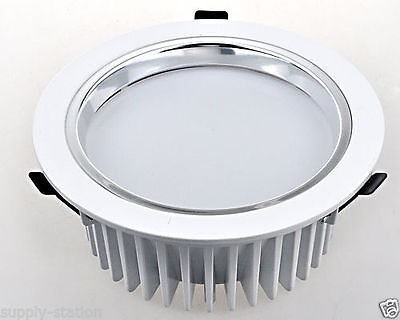 Changing the light fitting
Although many new LED light fitting are coming on to the market most still seem to be recessed style and they look great in modern homes but may not suit your current home design or décor. These LED downlights are relatively cheap and reliable and available in a variety of finishes on eBay. Unfortunately most of these fittings should also be fitted by a licenced electrician. It may pay to discuss it with your electrician before purchasing any on eBay as he or she may not be prepared to fit them.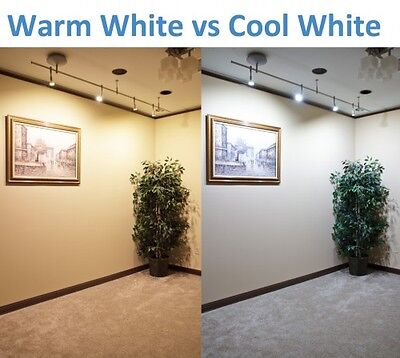 What colour?
When you start looking you will see reference to colour temperature, warm white (2800K to 3500K) and cool white (6000K to 6500K). Warm white is more like your old halogen bulbs, it tends to be easy on the eyes and can be preferable for bedrooms and dining rooms. Cool white usually better for kitchens and bathrooms, it can be a bit harsh but can assist in seeing detail, for this reason it is often used in workshops. Cool white also is good for showing that your house has been upgraded to LED's but it's a personal choice.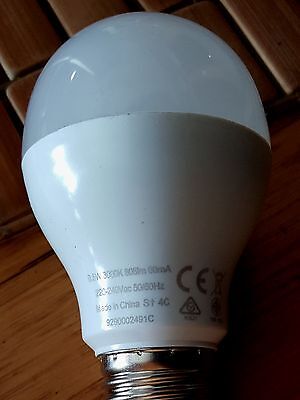 How Bright?
Ok this is where the traps really start. There are many theories as to what is an ideal replacement value and that would depend on how efficient the LED light is and how honest the seller is (ouch!). Yes unfortunately it seems many sellers just print what they think rather than the truth but more about that later. Put simply, brightness is measured in Lumen meters (or sometimes Lux) but not in watts, however we seem to be more comfortable in buying light bulbs by its rated watts. LEDs are getting more efficient but at the time of writing the better ones still only achieve up to about 90 lm per watt and many are still as low as 60 lm per watt. What this means is a quality LED bulb may be a lot brighter than a cheaper eBay equivalent. eg a Philips 9.5 W boasts 800 lm where a cheaper eBay bulb may only achieve 540 lm. Forget the wild claims made by some sellers, as a rule of thumb your LED bulb should be about 1/6 the value of a halogen light and about 1/2 that of a fluoro. This means the 9.5 watt Philips LED bulb mentioned earlier will be about as bright as an 18 - 20 watt fluoro or 60w Halogen bulb. This may be OK for a bedroom or living room but you will probably want more light in the bathroom or kitchen.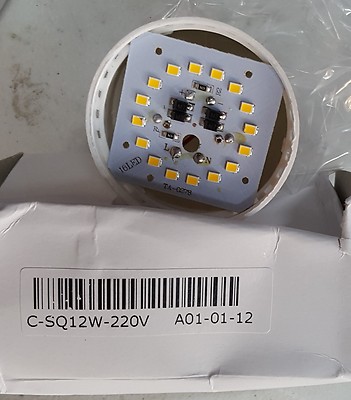 What brand LED bulb to buy?
This a problem, a little while ago I would say check to brightness in Lumens (lm) of the bulb you whish to buy, see if it is efficient in the wattage quoted and keep in mind you get what you pay for. However lately I have found many sellers (usually based in Asia) simply lie and quote figures far in excess of the item. It is difficult when the seller claims a flood light is 50 watts, 4000-4500 lm and when you test it, its only 36 watts and 3000lm. Naturally the seller claims to be honest and will take it up with the supplier but continues to sell it on eBay..... Recently I purchased some 12 watt LED bulbs (expecting them to be about 7 - 9 watts really) but was really shocked to find they were less than 3 watts and 1/10 the brightness (only about 80lm) . These lights didn't even have a heat sink so they will probably fail quickly.
Imagine if the petrol companies adopted this attitude, charged you for 50 litres of petrol but only supplied 20 litres?
Conclusion or confusion
Unfortunately until eBay take action against sellers telling blatant lies to sell their product I would have to say avoid unknown brand LED lights and if you do get caught complain, demand a refund and leave appropriate feedback.

Not all unbranded LED items are rubbish but the influx of cheap Chinese products that don't adhere to standards make it difficult for the others. Also Ignore logo dropping like CREE or ROHs and CE approved because although they are reputable logos these items don't always have the legal right to use it.

Its not all bad..... LED lights are great but you are best advised to stick to known brand names or known Australian resellers that stand behind their product with 100% satisfaction guarantee. There are several Australian businesses selling LED lights on eBay and they usually specialise in lighting.....

Personally I have tested several brands like Philips, Osram, Lummax and Click brand bulbs and found them to good quality and reasonable brightness per watt. I also found ECO lighting bulbs to be high quality but they do exaggerate the brightness a little. I am sure there are other brand ones out there that are good that I have not tested.

LED flood lights are great too, I use a lot of them and they provide a good light using fraction of the power. However assume the seller has exaggeration syndrome, if they are selling a 50W light is really 36W, an 80W is really a 50W a 100W its really a 70W