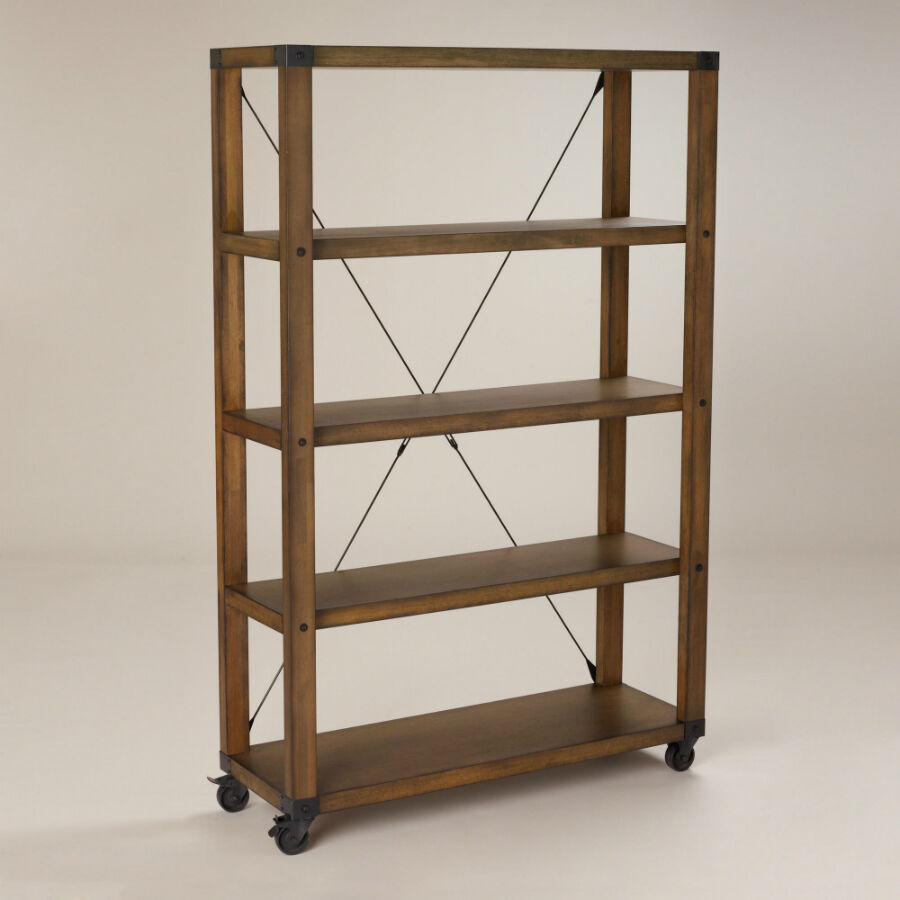 Bookshelves are often referred to as bookcases, and although they are important and necessary to avid readers and in some professional establishments, bookshelves are commonly overlooked when homeowners consider furniture. Whether exposed, so to show off a book collection, or with doors, so to hide away the appearance of clutter, bookshelves are an extremely efficient use of storage space.
eBay has a large range of used bookshelves, offered at extremely affordable prices. There are a number of different types, including different sizes, colours, and materials, which is sure to suit all types of buying requirements. This guide will demonstrate to potential buyers how to find the most suitable used bookshelf, as well as how to safely and securely buy one from eBay.
The History of Bookshelves
In the days when books were handwritten, and were usually only owned by clergy or the rich, they were stored in small chests or boxes that were carried around with their owners. When volumes of manuscripts increased, they were stored in cupboards or on shelves, but were still only usually accumulated by the rich. Once the doors of these cupboards were discarded, the road to the creation of the modern day bookshelf began.
Despite this evolution, books were not arranged in the same way as they are today. Usually placed in piles on their sides, or upright with their back covers to the wall, it was not until the invention of printing and titles were situated on the spines of books that people arranged them the way they are typically arranged today – stood with their spine facing outwards.
Oxford University, England has one of the earliest examples of shelved galleries in their Bodleian Library. They are long bookshelves, placed over flat walls. It is common now to see libraries that have aisles of bookshelves, stood within the middle of open areas. Today, bookshelves have a less severe appearance, having being experimented with a number of materials and designs over years.
Oak used to be considered to be an elegant material for bookshelves in the homes of the rich. Once print was introduced, and book owning become progressively more common for more than just wealthy people, additional materials were introduced, including a number of different types of wood, and in addition to books they are now available at very affordable prices.
Designs and Arrangements of Bookshelves
There are three common ways that bookshelves are arranged. These are: flat against a wall in stacks that are parallel to each other, in bays or alcoves, or in stack systems, which are suitable establishments, where space is limited, like libraries. Additionally, bookshelves can be mobile, where bookshelves are mounted on wheels, often with electronic sensors for the purpose of health and safety.
Shelves within cases can be in a fixed position, but in some cases are adjustable to suit different sizes of books. In rooms that are entirely for the storage of books, shelves are sometimes permanently fixed to walls, and floors. Bookcases may have doors that protect the books from air pollution. Doors are usually glazed to allow owners to read the spines to determine the titles and authors of their books. Bookshelves can also be placed as features within other pieces of furniture's, such as computer desks and entertainment centres.
Individual shelves are flat horizontal planes commonly used in the home, businesses, and shops. They are used to store and display a number of different things. They are elevated off the ground and either held up by columns or pillars, or supported by brackets. Some of which have internal brackets and are referred to as floating shelves.
Considerations to Make When Buying a Used Bookshelf
When buying a used bookshelf that will be most suitable for individual requirements, there are a number of considerations that must be made. This section of the guide will specify those deliberations, and inform users as to why they are important.
· Length: The length of a shelf or bookcase is based on limitations of space. Additionally, the weight that a shelf can hold is important. Long shelves may tilt downwards in the middle if too much weight is being held.
· Height: The vertical distance between shelves is also based on space limitations, and the height of books and objects. Adjustable shelves will suit books and objects of a variety of sizes.
Be sure that all correct measurements are taken and noted, in both the available space for a bookshelf, and the size of bookshelves to avoid an incorrect bookshelf being purchased.
· Material: The material in which a bookshelf is made from is very important when determining how much weight a bookshelf can hold, and the general durability of a shelf. A number of commonly used materials are:
- Wood – There are a number of different types of wood, each with their own specifications. However, wood is generally hard and tends to be fairly durable.
- Bamboo – Bamboo is a natural composite material with a high strength to weight ratio. Bamboo is often seen to be an elegant material.
- Steel – Steel is sometimes a less attractive material for bookshelves, but has properties such as ductility, hardness, and strength.
For lighter-weight objects, bookshelves can be made from other materials, such as glass and plastic. Plastic may be suitable for small children's books.
For used bookshelves, consider the strength and durability of materials. This may affect the lifespan of a shelf, or limit the weight able to hold due to existing use.
Using eBay to Buy Used Bookshelves
This section will inform buyers how they can find and purchase suitable bookshelves on eBay.
· For finding used bookshelves, select the Home & Garden category, the Furniture category, and finally Bookshelves. Once within this category, simply select this option to search specifically for used items within the condition section. eBay offers a range of additional filters that will help buyers with their search. These include location, format, and price.
· As well as being confident with a used bookshelf, it's good to be assured of a seller. Determining this is simple. A buyer can look at a seller's feedback statistics, read any negative feedback, and other feedback that relates to the purchase of used bookshelves by other eBay users.
· Once confident with both a seller and a bookshelf, commit to the buy to secure the purchase. Use PayPal for the financial transaction. This is a safe and secure way to finalise a purchase.
· Once the used bookshelf/bookshelves have been received, leave feedback for the seller. This feedback will contribute to future buyers purchasing experience.
· Don't forget to check out eBay Deals. They offer additional discounts and provide a number of special offers. Simply select the Home & Lifestyle category, and Furniture.
Conclusion
For used bookshelves, there are some important considerations to be made. Use this guide, and other Internet sources to help make a decision. Other online sources will provide information that may be useful, such as more detailed information about types of wood. Ensure correct measurements have been taken before committing to a shelf size.
Once confident about decisions, using eBay's simple and clear categories tabs and search filters will help a shopper find a used bookshelf most suitable for their personal requirements. Once confident with a used bookshelf and its seller, use PayPal to make a secure payment. Be sure to leave feedback for a seller, and be familiar with terms and conditions set out by eBay, and those potentially set out by the seller.