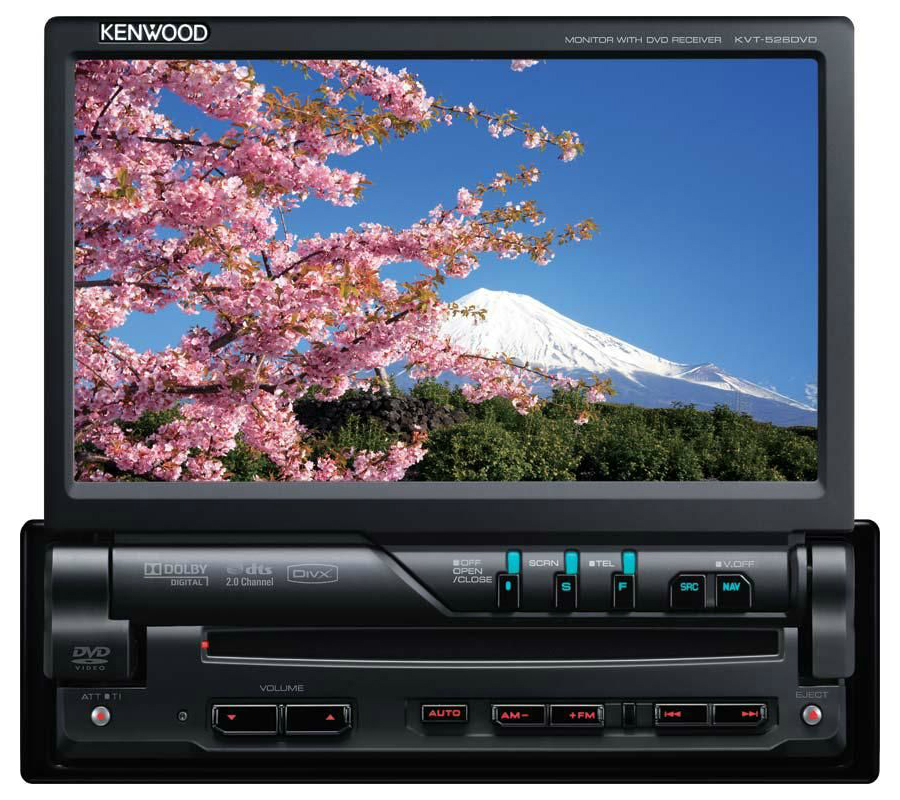 Anyone that is used to driving with children in the car knows how distracting they can be on a long road trip. Car DVD players are a great way to entertain children so parents are able to focus on the road instead of defusing arguments. Unlike tablets or portable DVD players, car DVD players are located in a central area of the vehicle allowing more than one passenger at a time to watch the movie. Aside from being great for children, car DVD players keep other passengers occupied on car trips. Many models offer additional options, such as navigation or bluetooth, which is beneficial to the driver.
Car DVD players are purchased in brick and mortar electronic stores, or online using websites like eBay. Unlike brick and mortar stores, eBay offers many different models of car DVD players at competitive prices, allowing buyers to get the best deal when purchasing a DVD player for their vehicle. Before purchasing a car DVD player for a used car, buyers should understand the different types of car DVD players available, as well as how to install them in order to find the best car DVD player for them and their family.
Types of Used Car DVD Players
The first step in purchasing a used car DVD player is for the buyer to determine his or her specific needs. The first thing to think about is who is set to be watching the DVD player, and which location would be the most beneficial. For families with one child, a headrest DVD player may be suitable, while families with multiple children may want to consider a flip down DVD player in a more central location. Vehicle Blu-ray players are also available for those who prefer Blu-ray movies to DVDs. By familiarising themselves with the different types of car DVD players, buyers can determine which type best fits their needs.
Headrest Car DVD Players
Headrest car DVD players are DVD players that can be installed into the headrest of the driver or passenger seat. If the DVD player is only being used for one passenger, it makes it easy for them to see the screen without having to look up or twist their neck. However, it may be hard for other passengers in the vehicle to see the screen, and the screen is always out in the open because it cannot be flipped or closed. Most models feature a screen that can be opened to insert a DVD player, and inputs for headphones so other passengers in the car are not disturbed.
Flip-Down Car DVD Players
Many people choose flip-down car DVD players since they are more centrally located and suitable for more passengers. Located behind the first row of seats, flip-down DVD players flip down from the ceiling of the vehicle and can be closed when they are not in use. Flip-down DVD players come in a variety of different sizes and displays. Some models of flip-down car DVD players feature speakers, while others feature headphone inputs so other passengers do not have to listen to the movie.
In-Dash DVD Players
In-dash DVD players are car DVD players designed with the driver and passenger in mind, as well as those in the backseat. In-dash car DVD players are installed directly into the car's dashboard, and multi-zone in-dash DVD players have the ability to attach to monitors in the backseat so everyone in the car is able to enjoy the movie. However, additional monitors usually have to be purchased separately, and without additional monitors, passengers in the back of the vehicle may have a hard time seeing the screen. Many in-dash DVD players also often feature navigation and GPS, in addition to a DVD player.
Multimedia Mobile Video Players
In-dash DVD players with navigation capabilities are an example of a multimedia mobile video player. Multimedia mobile video players combine a car DVD player with other forms of media such as a radio tuner, TV tuner, Blu-ray player, or internet capabilities in one. Some models of multimedia mobile video players also feature bluetooth technology to connect the driver's phone to the car's speakers. Most players connect to the speakers, or have headphone inputs. Also, many players come with a remote control for easy controlling from anywhere in the car.
Installing a Used Car DVD Player
Another thing to think about when purchasing a used car DVD player is how to install it. Simple car DVD players are typically the easiest to install, such as headrest DVD players and basic in-dash DVDs. Flip-down DVD players and multi-zone in-dash DVD players are usually more complicated to install since they may require wiring throughout the vehicle. When purchasing a used car DVD player, buyers need to make sure that the DVD player is compatible with their specific model of vehicle. Some car DVD players are only compatible with certain makes or models such as Ford or Toyota vehicles. When shopping on eBay, buyers can easily find a compatible DVD player by narrowing results by their car's make or model.
Most car DVD players come with instructions on how to install the player. Some players may also require different cables or adaptors, which are also available for purchase on eBay. If instructions are not included, buyers may want to contact the seller for instructions, or take the DVD player to a professional for a more efficient install process. Having a professional install the player is an additional cost, so buyers may want to call and compare prices before purchasing a DVD player to find the best deal and to ensure they are not going over budget.
How to Purchase a Used Car DVD Player on eBay
After understanding the different types of used car DVD players and considering how to install the player, you are ready to begin your search for the perfect car DVD player. One of the best places to find a compatible DVD player for your car is on eBay, being that there are thousands of different options to choose from. To begin your search on eBay for a used car DVD player, you can start by searching keywords in the keyword search bar. Searching specific keywords like, 'Nissan car DVD player' is the quickest way to find exactly what you are looking for on eBay.
eBay also makes it easy to narrow results so you can quickly find a car DVD player that meets your needs. eBay allows you to narrow results by things like make, model, or location. eBay also allows you to set your price maximum when searching for a used car DVD player, to ensure you do not waste time searching through players outside of your price range.
Conclusion
Car DVD players are great for keeping children occupied, or entertaining passengers on long drives. Some car DVD players also have additional features such as navigation, blue-tooth capabilities, or radio tuners to appeal to the driver as well as the passengers. One option for purchasing a car DVD player is purchasing a new car with a DVD player installed in the vehicle. However, there are also many options of car DVD players that are easily installed in any car, whether new or used.
Car DVD players with headphone inputs are ideal for parents with children so the kids can watch the DVD player while the parents listen to music. Before purchasing a DVD player with headphone inputs, buyers should check if there is a sufficient amount of headphone inputs available to meet their needs. There are also many headphones and speakers available on eBay, so buyers can find everything they need for their car DVD player in once place. Regardless of what type of used car DVD player buyers are looking for, they are sure to find one that meets their needs with the help of eBay.
Used Car DVD Player|Car DVD Player|Vehicle Electronics|In-Dash DVD Player|Monitor