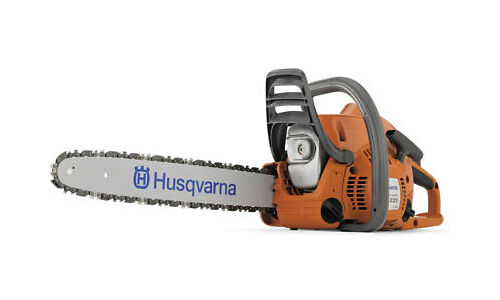 Chainsaws are a type of power tool that people typically use at the spur of the moment, such as after a storm knocks down a few trees in the back garden. Rarely do consumers purchase chainsaws for everyday purposes, and because of the infrequent use, many chainsaw buyers try to save money by purchasing used models. Yet, buying a used chainsaw is walking the fine line between saving cash and placing users in harm's way. Consumers can find high-quality used chainsaws at home improvement shops that stock name brand models, as well as online at eBay. Before deciding on a used chainsaw, buyers should first learn about the types of chainsaws, the safety features to include, and a few factors that ensure they buy the right used chainsaw.
Types of Chainsaws
Buying a used chainsaw requires buyers to select the type of chainsaw that best matches their cutting needs. Each of the three types of chainsaws provide unique advantages, as well as a few drawbacks. The following chart lists some of the pros and cons of each type of chainsaw.
Chainsaw

Pros and Cons

Electric

Only chainsaw built to safely work indoors

Less vibration

Quiet and easy to use

Cannot operate in wet weather or more than 50 m from an electrical outlet

Gas

Cuts fast

Works in rain or snow

Requires extra maintenance

Noisy two-cycle motors

Cordless

Lightest chainsaw

Perfect for pruning and removing small branches

Requires batteries

Quickly loses power source
Manufacturers display chainsaw weight for the power head only, as the guide bar and chain weigh about the same for each type of chainsaw. Experts recommend cordless chainsaw bars that measure less than 35 cm. Most users can cut with mid-size saw bars that measure about 14 to 20 cm long.
Used Chainsaw Safety Features
Used chainsaw shoppers must place safety features at the top of their buying factor lists. Secondhand chainsaws can have problems with the smooth operation of the chain and component malfunctioning that can cause serious injuries. Most chainsaw manufacturers provide wraparound front handles that help users adjust the grip. However, other safety features vary, especially on older models. Look for the following safety features before deciding on a used chainsaw.
Trigger Lock
The safest trigger lock features a deadman, which automatically stops the blade whenever the user ceases to press the trigger. This feature prevents the accidental starting of the blade. Trigger locks are especially important for users who work in confined environments with other people. Chainsaw manufacturers also build trigger locks to protect small children.
Double-Acting Chains
The safest way to prevent chainsaw chain-related injuries is to purchase a used chainsaw that includes two brake actions activated by inertia. While the front hand guard protects the operating hand from moving towards the chain, it also provides users with a way to manually employ a chain brake. Whenever the chainsaw experiences a jolt and the guard bumps against the hand, the chain stops rotating along the object. Double-acting chain brakes also use inertia sensors to automatically stop the chain when the sensors detect kickback.
Anti-Vibration Handles
As chainsaws age, they tend to experience an increase in vibration power. Anti-vibration handles prevent chronic wrist pain and hand numbness that develops after years of operating a chainsaw. The handles include metal springs or rubber pads that separate the chainsaw handle from the engine and chain. Even if a used chainsaw includes anti-vibration handles, operate the chainsaw for an extended period to discern if vibrations increase as the power saw rotates.
Side-Mounted Chain Tensioning
Older chainsaw models have designs that can obscure user vision, especially if the cut is made at a downward angle. Side-mounted chain tensioning removes visual impairments by allowing users to adjust side knobs, instead of moving their hand over knobs placed on the rear of the chainsaw. However, tensioning wheels can clog with oil and sawdust, which means screwdriver adjustments are more reliable than adjustments made by hand.
How to Buy a Used Chainsaw
Buying a used chainsaw involves understanding the factors that ensure safety and high performance. Since a faulty chainsaw can cause serious injuries, consumers should consider used chainsaws that are only a few years old. While experts have not defined the cut off point for chainsaw age, a good rule of thumb is to avoid chainsaws older than five years. After narrowing the choices by age, consumers can then take other steps to ensure that they purchase the right used chainsaw.
Sharp Chain
The chain may have the proper degree of tension to prevent vibration, but that does not matter if the blades are dull. As with knives, dull chainsaw blades produce rough, sometimes jagged, cuts, and move slower than freshly sharpened chain blades. Consumers who operate on a tight budget can buy older model chainsaws and replace the chains to improve cut smoothness and operating speed. Dull chainsaw blades can also slip from the cutting surface and slice into the user's hand or arm.
Buy Protective Gear
Buying protective gear can cost more than a chainsaw, but buying the right type of protective gear can prevent a visit to an emergency room. At the minimum, buy goggles and Kevlar gloves to protect the eyes and hands. Moreover, consider purchasing a hard hat, Kevlar jacket, and safety boots that include reinforced steel toes. Recent health studies have concluded that chainsaw users should utilise ear plugs to prevent hearing damage. Older chainsaws typically cause much more noise than newer chainsaw models.
Brand Names
Chainsaws are one of the most dangerous power tools to operate. Therefore, stick with brand name chainsaw manufacturers who have established reputations for constructing safe, high-performance machines. Some of the brands to consider for buying a used chainsaw include Tanaka, Husqvarna, and Stihl.
Bar Length
The chainsaw bar length measures from the cutting tip to the point where the chain enters the housing box. Bar length represents the maximum cut made on a single cutting pass. Consider chainsaws that safely cut an area twice the size of a chainsaw's bar length. For instance, a 35 cm bar should safely cut through a 70-cm diameter log. Current standard bar lengths are 35, 40, 45, and 50 cm, although chainsaw shoppers may have trouble finding 50 cm bar lengths on older used chainsaw models.
Where to Buy
Many chainsaw experts recommend that buyers shop for used chainsaws in person, preferably at big box home improvement retailers that employ highly trained sales professionals. The experts believe consumers make better purchasing decisions after they examine and test operate used power tools. Moreover, big box home improvement retailers tend to offer more reliable used products than the smaller shops offer. However, eBay is a viable shopping option, since the ecommerce shop provides buyers with tools that ensure used chainsaw safety and high performance.
Buying Used Chainsaws on eBay
eBay provides you with several tools that you can use to vet used chainsaw sellers. The search engine provides the most efficient way to search for tool sellers, and dozens of deals on tools. Make sure to add the search term "used" to reduce the number of search results. Then, you can begin the seller vetting process. Closely examine the enlarged used chainsaw photograph that appears on prospective seller product pages. You should be able to determine the condition of the chain, as well as notice any imperfections on the chainsaw body. Review the accepted payment methods and delivery terms, which can be deal breakers if the seller does not accept certain credit cards and presents incompatible delivery terms. Finally, review the customer feedback eBay places on each seller's product page.
Conclusion
Chainsaws are not a power tool that many people use on a regular basis. While professional tree trimmers utilise chainsaws to remove fallen tree branches and trees that make way for construction, homeowners maybe break out chainsaws once a year for a clearing project. The infrequent use means many people shop for used chainsaws to save money. They need to understand which of the three types of chainsaws to buy, as well as the safety features to include. Consumers should search for used chainsaws that have anti-vibration handles, double-acting chains, and trigger locks. Other factors to consider before buying a used chainsaw include bar length, protective gear, and brand name. Above all, never base a used chainsaw purchase solely on price.