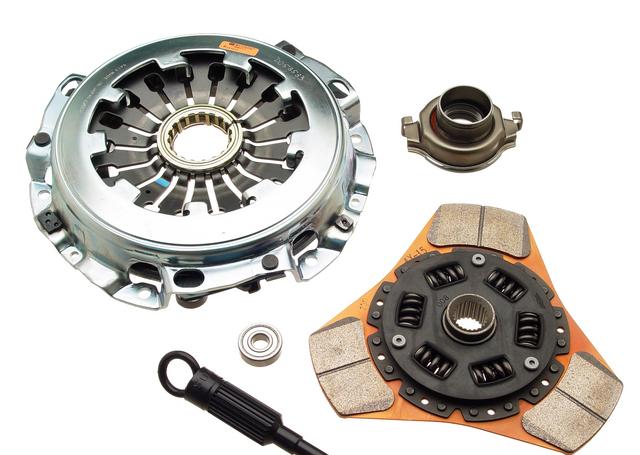 Replacing a clutch in a vehicle can seem like an enormous investment, both financially and in terms of logistics. To save money, some consumers look into buying used clutches instead. For owners of vintage vehicles, finding clutches in used condition may be the only option. No matter what inspires a consumer to buy a used clutch, finding the right solution for a vehicle does not have to be complicated.
By learning the basic elements of a clutch and how to find the right type of used clutch for a vehicle, consumers can execute one of these purchases quickly and easily. They may also be able to benefit from leveraging some retail options beyond traditional automotive vendors. This includes exploring online retailers like eBay.
Used Clutch Basics
A clutch assembly consists of a series of interlocking components that work to engage and disengage the transmission in the engine. Understanding each of these components can help a consumer understand the clutch assembly as a whole and also help him or her identify complete and functional used clutch kits.
Parts of a Clutch
The following table lists the main component parts of a clutch assembly, along with the respective descriptions. Each of these parts can be purchased individually in used condition or purchased as part of a complete clutch assembly.
Clutch Component

Description

Part of the clutch assembly that connects to the engine

Creates friction with the clutch plate

Creates friction with the flywheel

Located on transmission shaft section of the clutch

Bears the brunt of the friction process

Presses or releases against the clutch plate

Final point of pressure in the transmission-side assembly

Studs

Arrayed around the diaphragm spring

Helps pull the pressure plate off the clutch plate

Diaphragm Springs

Provides the give and take between engagement and disengagement

Clutch Release Bearing (Throwout)

Pressures the diaphragm spring

Causes diaphragm to pull the pressure plate off the clutch plate

Release Fork

First point of contact on the transmission side

Connects to the clutch pedal using a cable or hydraulic piston

Bell Housing

Contains all the components of the clutch assembly
When searching for complete clutch assemblies, consumers should make sure that all of these components are included. The condition of friction devices, such as the flywheel and the clutch plate, is of critical importance when selecting a clutch assembly, and consumers should familiarise themselves with quality examples of these key components.
How a Clutch Works
A clutch in a vehicle is used to connect the engine, which is spinning constantly, to the transmission system, which does not spin. The clutch creates friction at the flywheel and clutch plate to control the slippage between the engine and the transmission and allow them to engage with each other. When a driver is not pressing down on the clutch pedal, springs within the clutch assembly press the pressure plate into the clutch disc and the flywheel, locking the engine and transmission shaft together.
When the driver does press down on the clutch pedal, this engages the release fork, which puts pressure on the throwout bearing and the diaphragm spring as a result. The pressure exerted on the diaphragm spring causes the spring to pull the pressure plate off the clutch disc, disengaging the transmission shaft from the engine.
Considering Materials in a Used Clutch
Since clutches create an enormous amount of heat with all the friction, it is important that they are manufactured with materials that are sturdy and heat-resistant. The following table outlines different materials used in clutches and how resilient each material is along with some of the performance characteristics.
Clutch Material

Description

Woven metal fibres

Delivers smooth engagement

Long lasting

Broad operating temperature

Can return to almost full operational condition if overheated

Ideal for street cars up to 400 hp

Very durable

Smooth engagement like organic

Very high temperature range

If overheated can suffer damage

Works well with street cars up to 500 hp and track racing

Segmented Kevlar

Similar benefits to Kevlar, but with better heat dissipation

High temperature resistance

Rougher engagement

Often used in street racing and drag racing

Sintered Iron

Extremely high temperature resistance

Rough engagement

Good for 700 hp or higher vehicles
Weighing options when it comes to used clutches should involve careful consideration of materials. A sintered iron clutch, for example, might be a much more durable unit, but it may have been used in very demanding conditions. A consumer should ask about a used clutch's history in tandem with its materials.
Assessing Damage to a Used Clutch
As clutches can wear out quickly when driven hard, it is important for consumers to know how to spot any signs of significant wear and tear on used clutches. One of the most important signs of damage is any wear or glazing on the clutch plate. Consumers should also keep an eye out for heat marks and discolouration and check the surface of the pressure plate. Overall, any signs of rust that have begun to pucker the surface of the metal on any component is a bad sign. Light spots of rust are manageable, but if rust has begun to endanger the integrity of the metal's surface, a clutch may not be viable.
Communicating with a Seller
When buying any used part for a vehicle, a consumer should take the time to communicate with a seller to confirm the condition of a component. A buyer should ask questions about the drive history of a vehicle in which a part was installed. With clutches, in particular, different driving scenarios and conditions make a big difference to the quality of a used clutch. A clutch that was regularly driven in urban traffic, for example, undergoes a lot more strain than a clutch that was driven in rural or freeway conditions. Consumers should ask any and all questions they have regarding used clutches they may buy. They can also ask for advice on installation and the automotive tools they might need to do the installation themselves.
Buying Used Clutches on eBay
As an aggregator site, the online retailer eBay offers a wide array of used clutch options for various vehicles. The first step in the purchasing process on this site is to find and leverage the search bar on any page. This interface allows you to run a keyword search to find relevant listings. If you are trying to find a used clutch for a particular make and model of car, consider using your vehicle's name in your search. Otherwise, you can use a general term like 'used clutch' to see the entire catalogue of options.
Communicating with Sellers on eBay
It can also be a good idea for you to reach out to any sellers with whom you are considering doing business on eBay. You can use these opportunities to communicate and ask questions, and you can also get a feel for the integrity of the sellers. Visit a seller's page to review customer feedback and use the message interface to send a direct message.
Conclusion
A used clutch can be a great addition to a car when it is found in the right condition. It can also be a great resource for those who are learning to do their own major repairs on vehicles and for those who are renovating and restoring vintage vehicles. Consumers in search of used clutches only need to familiarise themselves with some of the basic information about clutches and learn how to spot used clutches that are in good condition. With this information ready to go, consumers can engage in the purchasing process with confidence and take advantage of the diverse catalogue of options available on an aggregator site like eBay or in local automotive stores. It should be easy at that point to find a used clutch in good working order.
used clutch|replacement clutch|secondhand clutch|clutch kit|clutch assembly