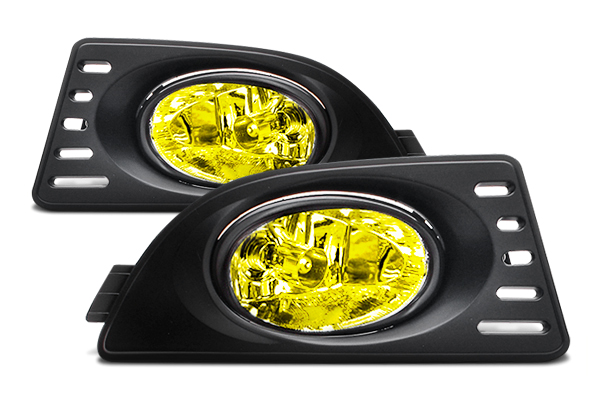 Fog lights are specialised lights designed to improve visibility during extreme conditions, such as fog, snow, rain, and dust clouds. Whilst a high or low beam may produce distracting and dangerous reflection under such circumstances, low-angled fog lights are meant to illuminate the road ahead, with a sharp cutoff that prevents reflection and helps the driver focus. However, Australia's Road Rules forbid the use of fog lights during non-hazardous driving conditions.
Fog lights may be an optional or standard feature on different vehicle models. Their low position on the vehicle make fog lights prone to damage, which is one reason vehicle owners may need to replace them from time to time. Alternatively, consumers may want to add fog lights to their car for improved safety and a stylish, sporty accent. Opting for used fog lights is a good way to save money, but buyers need to approach the purchase with a good deal of knowledge to be certain that the lights are fully functional.
Clarification: Fog Lights Vs. Daytime Driving Lights
Because there are several types of lights for a vehicle, buyers should be clear on the differences between them. This is especially true when distinguishing between fog lights and driving lights. While fog lights, both front and rear, improve visibility in hazardous weather conditions, driving lights are meant to illuminate long country roads, and are to be used in conjunction with the high beam.
Both types of lights cannot be switched on accidentally. Fog lights can be switched on separately when the main or dipped beam is in use, while driving lights must be illuminated separately when the main beam is activated.
There can be some confusion when shopping for fog lights, as even manufacturers have been known to use the terms driving lights and fog lights interchangeably. Therefore, consumers are advised to pay close attention to ensure that they are buying fog lamps.
Preliminary Considerations
Before deciding on specifics like shape, colour, and bulb type, consumers should take a couple things into consideration. The first is that they need to find a bulb that fits their vehicle, and the second is the choice between original manufacturer lights or aftermarket models.
Fog Light Fit
Choosing fog lights may partly depend on whether there is a mounting cutout space already on the vehicle or the buyer plans to mount the fog lights themselves. Aftermarket fog lights may be designed to fit specific vehicles, or they may be universal fog lights. If a vehicle has cutouts for the fog lights, buyers should verify that the replacements will fit the mounting area.
OEM vs. Aftermarket Fog Lights
Original equipment manufacturer (OEM) lights are those produced by the vehicle manufacturer. Consumers also have the choice to buy fog lights from a third-party, aftermarket manufacturer. The advantage with buying OEM lights is that vehicle manufacturers generally test their parts rigorously, so the consumer can feel confident that they are getting a quality product. On the other hand, buyers may have more customised options from the aftermarket. Aftermarket quality can vary significantly, from excellent to poor, so buyers interested in exploring these options should research expert and customer reviews to find a set of lights that meet safety requirements and are built to last.
Fog Light Shape
Fog lights typically come in a horizontal bar shape, but round shapes are also available. Choosing one shape over the other may depend on the mounting space, if there is one. In addition, drivers who want to add a stylish accent to their vehicle may prefer the look of one shape over another.
Fog Light Colours
Front fog lamps can be project either a white or yellow light. Yellow may be preferable in cutting through fog and reducing reflection. Rear fog lamps, which make a vehicle more visible to road users from behind, must emit a red light.
Bulb Types for Fog Lights
There are two types of bulbs appropriate for fog lights: traditional halogen bulbs, or LED (light-emitting diode) bulbs. The following chart outlines the characteristics, advantages, and disadvantages of each.
| | | | |
| --- | --- | --- | --- |
| Bulb Type | Description | Advantages | Disadvantages |
| | Nitrogen and argon combine to burn a tungsten filament at 2500 degrees Celsius; glass bulb is designed to withstand high heat | Long life; available in different sizes; good illumination; affordable | Not energy efficient; can get very hot when used for long periods |
| | Movement of electrons on a semiconductor produce light | Longer lasting than halogen, because there is no filament to burn out; crisp optics can produce sharp cutoff to prevent glare; can be quite small and light, which is an advantage with fog lamps; energy efficient | Costly to manufacture, and therefore to purchase and replace; can get hot when used near adjacent assemblies |
Both halogen and LED bulbs can produce dim beams that help the driver see the road ahead. Choosing between the two may depend on budget and energy-efficiency considerations.
Beam Width, Length, and Intensity
A low, wide beam is ideal for fog lights. Keeping the illumination low prevents distracting reflection from fog, snow, and rain. Likewise, the beam should not be overly intense, as this could also result in unwanted reflection. Because fog lights are meant to be used in extreme conditions only, presumably when the vehicle is moving at a slow speed, beam width is at a premium. ECE and SAE regulations specify that F3-class fog lamps, designed to increase photometric performance, have a beam extending 35 degrees to the left and to the right.
Safety Ratings
Australian Design Rules (ADR) establish standards for vehicle safety, anti-theft, and emissions. In order to ensure that fog lights are safe and effective, buyers should verify that they meet ADR specifications. Look for the sign that a product is ADR-approved.
Shopping for Used Fog Lights
Buyers should take certain precautions when shopping for used fog lights to ensure the lights are in proper working order. The seller should state the reason for selling, as well as the use history: when they were purchased, and how long and how often the lights were used. If there is any cosmetic or functional damage, the seller is responsible for communicating that information in detail. Since fog lamps' low placement makes them especially prone to damage, buyers should carefully inspect the lens for any cracks or chips. Wiring should be intact, without fraying or wear, and other components, such as the the light bracket and bulb socket, should be free of rust, cracks, and dents.
Buying Used Fog Lights on eBay
eBay Motors has a wide selection of used fog lights, as well as great deals on automotive tools and accessories. To start your search, go to the eBay home page, locate the search bar, and type in keywords for the fog lights you are looking for, such as "Toyota fog lights". Once you have your search results, you can narrow them to used items only by selecting your preferred condition. You can also specify things like price range, seller location, and more.
When you find a listing you are interested in, read the full item description to be sure it matches your needs and is in acceptable condition. Also note details like additional postage fees and payment requirements. You can ask the seller a question through eBay if you wish. Finally, do not forget to check the seller's feedback to be sure they are reliable and knowledgeable.
Conclusion
A vehicle's fog lights help improve visibility during inclement weather, including fog, rain, snow, and dust clouds. These low-mounted lights are usually recognisable by the downward-angled beam of light they produce. Consumers who want to add, replace, or upgrade fog lights can save money by opting for used fog lamps.
When shopping, they need to be sure that the lights can mount properly to their vehicle, and that the fog lights have been ADR-approved. They can choose between bar- and round-shaped lights, with yellow or white bulbs. Another choice is between halogen and LED bulbs, with the latter being smaller and more energy-efficient, but also more costly. Before completing their purchase, buyers should carefully inspect the lights and inquire about their use history: following these practices can help them find a quality, stylish set of fog lamps for their vehicle.
Used Fog Light|Used Fog Lamp|Fog Light|Fog Lamp|Halogen Bulb