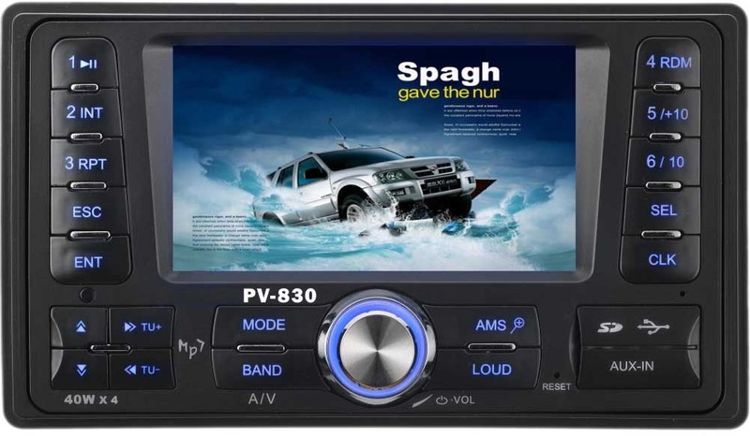 Car owners who spend a good deal of time in the car either travelling by themselves or with their family may benefit from an in-dash DVD player. This is one of the most popular sources of entertainment when travelling. While one should not be watching a DVD player while driving, most units have features that can be used while driving, such as MP3 ports or a CD player.
Buyers can choose from various models of in-dash DVD players produced by different manufacturers. Some of the factors one needs to consider before purchasing includes connectivity, DVD region, types of formats supported, and more. Those who want to save money when shopping for an in-dash DVD player can opt for a used model. By learning more about how to purchase a used in-dash DVD player, buyers can make sure they get a great deal.
What to Look for When Shopping for In-dash DVD Players
Ideal for long journeys, in-dash DVD players are good substitutes to car stereos and allow users to watch their favourite TV shows or movies while waiting in their cars for their kids to get out of school or between jobs. Another useful feature of in-dash DVD players is the rear view camera. Many models include this and it means that drivers do not need to turn their heads in order to park the vehicle. Here are some points to take into account when it comes to choosing a used in-dash DVD player.
Screen
One of the first decisions to make is whether to get a big screen or a small screen. Most in-dash DVD players have a 6.1-inch screen, but there are bigger models available to purchase. The screen size depends on the model of the car, because the device needs to fit well in the dashboard. Another thing to think about is if the buyers want a touchscreen. Many users prefer this option because it allows them to control the DVD player very easily.
Compatibility
When shopping for a used in-dash DVD player, buyers may quickly notice that not all devices play the same formats. They should make sure the device is able to play all the formats they are interested in. Some of the most popular formats include CD-RW, CD-R, DVD + RW, DVD + R, DVD-RW, DVD-R, photo CD, VCD, SVCD, MP3, WMA (audio), Dolby Digital, and JPEG photos. Some players are also equipped with a DVB-T antenna, which allows users to watch their favourite TV programs if they are in an area of good reception to capture television. These devices are a bit more expensive. Buyers should also check how easy to install is the device they choose.
Sound
The sound quality is essential when watching a movie and buyers should check the audio specifications when shopping for a used in-dash MP3 player. Most of these devices support integrated decoders such as Dolby Digital or DTS, which provide a more natural sound. It is important to ensure that the chosen model is compatible with the audio system of the vehicle, especially when it comes to 5.1 sound systems.
Regions
Region codes are DRM techniques that allow movie studios to control various aspects of a DVD, such as the content, price, and release date. Most DVDs available on the market have a region code restricting the area of the world in which they can be played. The chart below illustrates the main DVD regional codes and zones, and it is important for buyers to be familiar with these codes.
| | |
| --- | --- |
| Region | Areas |
| | Region free (can read DVDs from all regions) |
| 1 | United States, U.S. territories, Bermuda, and Canada |
| 2 | Europe (except Russia, Belarus, and Ukraine), Egypt, Middle East, South Africa, Japan, Lesotho, Swaziland, and Greenland |
| 3 | Southeast Asia, Macau, Taiwan, South Korea, and Hong Kong |
| 4 | Central America, South America, Mexico, Caribbean, Australia, New Zealand, Papua New Guinea, and much of Oceania |
| 5 | India, Bangladesh, Afghanistan, Nepal, Ukraine, Sri Lanka, Russia, Belarus, Pakistan, Africa (except South Africa, Egypt, Swaziland, and Lesotho), Mongolia, Central and South Asia, and North Korea |
| 6 | China |
Buyers should check their DVD collection for region compatibility before shopping for an in-dash DVD player. Most DVD players can be decoded, which means they can read DVDs from all regions. Those shopping for a used in-dash DVD player can look specifically for a region-free device in order to make sure it can read their entire collection of movies.
Tips for Buying Used In-dash DVD Players
Shopping for used in-dash DVD players is slightly different from opting for new ones. Buyers who choose to purchase a used model should pay attention to a series of different things in order to make sure the device they buy is a good choice and offers good value for the money.
Condition of the In-dash DVD Player
One of the most important things to take into account is the condition of the DVD player. When browsing for the perfect model, buyers should make sure the item they intend to purchase is in perfect working condition and does not have visible scratches on the screen. One should also check the item for dead pixels and any components that might be missing.
Cost of the In-dash DVD Player
After weighing in all the options, buyers should also think about cost. In-dash DVD players produced by high-end brands such as Ford tend to be pricier than those produced by lesser known brands. Buyers on a budget can compare the features carefully and choose a device that comes with an affordable price tag and still does the job.
Buyers shopping for a used in-dash DVD player should keep in mind that "used" does not always mean that the previous owner used the item heavily. Some of the used in-dash DVD players are not in their original factory condition, but they are just like new. Buyers should also look for refurbished items in their attempt to save money on an in-dash DVD player.
How to Buy a Used In-dash DVD Player on eBay
Buyers who are looking to purchase an in-dash DVD player on eBay often find out that the variety of great deals on second-hand options on the website makes the search a quick one. If you are looking for this kind of car gadget on eBay, you can easily find a large number of used and refurbished items at very good prices.
Remember to pay attention to the specifications mentioned by sellers in the product descriptions. You should especially look for any mention of damages and also have a look at the photos in order to observe any possible scratches or other problems. Information about battery life, device features, and screen resolution is also important. The good thing about shopping on eBay is that you can ask the seller for more details if you think you need more information about a specific product.
Conclusion
Car owners looking to buy a used in-dash DVD player need to take into account several factors before making a decision. They should remember to compare various products from different brands and choose one that best suits their preferences and budget. Key elements to consider include sound and video quality, display size, compatibility, and additional features.
Buyers can shop for an in-dash DVD player in specialised stores on online at eBay. Those who opt for eBay have the advantage of being able to browse through a large number of products from the comfort of their own home. Moreover, because of the user-friendly search system of the website, buyers can easily find what they are looking for with just a few clicks.
used in-dash DVD player|refurbished in-dash DVD player|vehicle electronics|DVD|CD player