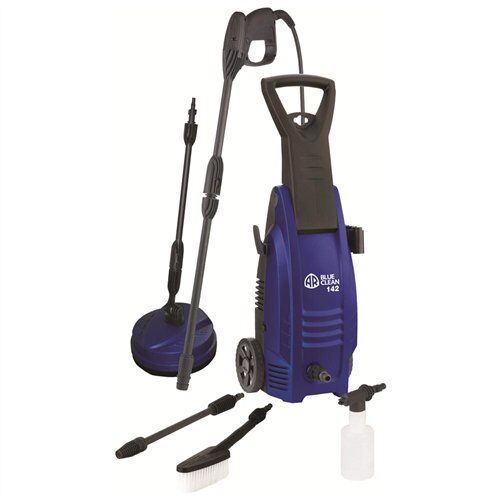 Pressure washers use jet streams of water to remove dirt and grime. These devices can also be used to remove paint, and it's important for buyers to know the different types of pressure washer, as some are more suitable for specific jobs than others.
Pressure washers range in price, and industrial models can cost upwards of $5000. For this reason many people search for used models on eBay, as the site sells the devices at very reasonable prices. This guide will examine the information every buyer should know before they began a search for a used pressure washer, and will explain how to find a suitable model online.
Types of Pressure Washer
Pressure washers come in three different strengths, and the power of the washer will determine what it can be used to clean. The strength of the washer is measured in units known as bar. Buyers need to spend some time thinking about what the washer will be used for, as those made for industrial cleaning are extremely unsuitable for use at home. The following are the three categories pressure washers are grouped in:
Light Duty

These are the smallest and least powerful of the three, and are most commonly bought for commercial cleaning. Light duty pressure washers are generally around the same size as a vacuum cleaner, and are very portable. This makes them ideal for use at home and around the garden.

Because of their intended use, most light duty pressure washers are powered by an electric motor. This means the washer needs to be connected to an electric main to work, which can limit where it is used. Light duty washers are suitable for cleaning garden furniture and tools, barbeques, bicycles, windows and rubbish bins. These are sold new for as low as $40, but washers with additional features will cost more. Light duty washers have a maximum strength of 100 bar.

Medium Duty

Medium duty pressure washers vary in size but it's possible to buy smaller models similar in stature to the light duty versions. However, these pressure washers are not as light as the previously mentioned models and some are heavy enough to require wheels.

Medium duty pressure washers usually run on petrol or diesel, but it is possible to buy electric powered models. These washers are suitable for commercial and industrial use, depending of course on what needs to be cleaned. Medium duty pressure washers can be used to clean cars, lorries and other vehicles.

People also use medium duty washers to clean gutters, drains and small to average sized patios. Prices for new medium duty pressure washers start at around $200, and can go up as high as $600. The strength of medium duty washers is 110 bar, and buyers are advised to take caution when using these devices as misuse can cause serious harm.

Heavy-Duty

As the name suggests these pressure devices are very heavy and usually come attached to a frame with wheels. Heavy-duty pressure washers are not particularly suitable for commercial use unless using them to clean outside areas.

Heavy-duty models are typically used to clean stone, brickwork, decking, driveways, farm equipment and trucks. These are only available with gas-powered sources, and buyers need to consider where they will be placed during use.

The petrol and diesel powered engines produce fumes when working, and the engines can become extremely hot to touch. It's important that buyers keep heavy-duty power washers in well-ventilated open spaces when in use, and make sure children and pets are kept away.

Prices for these washers new start at around $750, and can go up to over $10,000. The strength of heavy-duty pressure washers is between 110 and 130 bar, and buyers are advised to wear protective goggles, gloves and earmuffs when using them.
Pressure Washer Components
All pressure washers are made up of similar components, making it easy to replace a part if it becomes damaged. Once the replacement part is for the same type of washer then there should be no problem attaching it, but it is recommended that buyers check the 'Description' box on the item page of a component listing for information on the measurements. The following are the basic components found in all pressure washers.
Hose

Pressure washers use two hoses. The first connects the device to the water source. For most light and medium duty washers this is a standard cold-water tap. Some medium and most heavy-duty washers need to be connected directly to a water tank or main.

The second hose connects the pump to the lance or gun. Pressure washers use hoses made from thick plastic, although the smaller models can use normal garden hoses. The most common hose lengths are 10m, 20m and 30m, and the price of the hose will depend on the length and the material used to make it.

Lance/Gun & Nozzle

Buyers can choose to connect the second hose to either a lance or gun. The lance is a long narrow pole, and is suitable for medium and heavy-duty pressure washers, as it offers the user better range. The gun uses a small trigger lever system and is more suited for light duty washers that are used commercially. The nozzle is found in the casing of both, and can change the power of the spray and the area it covers.

Motor/Engine

As mentioned previously, the majority of light duty washers use electric motors, whereas the medium and heavy-duty models use gas powered engines. An electric motor is quieter and more environmentally friendly, but does not offer the same power as the gas engines. The gas engines may be more powerful, but they produce strong fumes.

Pump

The pump creates the pressure in the water, and is located beside the engine or motor. The size of the pump will depend on the strength of the washer, and if looking for a replacement pump then make sure to look for one with the exact same dimensions and pressure output as the one currently in use.
Buying Used Pressure Washers Online
As pressure washers can be quite expensive, many buyers will find that searching for a used model is a much more affordable option. However, it's important for buyers to ensure that the washer is in good working order and requires no servicing or replacements.
When searching for used items, buyers are always advised to review the seller's history, and look for any negative comments regarding an item's condition. Buyers should also visually inspect photos of the washer for damage or defects, and should read the 'Description' box for additional information.
Buying Used Pressure Washers on eBay
This is a relatively easy process, and the first thing to do is head to eBay.com.au. Once on the homepage, buyers should click on the Gardening link found in the Home & Garden tab. On the following page buyers should click on the Outdoor Power Equipment link located on the left hand side of the page, followed by the Pressure Washers link. Simply click on the Used filter, which is under the 'Condition' heading, to list used pressure washers only.
Buyers should also check out 'eBay Deals', as this portion of the site has products for sale at lower prices than those listed on the main website. To find pressure washers in eBay Deals, simply click on the link at the top of the page, followed by the Gardening link found in the Tools tab. The pressure washers are located about a quarter of the page down.
Conclusion
Pressure washers are excellent at cleaning, but buyers need to think about what the washer will be used to clean before starting a search. The smaller, less powerful models are perfect for use at home and around the garden, but the larger washers are more suited for industrial work.
Buyers may find a washer too costly, so it's always a good idea to search for a used model. However, buyers need to be certain of the washer's quality, and should avoid sellers with high percentages of negative feedback.