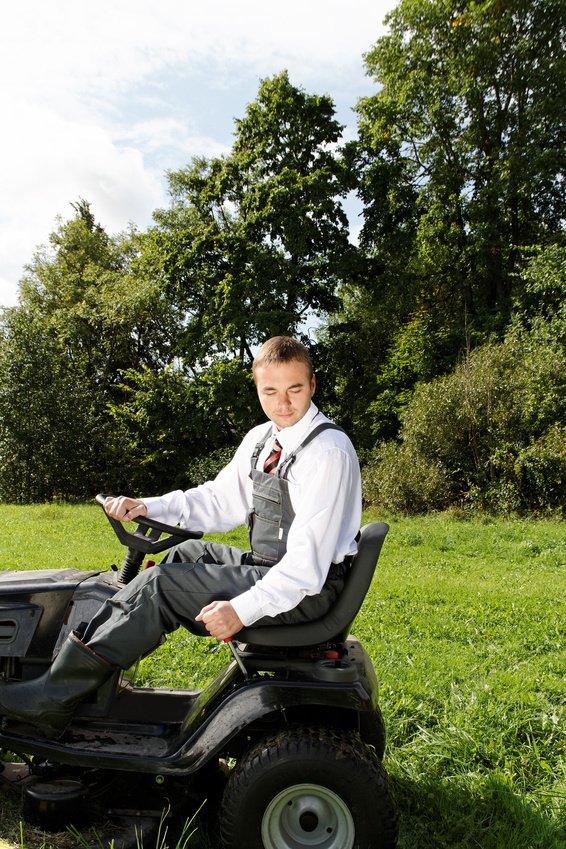 Riding mowers make all gardening activities, garden care and maintenance a lot easier and more convenient than most traditional lawn mowers.
Riding lawn mowers cover large grassy areas much quicker than conventional push lawn mowers, allowing the owner to spend less time working on their garden and more time out there enjoying it.
There's an extensive range of riding mowers on the current market available in many different types, styles and sizes to cater for the difference in individual tastes, preferences and requirements.
The purpose of this guide is to inform the reader all about riding mowers and to explain how to purchase used riding mowers safely and efficiently on eBay.
Riding Mowers
Riding mowers (also known as 'ride on' lawn mowers) are ideal for anyone who has a large area of grass in their garden. These lawn mowers make cutting big grassy areas quick, simple and effortless, as they allow the owner to simply sit on top and drive it around the lawn, cutting the grass as it goes along.
Besides reducing the user's workload and amount of effort needed to complete the task, riding lawn mowers also speeds up the job at hand, as cutting is often completed in less than half the time it would take with a conventional push lawn mower. Also, due to the larger nature of these mowers, riding lawn mowers also feature a substantially larger grass collection box than most push lawn mowers, meaning that more grass can be collected without emptying the box, making it more convenient for the user.
Also, riding mowers typically have more powerful engines, which makes them ideal for cutting thicker grass and other stubborn vegetation. These lawn mowers can also host a series of lawnmower attachments that allows the user to do everything from bagging to chipping, and all in the comfort of the mower's seat.
Another great benefit of riding lawn mowers is that they hold more fuel, meaning that the user can focus more on cutting, rather than how much fuel is left in the tank.
Brand new riding mowers can be found online from around $1000, although many used mowers can be found at a fraction of the price. By opting to buy a used mower, you are not only getting a great product at a very affordable price, you're reusing the product and therefore recycling - a greener alternative to buying brand new.
Types of Riding Mowers
Riding mowers come in various styles and sizes. Some models have a seat for the user and others allow the user to mow whilst standing up. Some mowers are controlled using a steering wheel and others utilise a series of levers to steer them. Riding mowers come in both manual and automatic transmissions to cater for individual preferences.
Here are the most common types of riding mowers:
Lawn Tractors
The first type of riding mower is the lawn tractor. This specialised type of mower allows a series of attachments (such as carts for fertilising and chipper vacs) to be fitted onto the back - most riding mowers do not cater for these attachment types. Lawn tractors typically also offer more power and versatility than conventional riding mowers.
Zero-Turn Mowers
Zero-turn mowers were named according to their zero inches turning circle. This type of riding mower has a front axle that pivots, allowing the user to make quick yet precise turns. These specialised riding mowers use a variety of hand levers to move effortlessly around obstacles, such as flowerbeds, water features and rocks. Zero-turn mowers often come in both seated and standing riding positions, making them great for both commercial and domestic use. In fact, they are often the riding mower of choice for professional landscapers.
Garden Tractors
Garden tractors are very similar to lawn tractors, but they are more specialised, as they are meant for a wide range of gardening tasks, from cultivating to tilling. The tractor type is also suitable for semi-heavy duty hauling and removal tasks. These tractors also allow attachments, like a plough, for example, to be attached onto the front end of the tractor.
Yard Tractors
Yard tractors are similar to lawn tractors; however, most models allow the user to choose between automatic and manual gearshifts, providing the most control possible when being operated. These tractor types are typically for commercial use, although they can still be used for a range of domestic tasks.
How to Buy a Used Riding Mower on eBay
The choice of used riding mowers online significantly outnumber those that can be found on the high street, with numerous amounts that can be reviewed alongside each other aligned with the buyer's individual taste and preferences.
In this case, eBay is ideal for presenting a quick, easy and effortless route into searching for a used riding mower on the Internet.
For the most successful purchase on eBay, use the following advice for efficient and safe shopping on the website:
Conclusion
There are many factors to consider and issues to take into account when purchasing a used ride-on mower. However with the important information and crucial considerations outlined within this guide, coupled with eBay's highly detailed and easy to use website, buying a used riding mower is quick and simple.
Buying on eBay should be considered not only due to the potential of finding a good deal, but due to the extensive choice of used riding mowers that the website has on offer.
Remember to always keep your personal and banking details safe and secure by using payment authority PayPal to complete transactions between yourself and eBay sellers.