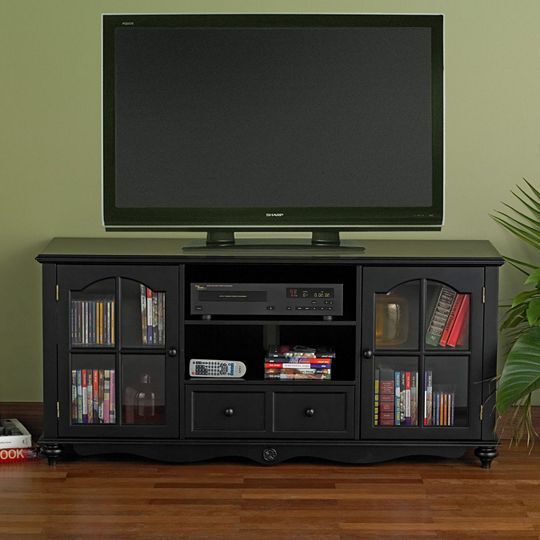 A TV stand offers a piece of furniture that is specifically designed to securely support a television, and may also offer additional space to hold set top boxes, games consoles, and DVDs. TV stands come in a variety of different designs, which can better support different types of television, as well as fit in with the style of a room. TV stands are also available in a range of different materials, from wood, which can fit in with more traditional styles, to the more contemporary glass and metal. A used TV stand, meanwhile, can be a more affordable choice, and a wide variety can be found on eBay.
Measuring for a TV Stand
There are a number of different key measurements that have to be considered when purchasing a TV stand.
· The depth of the stand is important, particularly for those who own CRT televisions, which are much thicker than modern flat screens. The back of the television should not hang out too much, as this may cause instability.
· It also helps to know the weight of a television. Ensure that a used TV stand can support the weight of the TV before purchasing it.
· Ensure that there is space in the room for the TV stand. If the television itself only just fits into a part of the room, there may only be space for a smaller television stand, while a large stand can prevent a TV being the centrepiece of a room, if that is desired.
Types of Television Stand
There are a number of different types of television stand that are widely available. They are often designed to be suited to different types of television.
| | |
| --- | --- |
| TV Cabinet | A television cabinet is a great choice for those who want to hide away their television when it is not in use. TV cabinets can be closed up when not in use, and have a similar appearance and design to wardrobes and traditional cabinets. TV cabinets can offer a place to discreetly store televisions and any other entertainment and media devices. |
| Corner Stand | The corner stand can be a good choice for those who are short on space. Corner stands can fit neatly into a corner, which makes the most effective use of space. A corner stand may also be convenient if, for example, a room's electrical outlets are in a corner, and this is where the TV has to be situated. |
| Swivel Stand | Swivel stands are another widely popular choice of TV stand. Swivel stands are available for use with both larger and smaller TV sets, and allow the television to be tilted until the optimal viewing angle has been reached. Swivel stands for small televisions can often be mounted on a wall, and are a good choice for the bedroom or kitchen. |
| Plasma Stand | Plasma stands are designed specifically for use with plasma and LCD flat screen televisions, and are built to accommodate their wider and slimmer construction. An increasing number of TV stands are being designed for this, as flat screen televisions grow in popularity. |
| Lowline Stand | A lowline TV stand is a good choice for those who want to make their television a centrepiece. Lowline stands are smaller and more discrete than other types of stand, which places attention away from the stand and onto the television. |
| Entertainment Unit | Entertainment units are designed to offer a wide array of features, and a large amount of storage space. Larger than other types of stand, entertainment units have space for all kinds of multimedia and entertainment devices, and can be a good choice for enthusiasts as well as those with a number of devices, such as games consoles. |
TV Stand Materials
Television stands are available in a wide array of materials.
| | |
| --- | --- |
| Glass | A popular material used in modern TV stands is glass. Glass televisions stands offer a modern, contemporary style, and often incorporate metal into its construction too. Glass can look good and is strong, though will have to be regularly cleaned. |
| Wood | Television stands have long been made out of types of wood, such as pine and mahogany. Wood stands are available in a wide range of styles, from more traditional designs to sleek contemporary styles. Most TV cabinets are also made out of wood. Solid wood TV stands are long lasting, but may also be more expensive. |
| Veneer | Also available are wood veneer TV stands. Wood veneer is made out of thin wood strips that are attached to a board, which is often made out of MDF. Wood veneer stands can offer a similar appearance to solid wood at a lower price. However, wood veneer can peel and blister, and may not last as long as solid wood. |
| Metal | Another popular material is metal, which is often used in conjunction with other materials. Metals like stainless steel are a popular choice, and are resistant to rust and corrosion. They may be cheaper than some materials, and are often long lasting. However, they require regular cleaning, and can be heavier than some materials. |
Used Television Stands
There are a number of key factors to consider when purchasing a used television stand.
· The condition of a TV stand should be considered. For example, if the stand is made of wood veneer, look out for any peeling or blistering. Any rust or corrosion present on metal is also important to consider, and this can be difficult to repair.
· Pay close attention to product descriptions and any pictures of the item which are provided, as this may further inform the buyer of the condition of the item.
· If in doubt, it is easy and simple to ask the seller a question on the item page.
How to Buy a TV Stand on eBay
Wide ranges of television stands are available on eBay, and feature a wide array of materials and styles.
· The full listing of available TV stands can be viewed in the Entertainment Units, TV Stands section of the Furniture category, which is accessible through the Home & Garden portal.
· Available stands can be arranged by categories such as brand, material, and price.
· Key information about a TV stand, like the type of stand, will generally be displayed in the item listing, making it easy to quickly sort through the listings.
· More detailed information is accessible on the item page, which can be helpful when purchasing a used stand. Information about the seller, such as item reviews and feedback ratings, is also available here, ensuring that a purchase can be made with confidence.
· If looking for a particular TV stand, it may be easier to use the search function, which can be found at the top of every page. Entering key words into the search bar will return relevant results from within a selected category, or from across the site.
· Look out for any deals on TV stands that may be available in the Furniture section.
Conclusion
A television stand is a great way to display a television, and a wide range of different types is available on eBay. A TV cabinet offers a good place to discreetly store televisions and any other media devices when not in use, and will often work well with a more traditionally decorated living room. TV stands can offer a range of different features, and large options will be able to store televisions, as well as DVDs and other devices. A wide range of TV stands, as well as other furniture, can be found on eBay.