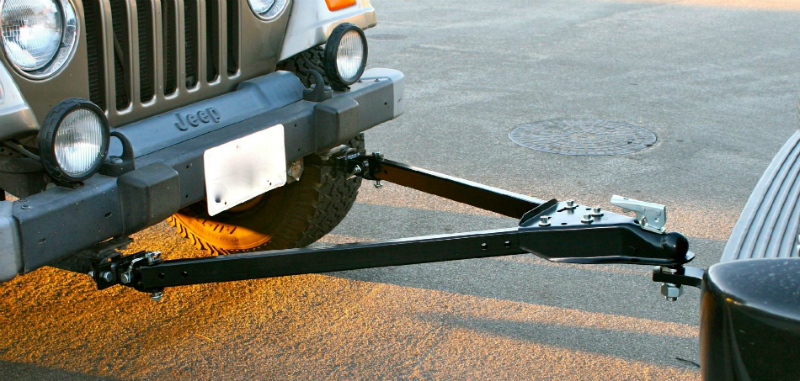 Anyone who is looking to purchase a tow bar can consider a used or second-hand model as a more affordable alternative to a new purchase. Tow bars are made of very durable materials and are most often made of steel, which can last for generations without any real damage or weakening. As a result, used tow bars are equally as functional as new tow bars, so anyone buying a secondhand one is not sacrificing quality for price. However, used tow bars might have rust, cosmetic damage, dents, or nicks that are not present on a new tow bar.
Buyers should choose a tow bar based on the fit, the parts, the weight load, the ball size, and the condition. Most should also consider their budget and compare the cost of the used tow bar directly to the cost of a used one. Finally, buyers should decide where to make the purchase as it is possible to purchase used tow bars from some used car shops and junkyards, but they are usually easier to find on online shops like eBay.
Fitting the Tow Bar
The first step to purchasing a used tow bar is to measure the vehicle it is being used on. Typically, tow bars are bolted to the frame of the vehicle just under the bumper, but some lower weight options might bolt to the bumper as well. In either case, the tow bar must be the appropriate length to fit on the front or back of the vehicle, depending on where it is intended to be used. Buyers should measure their vehicle before looking for a used tow bar.
It may also be possible to find a tow bar based on the make and model of the vehicle. Some tow bars are sold for a specific make and model, but it is also possible to purchase a tow bar that was used on the same make and model of vehicle. While this type of fit might be difficult to find in a junkyard or used store, it might be very easy to find on eBay as there are usually hundreds of options on the site and it is very easy to search for specific options.
Tow Ball
It is always important to consider the size of the tow ball that is fitted on the tow bar. A tow bracket fits over the ball on the bar and must fit the ball in order for the trailer or vehicle to be pulled safely. While a tow bar is usually only compatible with one size of tow ball, most hitches feature an exchangeable tow ball. Anyone who is hauling very heavy loads should choose a larger ball while anyone with a very light load can choose a slimmer one. A standard tow ball for a tow bar is 50 mm in diameter but it is also possible to find and purchase tow balls with diameters ranging from 47.6 to 58.7 mm.
Adjustable Tow Bar
Many used tow bars allow the tow ball to be taken out and replaced with a different size of ball. While not every tow bar offers this convenience, most do. Anyone who is planning to tow different sizes of trailer hitches, or who cannot find a tow bar with the correct size of tow ball, should simply purchase a tow bar that allows the tow ball to be changed out. In this case, purchasing additional tow balls with the tow bar may be a good idea. Like tow bars, tow balls can be purchased new or used and are readily available at online sites.
Tow Bar Weight Class
The tow bar weight class refers to the amount of weight that the hitch is allowed to pull. While exact amounts of weight do vary depending on the intended use of the tow bar, the weight class of the vehicle, and whether the tow bar is bumper mounted or frame mounted, the following classes can be used to purchase the correct weight load for a tow bar. Usually, a seller should mention the class or list it in the product description.
| | | |
| --- | --- | --- |
| Weight Class | Average Load (kg) | Used For |
| Class I | Up to 910 | Light loads |
| Class II | Up to 1,600 | Light to medium loads |
| Class III | Up to 2,300 | Campers, trailers, small boats |
| Class IV | Up to 4,500 | Large loads |
Importantly, the class of tow bar does not mean that the vehicle can tow a very large load if the vehicle is too light. Some vehicles are not capable of towing very large loads so it is always a good idea to pay attention to the vehicle size and weight. Some owner's manuals list maximum weight limits but it is also possible to check the maximum weight for the vehicle and then not going over that with combined vehicle and trailer weight. This is because the maximum weight is the most that the brakes can stop before suffering from performance issues.
Used Tow Bar Condition
The condition of the used tow bar should always be a consideration because while tow bars are very durable, there might be some damage. It is important to inspect the tow bar for damage that might affect performance, and if a like-new tow bar is desired, consider inspecting for cosmetic damage as well. Buyers who are making a purchase online can read the description and check any photos listed to get an idea of the condition.
Cracked, fractured, bent, misshapen, or badly damaged tow bars are usually not the best options to purchase. Even a used tow bar should be as physically sound as possible and should be straight in order to keep the trailer or boat straight on the road. Rust can sometimes be a problem but only if there is a great deal of it or if it has begun to damage the integrity of the metal. In most cases, a small amount of rust is only on the exterior of the tow bar and can be simply cleaned off.
Buying a Used Tow Bar on eBay
eBay is a great place to look for a used tow bar because there are plenty of options available listed from sellers around the continent. Buyers can look and choose a used tow bar that suits the weight class, vehicle, and tow ball they need without ever leaving home. eBay also makes it very easy to compare multiple options to help buyers get the best deal on their tow bar, or to find the best value for the money. It might also be possible to find tow bars on sale by looking at deals on auto accessories via the site.
Searching on eBay is very easy as long as the buyers know what they are looking for. For example, typing 'Toyota tow bar' into the search area of the website can quickly bring up every Toyota tow bar on eBay. Searching for 'used tow bar' would bring up any tow bars that have been labelled as used. The eBay listing description and any photos given should be used to compare different tow bars and to help with finding a tow bar of the appropriate size and weight class.
Conclusion
Buying a used tow bar can be a great way to save money on a truck or car accessory; however, there are multiple considerations when buying used. The first and most important thing to keep in mind is the size and weight class of the vehicle. A tow bar should be large enough to tow necessary items but it is also important to consider the maximum weight limit of the vehicle.
Sizing and fitting the tow bar before purchase is also a good idea as the tow bar should fit the vehicle and be able to attach to either the frame or the bumper. Checking the condition and ensuring that the bar is physically sound is also a good idea before purchase. Finally, buyers can choose to spend time looking in physical car and used store locations or can choose to look online at sites like eBay to try to find their used tow bar.
Used Tow Bar|Tow Ball|Trailer|Hitch|Winch