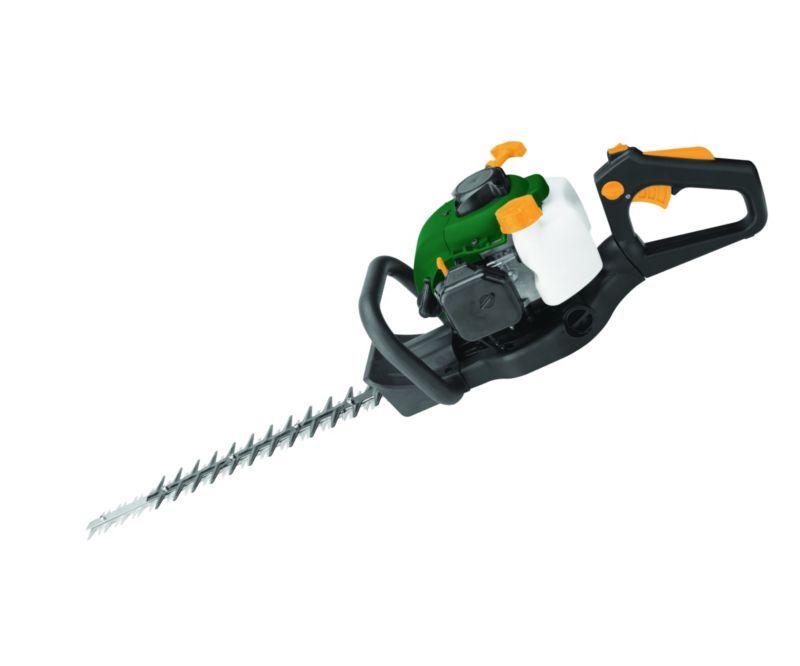 Once the lawn mower has done its job, trimming the hedges and other smaller plants is the next step. In order to save money, it may be wise to buy a working used trimmer for this job. However, with the large range and varieties of trimmers available, it can be difficult to choose the best trimmer for the job at hand. Using the information provided in this guide, and eBay's large range of trimmers, however, this job can be made a lot less daunting.
What is a Trimmer?
A trimmer is also known as a string trimmer, hedge trimmer, line trimmer, edge trimmer or other local and brand names. It is a powered handheld device used for the cutting of grass and other plants. It consists of a cutting head at the end of a long shaft with a handle or handles, and may include a shoulder strap for convenience. Instead of a blade, a trimmer uses a flexible monofilament line for cutting.
Trimmers work on the principle that when a line placed on a rotating reel is turned very fast, it can be held out from its housing very stiffly without flying off in a straight line due to centripetal force. In doing so, it is able to cut grass and slight, woody plants well.
A trimmer is a flexible tool as it can be used for horizontal and vertical cutting. The trimmer is held as normal for horizontal cutting, and titled for vertical cutting. Some trimmers also allow the head to be adjusted at different angles for even more flexibility.
Types of Trimmers
The main category with which to differentiate trimmers is in its power mechanism. Each type has its advantages and disadvantages and whilst the cutting mechanisms of all three types remains the same, the length and width of the blades in combination with the power rating of the trimmer will determine whether it is right for the intended job. In general, blade lengths up to 45 centimetres are best for light hedge-trimming jobs, whilst large and longer hedges need 55 centimetres or more no matter what the power source. The following is a list of the main power sources for trimmers:
· Corded electric trimmers: these are powered by connecting them to a mains electricity supply via a power cord. It allows for a continuous and never-ending supply of power, but does need to be physically connected to a fixed power source which can restrict movement and the distance the trimmer can reach. Extension cords can be used to combat this, but can be an inconvenience as the user will need to keep the trimmer's blades away from the cables to avoid injury. A residual current device (RCD) plugged into the power socket can be helpful as a safeguard as it will immediately shut off the current flow.
· Battery-powered trimmers: these have a built-in rechargeable battery as a power supply and, when fully charged, can provide enough power for around 30 minutes of uninterrupted trimming. It doesn't have a cable or cord to limit the user's mobility and a replacement battery can be used to quickly swap out a spent battery in the middle of a trimming session. The battery typically takes up to seven hours to fully charge.
· Petrol-driven trimmers: these are powered by an engine that runs on a specific petrol-oil mix. They are the most powerful trimmers available, and is often used in public parks and gardens due to its unrestricted movement and powerful cutting action. They are most suitable for larger, well-established hedges and are the noisiest, heaviest and most polluting of the three types.
Checking a Used Trimmer
When buying used trimmers, it is important to check every aspect to ensure it will work well once bought. When buying from eBay, inspect the photos provided well, and ask the seller to provide more photos or more information if needed, before purchase. Some of the recommended checks include:
· Corded electric trimmers: check the electrical cables and connections for frayed and damaged sections. Visible nicks and exposed wires are dangerous. A check by a qualified electrician is recommended before use. If the seller is trustworthy, ask them to provide evidence of a passed check as proof.
· Battery-powered trimmer check: the battery should be in good condition. As rechargeable batteries have a limited lifespan, check that it retains its battery power for as long as it is supposed to, as stated in the user manual. Replace the battery with lithium-ion batteries if needed. These can be recharged more times and delivers power more efficiently.
· Petrol driven trimmer check: these can be difficult to start, so if they do not start after one or two pulls of the cord it can indicate a badly maintained engine. Other warning signs include excessive smoke and noise.
Care and Usage Instructions for Used Trimmers
A used trimmer, if sold for further use, must be in good working order with no safety problems. It should retain its power and have undamaged and sharp blades. This can be determined with a visual inspection before buying. When using the trimmer, it is important to follow these basic safety provisions in order to ensure safe operation:
· Wear protective gear: when operating the trimmer, debris such as flying twig and leaf fragments may damage vision and scratch the hands. Wear goggles and suitable gloves.
· Do not use in wet weather: damp or wet electrical or battery operated appliances can cause severe harm. Ensure the trimmer is in a well-protected area where it cannot get wet. If water does get into any part of the tool, immediately turn off the power. Before resuming use, ensure it has been thoroughly dried and checked by a professional.
· Perform a full visual maintenance check before using: make sure all the external housings are tightly secured, the cables are not nicked or cut, the blades are oiled and clear of obstruction and the fuel source is topped up according to the manufacturer's instructions.
· Use extension shafts to reach high hedge tops: using a ladder will limit mobility and physical range whilst the repeated ascending and descending increases the chance of a fall. An extending arm instead allows a smoother scything action and is less tiring to use.
How to Buy Used Trimmers on eBay
Buying from eBay's large range of used trimmers can be easy with these simple steps:
· Type in 'hedge trimmers' or any of the relevant keywords in the search bar at the top of the screen to browse relevant listings.
· Alternatively, use the 'Shop by category' drop-down menu near the eBay logo to search from the pages with categories. Go to Gardening, then Outdoor Power Equipment, then Trimmers for relevant listings.
· From there, either browse the listings as they are, use the subcategories provided to narrow down the listings into Condition: Used, then browse the listings from there.
Conclusion
With the help of this guide explaining some of the varieties of trimmers available, and eBay's range of new and used trimmers, it can be easy to find the best trimmer for the size of the garden at hand, and for the preferences of the user. When purchasing a used trimmer from eBay is made easy, the hardest part of gardening remains using the trimmer on those unruly hedges.