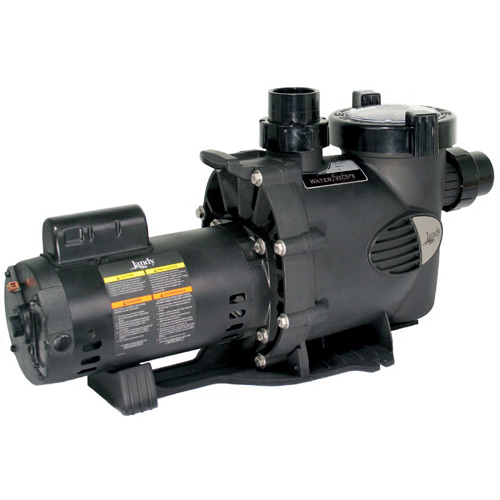 Water pumps can be useful for a wide range of purposes, and there are many different types available. Utility pumps, for example are often larger and more powerful than other kinds of water pump, and are generally used to rapidly move a large amount of water, for example, to deal with flooding.
Spa pumps meanwhile are smaller and are usually connected to a large number of jets in a hot tub or bath. Used water pumps, meanwhile, can be an affordable option when buying a water pump. Selecting the right pump for the job is important, and a wide variety of different kinds of pump can be found on eBay.
Different Water Pump Power Sources
A key differentiator between different water pumps is how they operate, and where they get their power from. There are three main power sources which are generally used by water pumps.
| | |
| --- | --- |
| Electric | The majority of water pumps which are used in the home are powered by electricity. These pumps are generally more affordable than petrol powered water pumps, and are also easier to maintain, and have to be used in a location that has access to electricity. However, they may not be as powerful, though are still capable of meeting most day to day needs. |
| Petrol | Some pumps, including the larger utility pumps, make use of petrol engines. These are often considerably more powerful than their electric counterparts, and can also be used anywhere, as long as petrol is supplied. They are however generally more expensive and difficult to maintain, and are also much louder than electric models. |
| Hand | Though less frequently used for many tasks than petrol and electric water pumps, a variety of hand pumps are also available. These are generally used for less intensive tasks dealing with smaller amounts of water, and are much more affordable than most other kinds of pump. They are also, however, much less powerful and can be tiring to use for long stretches of time. |
Types of Water Pump
There is a variety of different types of water pump which are useful for different purposes.
| | |
| --- | --- |
| Utility Pump | Utility pumps are used for a range of tasks, and are designed to move a great deal of water from one area to another. They are often among the more powerful types of pump available, with their power determining how rapidly they can drain or fill an area with water. Some powerful petrol powered utility pumps are also available. |
| Well Water Pump | Well water pumps draw water from below the ground, and can range greatly in power and design. Smaller, hand operated pumps may be used to provide water for gardening, while more powerful electric models might provide water for a household. These pumps are sometimes harder to install than other models, particularly if a well has not previously been installed in an area. |
| Pressure Tank Pump | One type of water pump is the pressure tank pump, which is used to regulate the pressure in a water system. These can be found in pools as well as used within the home. |
| Heater | A popular kind of pump which is used in hot tubs and pools is that which heats the water. These heaters are usually electrically powered, and heat the water as they pump it. |
| Spa Pump | Hot tubs, baths and swimming pools often make use of spa pumps, which generally fit to a large number of jets though which the water is pumped. These are used for leisure purposes, and the jets are designed to massage and relax the user. These systems will sometimes offer the option to change the power of the jets, in order for the user to find a setting they prefer. |
| Filter Pump | Filter pumps are pumps which feature filters which can prevent sand and other debris from getting caught in piping by separating it from the water. These can often be found in pools, and the filter may have to be regularly changed in order to ensure that the pump continues to function. |
| Pool Cleaning Pump | Pool cleaning tools often make the use of pool cleaning pumps in order to pump water, which is then used to clear the pool itself of dirt, debris and other items. There are a number of different kinds of pool cleaner available, including those which appear similar to vacuum cleaners, and robotic cleaners which can be set to automatically clean a pool. |
| Submersible Pump | Submersible water pumps are designed and constructed so that they can continue to operate even when fully submerged in water, and can be used for a range of purposes. |
| Vehicle Pump | Some smaller water pumps are designed specifically for use in vehicles, and are generally used to regulate the flow of water through a car or trucks cooling system. |
| Mini Pump | Mini pumps are similar in operation to other pumps, they are simply much smaller in size and power, and are useful for less intensive tasks for which larger pumps would be unnecessary. |
Used Water Pumps
A more affordable alternative to buying a new water pump is to buy one which has been used.
· When buying a used pump, it is important to be sure of the condition of what is being purchased.
· This information can usually be found on the item page, where a detailed description of the item, often including pictures, can give the buyer a better idea of the condition of a pump.
· When buying a used pump, it is important to be aware of any components which may have to be replaced. Filters, for example, should be replaced regularly.
· If any more information is required about the condition of a used water pump, it is possible to ask the seller a question on the item page.
How to Buy Used Water Pumps on eBay
A wide range of different types of water pump can be found on eBay, offering a variety of features.
· The full listings of available water pumps can be found under the Pumps category of Pool, Spa, Beach section, accessible through the Home & Garden portal.
· Important information about an item, such as the type of pump, will often be clearly displayed in the item listing, making it easy to quickly see if a water pump meets any specific needs.
· More detailed information, including further details on the condition of a used pump, can be viewed on the item page. This includes information about the seller such as item reviews and feedback ratings, helping to ensure that a purchase can be made with confidence.
· If a specific pump is required, it may be easier and more effective to make use of the search function found at the top of every page. Searches can be made to return results from across the site, or from within a specified category.
Conclusion
There are many different uses for water pumps. They can be used to create the relaxing water jets in a spa or hot tub, or used in a vehicle to regulate the flow of water throughout the cooling system. It is important to buy the right water pump for a task in order to get the most out of it, as well as selecting one with enough power and capacity to meet any needs. Used water pumps can offer an affordable way of buying a water pump, and a wide range can be found on eBay.