VW Golf Gti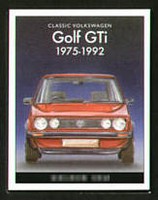 This is one of many illustrated classic car guides I've created for the community. I hope you enjoy it. If you wish to find out more about the classic Golf GTI car art featured in this guide please click here.
This guide covers Mk 1 and Mk 2 Golf Gti. Trendsetter and classic of its time, the car was conceived in 1975 and can lay claim to being the originator of the "Hot-Hatch" theme. More than one million Mk1 and Mk2 Gti were produced between 1975 and 1992.
VW Golf GTI Mk 1
The Volkswagen Gti was launched in left-hand drive from in 1975 with a 1,588cc engine and four-speed manua gearbox. By 1979 the steering wheel had swapped sides for the UK market, and an extra gear had been added. In 1980 the cheap looking steel wheels were replaced by nine-spoke alloys, which helped to improve the look of the car. A larger 1,781cc engine replaced the original in 1982 offering improved mid-range acceleration and better fuel-economy.
VW Golf GTI Mk1 Campaign
As much of a classic as any Ferrari and Golf Gti's claim to fame is that it spawned a host of imitators and brought together an affordable blend of performance, handling and reliability to the mass-market buyer. Few cars have had the greatness thrust upon them at such an early age or made such an impact. The last MkI to be built was the much sought after Campaign model. A limited-edition, the 1983 Campaign featured a four-lamp grille, tinted glass, a steel sliding sunroof and 6jx14 Pirelli-styled alloy wheels.
VW Golf GTI Cabriolet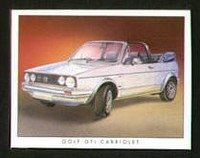 Styled and developed by specialist coachbuilders Karmann, the Cabriolet version of the monocoque Golf was introduced in 1979. As the first of the modern generation of cabriolets, the model set the standard for soft-top family motoring for the next decade and had many imitators. The Cabriolet Gti was never produced in Mk 2 form, the open-top car retaining the shape of the earliest model throughout its life.
VW Golf Gti Mk2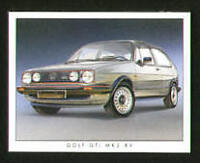 The first change to the Golf Gti took place in 1983 with the introduction of the Mark 2 model. More rounded in shape than the original, perhaps the most obvious visual difference was the twin-headlight grille, although this had been a feature of the last of the Mk1 Gti's, the Campaign model. The still 1.8-litre engine now had a peak torque figure of 114ft-lbs at 3,100 rpm, its 112bhp being achieved at 5500rpm instead of 5800rpm. Disc brakes were now fitted all-round. Two years later a second Gti was added to the model line up in the form of the 139bhp 16V.
Model Evolution VW Golf GTI 1 & 2

Sept 1975: Golf Gti three-door first shown (production beings June 1976).
Oct 1976: Gti launched in UK with 4-speed gearbox, in LHD to special order.
Jul 1979: RHD car launched with 5-speed "box", cabriolet launched in Germany.
Sept 1982: Introduction of 112bhp 1.8-litre engine.
Aug 1983: GTi Convertible available in RHD, initially as an all-white special edition.
Jan 1984: Gti replaced by new Mk2 Gti, Gti convertible continues with MkI body.
Sept 1985: Special edition cabri8os: All White, All Black, CC.
Mar 1986: Introduction of Golf Gti 16V 1.8
Jul 1992: Gti convertible discontinued.
Thank you for reading my guide and I hope you found it interesting!