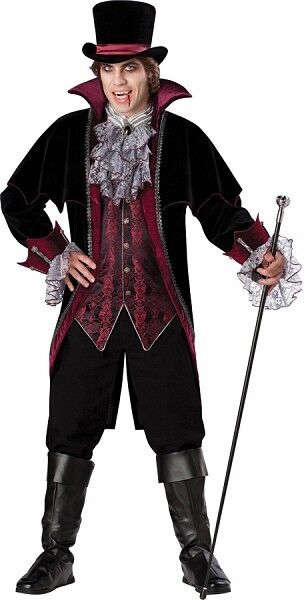 A vampire costume makes the wearer instantly recognisable if put together properly. Shoppers can purchase a readymade costume or purchase all of the individual items to create their own. Whether partygoers choose a traditional Dracula costume or a contemporary "Twilight" one, eBay sellers stock a range of vampire costumes and accessories to suit every shopper. Aside from clothing, consumers should remember to purchase the makeup and accessories, such as face paint and fangs, required to make a truly authentic vampire costume. Consumers must consider whether they want a traditional or contemporary look, and whether they want to style the costume on a famous vampire or create an entirely unique costume.
Traditional Vampire Costume
From the terrifying Nosferatu, with claw-like hands, to the cape-wearing, blood-sucking Count Dracula, the Prince of Darkness, with his rich, elegant clothing, shoppers can dress as an instantly recognisable traditional vampire with ease. Choose from a wide range of clothing and props to form a handsome, yet scary, costume.
Clothing
The basics for a traditional vampire costume include black dress pants, a white dress shirt, black shoes, and a black jacket orwaistcoat. A black or red bow tie is another staple of the traditional vampire costume, along with a long cape with a high collar. Users can make their own high-collared cape. Make a straightforward cape from heavy dark fabric. Create a tall collar from cardboard and cover it in the same fabric as the body of the cape. Attach the collar to the body of the cape and add ribbon at the front on each side to tie together and hold the cape in place around the shoulders.
Shirt Sizing Chart
A dress shirt should fit correctly to create a stylish, aesthetically pleasing costume. A shirt that is too small is unsightly as it stretches across the body, putting strain on the buttons and causing gaping. A dress shirt that is too large looks comical and, when tucked into the pants, looks unseemly, causing unappealing lumps and bulges.
| | | | | | | | |
| --- | --- | --- | --- | --- | --- | --- | --- |
| Size | XS | S | M | L | XL | XXL | XXXL |
| | 35 | 36-37 | 38-39 | 41-42 | 43-44 | 45-46 | 47-48 |
| Chest (cm) | 77 | 82-87 | 92-97 | 102-107 | 112-117 | 122-127 | 132-137 |
The chart above allows consumers to choose a dress shirt of the correct size. This helps to achieve a smart, authentic look and enables a consumer to wear the shirt on formal occasions as well as part of a costume.
Makeup
Makeup , for men and women, is crucial to achieve an authentic, traditional appearance. Using high-quality face paint allows buyers to produce a flawless finish and reduces the risk of allergies and the formation of blemishes. The face should be very pale and the lips very red for a startling contrast. Create dark, sunken eyes using dark eye shadow, face paint, and eye-liner. For the traditional vampire, black hair or, like Lily Munster, black hair with contrasting white streaks is a good idea. Male vampires should have slicked back hair and a pronounced widow's peak. Men can achieve this look with hair gel or a wig and temporary black hair dye is a good colouring option.
Accessories
No traditional vampire costume is complete without a set of terrifying fangs. A few drops of fake blood also help to complete the look. The traditional, Dracula-style vampire costume requires a dress cane.
Contemporary Vampire Costume
For a more contemporary vampire costume, shoppers can opt for characters such as Edward and Bella from the hugely popular "Twilight" saga, or a character from "Buffy the Vampire Slayer". Alternatively, consumers with a love of literature can choose a vampire costume based on one of the many captivating vampires from the Anne Rice vampire novels. Some contemporary vampire costumes are even suited to couples, such as Edward and Bella, or Spike and Drucilla.
Clothing
For a contemporary vampire, such as Edward or Bella, any smart-casual modern clothing works well. Shoppers who want to dress as a "Buffy" character, such as Spike or Angel, require black jeans or pants and a long leather or fabric coat. For a female vampire, such as Drucilla, choose a long, dark dress and black heels. For an Anne Rice vampire costume, opt for the vampire queen, Akasha, in all her ancient Egyptian finery, or the vampire Lestat in his opulent and sensual velvet clothing with lots of lace and ruffles.
Makeup
Makeup for the contemporary vampire, such as those from the "Twilight saga", involves pale face paint to provide a deathly pallour. However, these glamourous vampires often have a sparkle to their skin tone, achieved with body glitter added to the face paint or applied over the top. For "Buffy"-style vampires, with their evil side unmasked, shoppers can opt for prosthetic makeup to create the infamous "bumpies" on the forehead, producing a terrifying vampiric effect.
Accessories
As with traditional vampires, a contemporary vampire costume requires fangs. Fake blood is also an added accessory that can have a powerful impact if used sparingly. Accessories for the contemporary vampire vary hugely, but can include sunglasses and wigs. For "Buffy" fans, Drucilla commonly carries a little doll in the Victorian style.
How to Buy a Vampire Costume on eBay
When buying everything you need to create a vampire fancy dress costume, eBay sellers put all of the supplies right at your fingertips, all in one place, without even having to leave the comfort of your own home. Using the convenient search bar, you can locate clothing, makeup, and accessories. You can also search through all of the available costume listings for inspiration. Whether you choose to buy a complete costume or piece together your own, eBay offers an array of products to help you achieve your desired vampiric appearance. Legends and tales of vampires have been circulating across the globe for hundreds of years, making them one of the most recognisable and frightening mythical beings, and a great choice for a scary costume party.