Vans of the 1950s
This is one of many illustrated classic van guides I've created for the community. I hope you enjoy it. If you wish to find out more about the classic van art featured in this guide please click here.
This guide features several classic British vans from the 1950s.
Bedford CA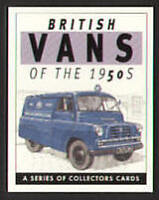 Introduced in 1952, it used a 1.5-litre ohv petrol engine, three-speed synchromesh gearbox, semi-forward control and independent front suspension. A 3/4 ton version was offered from 1959, but prior to that the payload was limited to 10/12cwt (508/609kg).
Austin K8 "Three-Way"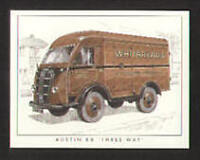 Austin introduced their "Three-way" van in 1948, and at the time it was considered revolutionary. It used the same engine as the A70 saloon car (16hp, four-cylinder) and provided maximum loadspace within a compact and manoeuvrable wheelbase of 7ft 9in (2.35m). The payload of the K8 was 25cwt.
Commer Q25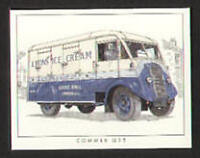 Just prior to the war, the Superpoise or (Q type) range was put on the market with models from 8cwt. Distinctive and well-designed, production did not get fully underway until after the war, when the range proved very popular.
Trojan Senior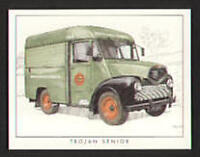 Powered by a 2.36-litre Perkins diesel, the Trojan was one of the last small-production British vans to enjoy commercial success. It soldiered on until 1962.
Morris JB
The first of a new breed of forward-control light vans was the Morris-Commercial J type for 1/2 ton loads introduced in 1949. It started life with side valves, but received an ohv engine in 1957 as the JB and was very popular with the General Post Office.
Ford 400E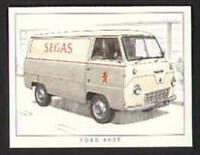 Ford's Model 400E 15cwt van was introduced in 1957, it featured independent front suspension and a four-cylinder engine of 1,703cc with three-speed synchromesh transmission. Like all Ford of Britain's commercials of this date it is badged "Thames".
Standard Atlas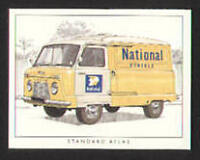 The Standard Motor Company built only passenger cars and light commercials until an up-rated version of its Standard "Atlas Major" 3/4-tonner was announced as the 1-ton Standard "20". Powered by a 2.1-litre petrol or 2.3-litre diesel, the model was listed until 1963, when it was absorbed into the Leyland range as the Leyland "20".
Thank you for reading my guide and I hope you found it interesting!