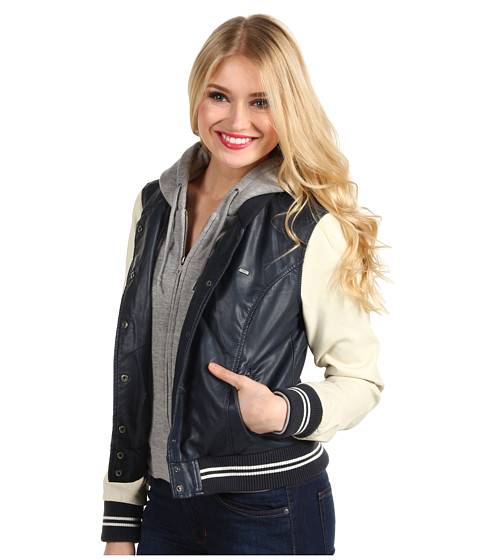 The varsity jacket, also often known as the letterman jacket, is a type of jacket which is based upon those awarded to the winners of personal awards in many universities in the United States. Those jackets would typically feature the varsity letter, typically the first letter if the university, sewn into the them. The style of jacket has since become popular around the world as a fashion item, and can be found offering an enormous variety of styles, designs and materials. A wide variety of varsity jackets, as well as other types of men's jackets and coats, can be found on eBay.
The Traditional Varsity Jacket
The type of jacket which is used by many American universities, and the traditional jacket that inspired the trend, is also often known as a baseball jacket.
· These original jackets are most often made out of a kind of boiled wool, a light, breathable and natural material which can offer a soft, comfortable coat.
· These jackets also feature sleeves made of leather, with a banded wrist and waist.
· Traditional varsity jackets also often feature bright colours, with the main colour generally being the colour of the university or school where the jacket was awarded, with the varsity letter sewn into the left breast. The specific design of a jacket may also be altered to represent what the letter was awarded for, such as the type of sport.
· Originally, hooded jackets would be worn by women while those featuring a banded collar would be worn by men. Today, both style are now frequently worn by either sex.
· Though there is a tradition of removing the varsity letter upon graduation, many people retain it as a symbol of accomplishment.
· Many different types and styles of jacket are now produced by a range of brands based on this kind of jacket.
Other Types of Varsity Jacket
Varsity style jackets can be found in a variety of different types, which can be suited for different needs and weather.
· Varsity hoodies feature hoods, and are often lighter and made of less thick material than coats or jackets. These hoodies often feature the colourful style of the varsity jacket, and typically feature either a zipper or pull-over design.
· Also available are varsity sweaters. Sweaters are generally made out of wool, cotton or synthetic materials, and are designed to be worn either over a shirt, or straight over the skin, and can be useful as an additional layer for warmth in cold weather.
Varsity Jacket Materials
Varsity jackets, hoodies and sweaters are available in an enormous range of different materials, from the traditional wool and leather to more unusual options such as denim or satin.
| | |
| --- | --- |
| Wool | A natural material which has long been used in varsity jackets, wool is a light and strong fabric which helps keep the wearer cooler in warmer weather, and warmer in colder temperatures. It is also resistant to moisture and mould. However, wool clothes must be dry cleaned or gently hand washed. |
| Leather | The traditional style of varsity jacket features sleeves made of leather, while some use leather as the main material. Leather clothing is highly durable, lasting for a great deal of time, and are very warm. However, leather clothes are also heavy and more expensive than other alternatives. |
| Cotton | A popular material for varsity jackets is cotton. This natural fire can be great for exercising, as it 'wicks' away moisture from the body, absorbing it and allowing it to evaporate, and is also a durable and comfortable material. However, cotton shrinks when washed and is easily wrinkled. |
| Denim | An unusual material in varsity jackets, denim is a durable material, which becomes more comfortable as it is worn over time. Denim cannot be ironed, and does not stretch easily. |
| Fleece | Fleece is a synthetic material which offers similar benefits to wool. It is a soft and breathable fabric, and is also lighter and less expensive than wool. However, fleece is not waterproof and can easily be damaged through washing or ironing. |
| Satin | Satin is a popular material for all manner of clothing, offering a luxurious, shiny appearance and smooth, silky texture. Satin clothes should only be hand washed, and can be more fragile than other materials. |
| Suede | Suede is a type of leather which has been treated to make it soft, and its unique texture and appearance has made it a desirable material. However, suede is difficult to clean, can be damaged easily and is prone to shrinkage. |
| Synthetic Fibres | Synthetic fibres such as polyester and nylon are widely used in all types of modern clothing. These materials are strong, easily washed and inexpensive. They can also be found in a wide array of different colours. However, synthetic fibres do not absorb moisture, trapping heat in the body, and can have a rough texture. |
How to Clean a Varsity Jacket
Many varsity jackets can be easily machine washed, such as those made of synthetic fibres, while more unusual materials such as suede may need to be dry cleaned or hand washed. The traditional varsity jacket, which often features different materials for the sleeves and body, can be difficult to clean properly.
· The first step is to remove any items that are in the pockets, before using a lint roller to remove dust and hair from the wool fabric.
· Any stains should be gently rubbed out with a damp towel and baby or hand soap, before the jacket is left to air dry. The jacket should not be left out in the sun, as this can damage the material.
· The leather sleeves should be brushed gently, and any stains removed with the damp towel. Leather lotion is also available, and can help to clean and maintain leather.
How to Buy a Varsity Jacket on eBay
Varsity jackets of all types and materials, as well as a wide range of coats and jackets, are available on eBay.
· The full listing of available varsity jackets can be found through the Clothing, Shoes, Accessories portal, in the Coats, Jackets category of Men's Clothing.
· The listings of available varsity jackets can be narrowed down with a range of options, including price and condition, as well as colour, material and product type.
· More detailed information about a particular item can be found on the item page, which often includes information and pictures about the item. This helps to ensure the buyer can see exactly what they are purchasing. Also available is information about the seller, such as item ratings and feedback reviews, which help to ensure that a purchase can be made with confidence.
· If looking for a particular varsity jacket, for example one featuring the varsity letter of a specific university, it may be more effective to use the search function which can be found on the top of every page. Simply entering a key word here will return relevant results.
· Look out for any deals on varsity jackets which may be available in the 'Men's Clothing' section.
Conclusion
Varsity jackets are a comfortable and versatile clothing option, which can feature the traditional varsity letter and style of university letterman jackets, as well as a variety of different fashionable designs. These can be found offering a variety of different materials and colours which can fit into all kinds of different outfits. An enormous variety of varsity jackets, coats, hoodies and other men's clothes can be found on eBay.