Vauxhall Cars 1950s and 1960s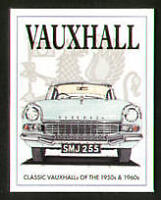 This is one of many illustrated classic car guides I've created for the eBay community. I hope you enjoy it and if you would like to find out more about the classic Vauxhall car art featured in this guide please click here.
The 2,262cc PA Velox and Cresta six-cylinder models of 1957 were some of the best-looking British cars of the period with their sleek low lines. Original cars had long tailfins and a distinctive three-piece rear window. Later 1961 / 2 PADX / PASY Cresta / Veloxes had one-piece curved windows and 2,650cc engines.
E-type Cresta
The completely new E-type Wyverns and Veloxes with curved instead of flat windscreens and coil and wishbone independent front suspension appeared in 1951, but used the old L-type engines until spring 1952, when both were given more powerful 79.4 x 76.2mm engines. Minor styling changes were made to the E-types from 1954, when the fronts were altered, first with a grille of "waterfall" chrome strip covering the opening and then from 1956 this horizontal bar grille with the big V motif. From 1955 the Cresta had become the top model, priced at £855.
Victor F-Type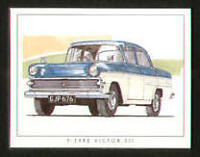 The important all-new FA-type Victor was introduced by Vauxhall in 1957. The car's layout - smaller, lighter and more compact than the E-type Wyvern it replaced was logical enough, but for many observers the quasi-Chevrolet looks, dog-leg screen, heavy sulpting on the flanks and traditional Vauxhall spears on the sides were a little too radical. Priced at £729, the Victor was an interesting and ultimately successful family car. It matched Ford's Consul for performance and handling and quickly became Britain's number one export car.
Victor FB VX4/90
Less than five years after the original Victor, Vauxhall introduced the second generation FB type. This used virtually the same underpan/platform/chassis engineering as before, but was topped by a much smarter and more acceptable body style. In October 1961, the company previewed the first VX4/90 model. The first deliberately sporting Vauxhall since the 30-98, this featured a twin-carb/71bhp version of the standard 1,507cc unit, a four-speed gearbox and front-wheel disc brakes. There was also a more comprehensively equipped facia and a stiffened-up suspension.
Viva HA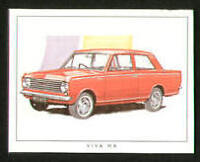 The all-new Viva was introduced in September 1963, and gave Vauxhall a small family car to sell in the important Min/Anglia/Imp/Herald class. Ultra conventional, with front-engine/rear-drive the model was distinctive for its squarish, boxy shape, which resulted in a roomy car with ample boot space. Power came from a completely new 1,057cc capacity overhead valve design engine with bore and stroke measurements of 74.3mm x 60.96mm. A big seller for the company, there would be a Viva in the Vauxhall range for the next two decades.
Victor FC (101 Series)
The third-generation Victor and VX4/90, known officially as the 101 Series, appeared in October 1964 with the same basic mechanical equipment, floorpans and running ear as before, but with a smoother body style. Competent, if not exciting, the FC models went on to sell in large quantities before finally being made obsolete in 1967. Total production for the Victor FC saloon and estate was 219,814 cars. In addition, 13,449 VX4/90 FCs were produced.
Viscount
The new PC range of six-cylinder models was launched in October 1965 and as with the last of the PB models, these were powered by the Chevrolet engine. The Velox name was dropped and the first two models were the Cresta (replacing the Velox) and the Cresta deluxe. In 1966 the Vauxhall Viscount was introduced. This was the most luxurious Vauxhall of the period, its standard features including power-steering, leather seats, walnut facia and door panels and automatic transmission. A total of 7,025 Viscounts were built up to 1972.
Thank you for reading my guide and I hope you found it interesting!