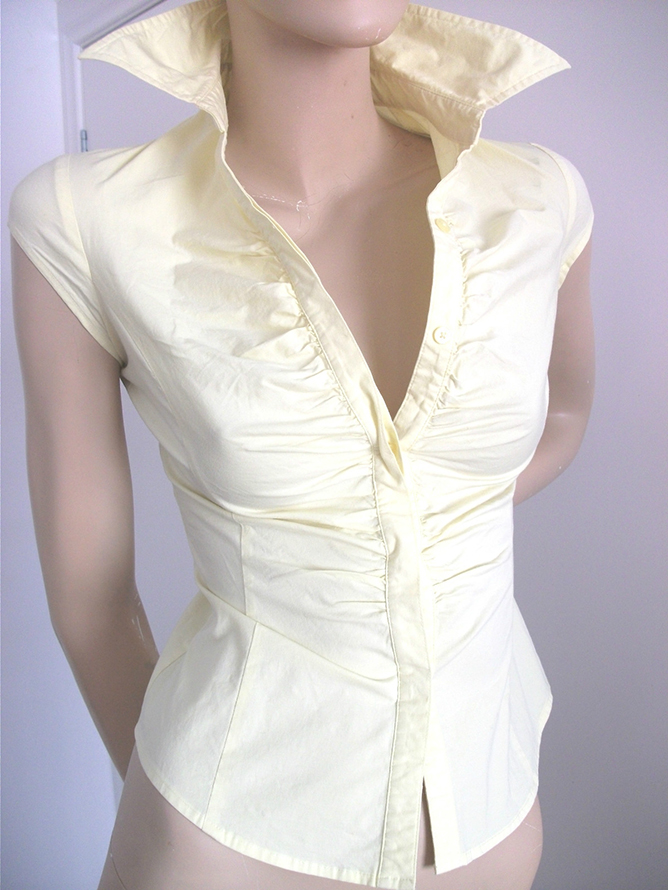 Australian designer Veronika Maine offers women high-quality clothing created in a contemporary yet timeless style. A mix of printed and solid coloured blouses of all styles and shape, Veronika Maine tops blend interesting textures with edgy prints and colours. Blouses add polish to a pair of trousers or a skirt, and turn casual with the addition of jeans or shorts.
Veronika Maine blouses create a versatile wardrobe when mixed with separates and accessories for a polished, pulled-together look. Consumers find affordable Veronika Maine blouses on eBay or in boutiques, and choose the best blouses based on style preference, blouse silhouette, colour, and price range.
Veronika Maine Blouse Styles
Available in several styles and endless designs, Veronika Maine blouses are easier to consider when broken down into categories according to sleeve length, then design. Consumers choose the right blouse according to which style is flattering, such as a wrap blouse, which creates the illusion of a slimmer waist, or a V-neck blouse, which balances a woman's proportions properly.
Sleeveless Blouses
Sleeveless blouses offer casual comfort during warm weather days. Easy to layer, sleeveless Veronika Maine blouses work well underneath a jacket or cardigan. Soft in satin, silk, or cotton, sleeveless blouses create various silhouettes such as a draped design, a cap sleeve look, or a tank top style. For an elegant evening out, a slim fitting draped blouse with a ruffled edge pairs well with black trousers or a black pencil skirt.
Made of high-quality materials, some sleeveless blouses need special care such as dry-cleaning. Layered-look sleeveless tops provide more coverage, and details such as a peplum waist which flatters the figure. A popular style of sleeveless top is the Georgette top made in soft colours like peach and lime green. Other stylish sleeveless basics include the twisted waist top and the Origami blouse.
Short-Sleeved Blouses
Blouses with short sleeves create multiple looks. Made of materials such as silk, polyester, or cotton, Veronika Maine short-sleeved blouses range from bold, graphic prints, such as flowers and checks, to rich, lush, and solid shades, such as lime green, heather grey, and tangerine orange. Created with flattering draping and soft, flowing fabrics, Veronika Maine short-sleeved blouses fit every body type and flatter every woman. From casual styles to more formal workwear, Veronika Maine offers short-sleeved blouses in many styles such as ruched blouses, peplum tops, and button-down tops with collars.
Organza blouses made of silk stand out, such as the Asian design of the Origami top, and retro floral prints, such as the vintage floral print top. Made of jacquard fabric, some short-sleeved Veronika Maine blouses include a textured feel for a polished look. Silk accents create a luxurious design for an upscale blouse perfect for work or an evening out. The daisy jacquard top fits the bill perfectly for consumers interested in an engaging blouse.
Long-Sleeved Blouses
Blouses with long sleeves generally fall between 3/4 length and full-length sleeves. Crafted from polyester, cotton, viscose, or wool, long-sleeved blouses range from cool colour block designs to subtle solid colours or stripes. Interesting necklines, eye-catching details, and flowing fabrics make long-sleeved Veronika Maine blouses comfortable and sophisticated.
Silky and sheer long-sleeved blouses make any outfit interesting, and a long-sleeved draped layered top camouflages flaws and adds softness to a slim pair of trousers. Button-down long-sleeve shirts come in a wide range of designs, such as the paisley print shirt, the draped block colour top, and the scalloped shirt with the curved, whimsical hem.
Veronika Maine Blouse Embellishments
Made with visually engaging details like exposed zippers, peplums, snakeskin prints, ruffles, and ruching, Veronika Maine blouses offer consumers something different. Scalloped sleeves, wrap designs, and asymmetrical hems fit and flatter women of all shapes and sizes. Simple but unique, Veronika Maine materials, cutouts, keyholes, and patterns work together and create lively pieces which remain in style year after year.
Best Veronika Maine Blouses for Body Types
One of the ways to ensure a blouse is flattering is to shop according to body type. Every woman has a different shape, and blouses either flatter or emphasise the body. There are various styles, designs, and necklines meant to enhance each figure type, and Veronika Maine offers many blouse styles for every size woman.
| | | | |
| --- | --- | --- | --- |
| Curvy Figure | Slim Figure | Athletic Figure | Plus-Size Shape |
| | Button down | Sleeveless | Peplum |
| Draped | V-neck | Halter, tank top | Wrap |
| V-neck | Sweetheart neckline | Scoop neck | Tunic or flowing top |
Purchasing a blouse for a specific body type makes it easy to put the right great look. Women shopping for blouses pay attention to small details that are figure flattering, such as the waistline, neckline, fit, and hemline. If all else fails, every woman gets the look they want in a wrap top or a V-shaped neckline, which flatters all body types.
How to Buy a Veronika Maine Blouse on eBay
Veronika Maine blouses are often costly in upscale boutiques, but you save money when you find these blouses on eBay and look for great deals. Search for the best merchants by purchasing blouses from Top-rated sellers. Once you insert search terms, such as " Veronika Maine blouses", filter your search by colour, or type in a more specific search such as "Veronika Maine sleeveless blouses". Contact the seller if you have questions or need to see more images by clicking the "Ask a Question" button on the seller's page.
Veronika Maine creations offer women versatility, and blouses appeal to every preference. While sleeveless blouses layer nicely under suit jackets or vests, long-sleeved blouses add interest to trousers or plain skirts. Veronika Maine is a sought-after designer, and the creations sell out around Australia and New Zealand, so nab a designer blouse without spending too much when you shop eBay.