Presentation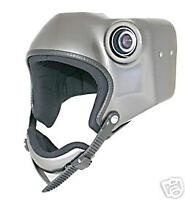 This very good quality helmet proposed by 2KComposites is supplied with:
An adjustable ratchet chin cup,
an internal L metal plate receiving and maintaining following camcorders:

PC6, PC8, PC100, PC101, PC103, PC105, PC107, PC120, PC330, PC350, PC1000 from Sony,
HC18, HC19, HC20, HC21, HC22, HC30, HC39, HC40, HC42 again from Sony.
2KComposites manufacturer proposes also as an option:
A cutaway system (mandatory following skydiving regulation),
a built in CamEye II camcorder control system,
a Newton targeting system.
Benchmark results
I bought this helmet for using it in 2 not necessarily compatible activities:
Skydiving,
snow activities (Ski, Snowboard, Skwal, ...).
Why "not necessarily"? Because by choosing to use it for snow activities, I had to ask to the manufacturer to leave the back of the helmet (where the camcorder is installed) closed to avoid snow coming in. This way, I cannot access anymore from the outside to the camcorder's controls during skydiving debriefings. But, anyway, if I want to link the camcorder to the video monitor, I have to access to the inside.

First impression
Like I said, this helmet shows quality and looks rock solid and very nice.
The inconvenience of this rock solid conception is the weight when you have it on your head. Glass fibbers materials are less expensive and more shock absorber but heavier than carbon. This impression of weight is really present, once the camcorder is in place.
The helmet is very enveloping. Placing it on your head is not something easy particularly if you want to keep your glasses in place. When it is done, it is quite comfortable. Take care of ordering the exact size because 2KComposites does not accept if you want to return it. The helmet has to be sufficiently tight to avoid moving during free fall but sufficiently confortable to avoid feeling the camcorder on your left side.
The helmet is supplied with a Velcro system to maintain the camcorder in place on the L metal plate and foam pads to adjust your camcorder depending on the model you have.
Usage on slopes
I would recommend a helmet not just for the protection but also because it is warm and you will appreciate it during the winter. Be careful because this helmet is not made for snow activities and did not receive any homologation for it. You will use it at your own risks.
Use a wide angle 0.5x rather than a 0.3x with your camcorder. This way, far people will appear sufficiently close.
I would recommend ordering the CamEye II option that is very convenient to control your camcorder during the action.
At the end of the day wearing the helmet, you are very happy to take it out. If you have a backpack enough big, you can use it to carry the helmet when you don't use it. Nevertheless, it is so convenient to record scenes when you want all over the day without to have to set and take out your helmet every 5 minute that you forget about it after a time.
In conclusion, just the weight can represent a handicap but new camcorders using memory cards rather than heavy tape systems could be the definitive solution to this problem.
Usage in free fall
The weight factor is not as important as for snow activities just because we just need to wear the helmet during around 5 minutes.
It is better to use a wide angle 0.3x particularly if you are numerous to jump together. Once again, the CamEye II is welcome and much appreciated. You will forget about adjusting your helmet and camcorder at 9000ft and you will be able to concentrate on the program of your jump.
Regarding the cutaway system, I preferred another simple pin based system I found on Internet and well known of skydivers. It is less expensive and I think as efficient.
If you are not comfortable yet with video, you can use a Newton like system to help in centering the scene. Even the best prefer to use such system to guaranty good pictures.
Except during the canopy opening where you can feel your helmet (I would say, the camcorder), this helmet is comfortable and its aerodynamic profile helps to avoid suspenders taken in the camcorder just because the camcorder is totally protected.
Conclusion
Pros
Manufacturing quality, finishing, rock solid construction.
Comfort if it fits you perfectly.
Built in CamEye II system as an option.
Cutaway system as an option.
Newton system as an option.
Security (the protected camcorder cannot interfere with suspenders).
Cons
No way to try it before to buy it, don't make a mistake on the size to avoid to be squeezed! Just for that reason, I would not recommend to buy this helmet before to have the occasion to try one somewhere and knowing the exact size corresponding.
Too much expensive when bought new.
Too much Sony DV camcorder oriented.
The manufacturer is not very proactive in looking to implement new models like such having memory cards (Sanyo Xacti HD1, Samsung,...) that could reduce notably the total weight of the video solution. Client policy is awfull, no way to return a helmet if it does not fits you despite you specified your right head size.