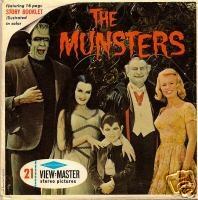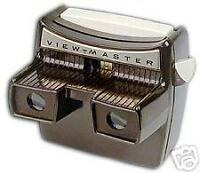 Thanks for dropping by and welcome.
Since 1939, View - Master has produced a vast range of 3-D related products including viewers, reels, projectors, stereo cameras and many different accessories.
As the buying and selling of the company's more collectable reels from the 1950s, '60s and '70s is the most active and popular part of the hobby, that's what I'll be concentrating on.
The main purpose of this Guide is to give you an idea of what's available. But, most importantly, I want to pass on some buying tips.
This page does not contain information about View-Master's more recent products. Such data is readily available elsewhere on the internet.
To learn more about the current market value of View-Master reels and other collectables you should check eBay's Completed Listings archive. This handy search facility provides full details of all auctions which have recently ended on eBay internationally. To find out more, simply click on the Help tab at the top of the eBay home page. Then enter the words "completed listings" in the search window. Be sure to check worldwide activities, however, not just Australian transactions.
Let's start with the basics....
What is View-Master?
View-Master is the registered brand name of the photographic industry's most popular and enduring range of three dimensional slide viewers, reels and accessories.

What is 3-D?
Three dimensional (also known as "3 - D" or "stereo") images, whether they are generated using still photographs or movie film, simulate normal human vision with the various fields of foreground, middle distance and background being noticeably separated. This differs from standard pictures which can only reproduce a single, "flat" image. When projected, the 3-D effect can be quite startling with objects appearing to jump off the screen into the audience.
How does View-Master create the 3-D effect?
View-Master manufactures its own circular cardboard discs known as "reels" which have small colored slides (or "scenes") mounted around their perimeter. Each reel contains two copies of seven different photos. Matching slides (also known as "transparencies") are placed diagonally opposite each other (see illustration below).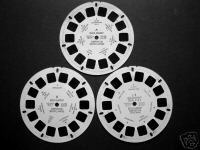 The reels are then loaded into hand-held viewers that have left and right eyepieces (lenses) and the reel is rotated by pushing a lever or button. When twin copies of the same photo stop simultaneously in the viewing position (i.e when copies of the same photo stop in front of the left and right eyepieces) they merge together to make a three dimensional image. However, the actual illusion is created in your brain, not in the viewer.
What's the history of View-Master?
View-Master was invented in the late 1930s by William Gruber, an American organ builder, who formed an manufacturing partnership with Sawyer's Incorporated, a postcard distribution company of Portland, Oregon.
Sawyer's View-Master was launched at the 1939 New York World's Fair as a souvenir of the event with the first viewers being sold in camera and stationary shops together with slides of the fair.

Disney Bonanza
In 1951 Sawyer's bought out their major competitor, the Tru-Vue Company of New York which produced stereo views on 35 mm film strips. Tru-Vue held the license to use Walt Disney characters and Sawyer's quickly exploited this valuable asset by producing many top selling reels which featured images of Disney's animated and live-action characters, their movies, TV shows and, later, their famous theme park. It was to be the beginning of a long and extremely successful association.
View-Master has undergone many changes of ownership since its inception and its products have been made in various parts of the world including Belgium and Australia (1958-61). Sixty-seven years later, however, this amazing little gadget is still going strong.
Inducted into America's National Toy Hall of Fame, View-Master is now marketed under the Fisher Price label.
Did View-Master invent the 3-D process?
No. William Gruber simply took an old idea and improved it. Stereoscopic photography and stereo viewers had been around since the nineteenth century. Somewhat appropriately, the 3-D process was pioneered by three learned men of the day - namely, David Brewster, a Scottish scientist (who also gave us the kaleidoscope), Charles Wheatstone, an English inventor (both of whom were knighted) and Oliver Wendell Holmes, an American doctor.
Buying : Some General Comments
View-Master collecting has been well established in the US for some time but the hobby is still gathering momentum in Australia.
As retro buyers and sellers have become better organized and more methodical, however, the growth of cross-over collecting has seen an increasing number of people looking for single subject reels which relate to their specific areas of interest. For example, some reels that feature cult TV shows and movies, pop stars and super heroes from earlier times are now making premium prices on eBay.
Condition
Condition is the all-important factor when buying most collectables and View-Master products are no exception. Junk is junk in any language.
You should never pay top dollar for anything that is not complete, in good condition and preferably comes with all the original packaging (see below).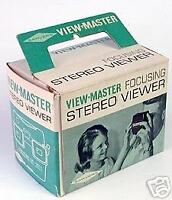 The Importance of Original Packaging
The availability of original packaging, particularly for older goods (made prior to the 1980s) can make a substantial difference to market values. Some classic and unusual box art from the 1950s, '60s and '70s, for instance, is now highly prized by collectors. Indeed, some boxes can be worth as much, if not more, than the actual product that they contained.Why? Because most people threw the packaging away. Packaging is particularly important when you consider buying some of View-Master's more substantial items such as viewers and projectors.
REELS
The buying and selling of reels is the most active and affordable part of the hobby. And remember that all reels fit all viewers not matter how old or new they may be.
How were they sold?
Initially, most reels were sold individually. Since the 1950s, however, they have usually been offered in packets of three with each set being devoted to a specific subject.
What's available?
General :

Being a postcard distribution company, Sawyer's initial marketing decision was to concentrate on what they knew best when it came to producing slides for View-Master - namely, travel related "scenic" reels. After enjoying outstanding success with their early Disney releases, however, the company diversified aggressively into film and TV subjects. But this was just the tip of the iceberg.
Famous international tourist destinations, important historical events, scientific and educational topics, scenes from movies and TV shows and pop stars have all been featured. In short, you'll find all sorts of interesting things to look at ranging from photos of Disneyland through to the Apollo moon landing, the wonders of the deep, movies such as the Poseidon Adventure and TV shows like the "Beverly Hillbillies" . Even pop music milestones such as Michael Jackson's "Thriller" album have also made it onto reels.
Many hundreds of packets have been released with some containing story booklets as well (examples of which can be found here on eBay, sometimes being shown with reels).
Corporate Advertising Reels :
Major companies have also utilized the novelty and training value of View-Master with a number of specially branded viewers and reels having been manufactured to promote a wide range of products as diverse as Mustang Cars, Coca Cola and Barbie dolls. There was even a viewer and reel set produced to train the staff at eBay a couple of years ago. As most of these were not issued to the public, they are now quite rare and collectable.
Movie Preview Reels :
In the 1950s, View-Master issued movie preview reels to cinema operators to promote the upcoming release of a number of 3-D and "flat image" films. View-Master photographers were allowed onto the sound stages of several studios to snap pictures. The reels together with special, custom-built viewers were set up in cinema foyers for patrons to enjoy.
Such movies as Creature from the Black Lagoon, House of Wax and Kiss me Kate were promoted in this way.
Again, these items are particularly sought after by collectors today because they were never released to the public.
To learn more about what reels have been released check the well named View-Master Ultimate Reel List - a non commercial, research website which is maintained by the University of Texas.
The Current Market
One of the great things about this hobby is that you can get into it for under $10. Good pre-loved viewers can be picked up for around $5. Most packets of the more common "scenic" (travel), Disney, TV related and other reels can still be bought for a couple of dollars each. Such evergreen titles as Disney's Snow White & the Seven Dwarfs, Mary Poppins and 101 Dalmatians sold in huge quantities and are still plentiful.
There are only a handful of reels that make big money on a regular basis.
As mentioned above, those that feature some of the more quirky and cult TV shows of the 1960s consistently do well on eBay, particularly in the US. A check of eBay's recent completed listings archive by yours truly revealed that the following winning bids were accepted for the items indicated below (prices are in US dollars) :
The Munsters $79
Banana Splits $42
Lost in Space $31
All were in very good to mint condition.
Interesting corporate advertising and promotional reels also find a ready market and generate plenty of interest. A couple of examples in this category have recently done well.
A set of reels which promoted Beechcraft Bonanza aircraft sold in England for the around $70 (Aus).
A packet from 1980 featuring the glam rock group Kiss found a new home at $111 (US).
But genuine star money came the way of one lucky seller in the States who found a special, single reel promoting Barbie outfits from around 1960. Believed to have been used as a counter-top display item in toy stores, it sold for $156 US. Yes, indeed, those fabulous Barbie dollars just keep rolling in !
A scene from the Barbie reel that recently sold for $156 in the US
Movie preview reels are always eagerly sought and usually make well in excess of $100 (US). A reel promoting the 1953 horror classic House of Wax sold some time ago for $300.
Perhaps the most collectable of all reels is View-Master No:1305 entitled President Kennedy's Visit to Ireland from 1963.Quickly withdrawn after JFK was assassinated, this item has sold for more than $400 in America.
What to look for
Once more, I need to stress that only quality merchandise is worth buying. With this in mind, please check the following points before you bid on reels :
* Packets should be well presented with no rips or scribbling on them. Also, all four flaps should be intact and reels should still be in the original inner sleeve (see below)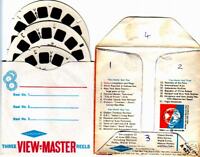 * If a packet contained three reels and a booklet (it will say so on the packet) make sure that everything is present and accounted for. Also ensure that all reels contain different slides of the same subject and that you are not buying multiple copies of the same reels.
* From about the 1980s reels were sold in blister packs and these should be in mint condition to be considered collectable. Damaged hangholes or evidence that price tags have been removed decrease the value of packs.
* View-Master discontinued the use of Kodachrome film stock in the 1960s and some images after that time turn red.
* During the 1960s and '70s, the type of glue that was used on the reels can blister and bubble up. This can cause reels to jam in you viewer.
Damaged reels are worth nothing. If slides are missing use what's left as a drink coaster.
One final word. Don't become too preoccupied trying to corner the market in regard to buying potential investments. If you happen to find a gem at a rock bottom price then you've kicked a goal. As a rule, simply buy what you are going to personally enjoy having in your collection.
If you have never taken the time to peer into the darkened fantasy world of View-Master you're missing out on a visual treat as well as a wonderful form of escapism. Why not give it a try. The pleasure will be all yours !
Happy hunting and buy with care
Motralabouch