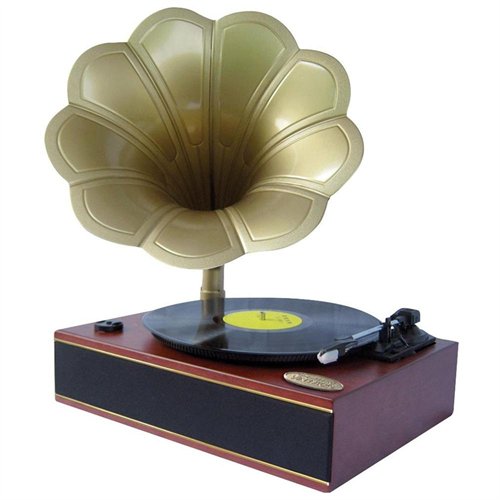 Vintage turntables are popular with collectors and music enthusiasts alike. Vintage turntables are loved by many because of their great sound and the fact they are widely considered as a symbol of music history.
Vintage turntables are available on the current market to purchase in many different styles, sizes and designs to accommodate for the differences in individual tastes, desires, requirements and preferences.
The purpose of this guide is to inform the reader all about vintage turntables and to explain how to purchase them safely and efficiently from eBay.
Turntables
Turntables are music-playing devices that play LP (Long Play) records or "vinyls" as they're popularly known as. Turntables work by a needle tracing the engraved waveforms from record and vibrating to reproduce the recorded sound waves.
Turntables may also be referred to as "record players" or "phonographs". Turntables that are used with a mixer as part of a DJ's set up are often known as "decks". Using turntables in this way to manipulate sounds and create music is a modern art known as "Turntablism".
Turntables are very popular with audiophiles as it is widely accepted that they produce a better sound quality than other digital music sources like CDs (Compact Discs). Besides their greater sound quality, turntables are also popular with music enthusiasts because of their historical significance in the world of music.
The History of the Turntable
The turntable or phonograph was introduced to the world by famous inventor Thomas Edison in 1877 for the recording and reproduction of sound recordings. Other inventors had previously made devices that were capable of recording sounds however Edison invented the first phonograph that could reproduce the recorded sound. This phonograph recorded sound onto a tinfoil sheet phonograph cylinder initially and could record sounds as well as produce them.
Alexander Graham Bell's Volta laboratory made some developments to Edison's phonograph in the 1880s. The developments consisted of a cutting stylus that moved side to side in a 'zig zag' fashion across the vinyl and using wax-coated cardboard cylinders.
Then, during the turn of the 20th century, Emilie Berliner sparked the transition from phonograph cylinders to gramophone records (flat discs that were double-sided with a spiral groove running from the outside to the centre).
Since then, various improvements have been made to turntables and their drive systems including updated needles and styluses as well as their sound and equalisation systems.
Belt, Direct and Idler-Wheel Drive
Turntables are available in three formats relating to the mechanisms that they utilise in order to operate.
Belt Drive
Belt driven turntables use an elastomeric belt that absorbs motor vibrations and noise which the stylus (needle) could ordinarily pick up. The motor noise in most belt driven turntables- often a low-frequency rumble- is greatly reduced, providing a much greater sound quality. Belt driven turntables also allow for more affordable motors to be used than direct driven turntables.
Direct Drive
Direct drive turntables drive the platter (the component that the vinyl sits upon) directly without a drive train consisting of numerous belts, gears and wheels. Direct drive turntables were popular from the 1980s onwards due to the reduced costs of microcontroller electronics.
Idler-Wheel Drive
The third type of drive system used in turntables is the idler-wheel drive system. This drive system was one of the earliest to be used in turntables. The idler-wheel drive system used a motor that ran at a speed that was synchronised to the frequency of the AC power being supplied to that device. This drive system was popular in turntables despite the fact that the wheel would typically wear and decompose causing it to produce a low-frequency rumbling noise and speed variations into the sound.
Vintage Turntable Considerations
Shopping for vintage turntables can seem to be quite challenging at times, so bear the following advice in mind whilst browsing these items:
· Record Compatibility – Most vintage turntables will play all LP record formats (33RPM, 45RPM, 78RPM and 16RPM) however some models may only play the more commonly used 33 and 45RPM speeds. It is strongly recommended that buyers check the turntables record compatibility prior to buying to ensure the most successful purchase possible.
· Needle Compatibility – Almost all vintage turntables have interchangeable needles (styluses) so that if one should break, it can simply be replaced with another. It's always advisable to check the turntables needle compatibility with the seller or manufacturer prior to purchase.
· Manual or Automatic – Vintage turntables are often available in both manual and automatic. Automatic turntables feature a tonearm which is capable of moving records over automatically. Manual turntables however have a tonearm which must be moved over to the records manually. Generally speaking, audiophiles prefer manual turntables as there is less parts to cause vibration which interferes with the sound.
How to buy Vintage Turntables on eBay
The choice of vintage turntables online hugely outnumber those that can be found on the high street, with numerous amounts that can be compared and analysed alongside each other aligned with the buyer's individual tastes, requirements and preferences.
In this sense, eBay is perfect for presenting a quick and easy route into searching for vintages turntables on the internet.
For the most successful purchase shopping on the website, use the following advice for efficient and safe shopping on eBay:
· Search – In order to start a search on the website, enter "vintage turntable" into the search toolbar. Then, using the menu on the left-hand side of the screen, select "Electronics" followed by "Audio". And then finally select the subcategory "Record Players/Home Turn tables".
· Brand – Many people have a preference or a favourite when it comes to electronics brands and manufacturers because they have previously purchased products from them that were of good quality. In this case, eBay has an extensive range of vintage turntables from top of the range branded electronics manufacturers such as Garrard, JVC and Sony.
· Shop Safely – In order to have the most successful purchase shopping on the website; always read the product description thoroughly (to confirm exactly what is being purchased), review the postage details and payment options prior to purchase. Buyers can always contact the seller if they are unsure about any part of the transaction.
· New and Used – To offer customers the most choice when shopping, eBay stocks both new and used vintage turntables to purchase.
· Use PayPal – Although eBay accepts a range of payment methods, PayPal is generally considered as the safest way to make online payments. PayPal allows shoppers to send payments securely and quickly online using a credit card, bank account or PayPal balance.
· eBay Deals – Don't forget to check out the latest deals on vintage turntables by looking in "Audio" section of the "Electronics" department. Many fantastic additional discounts can be found here along with free postage costs.
Conclusion
There are many issues to consider and factors to take into account when purchasing vintage turntables. However with the important information and crucial considerations outlined throughout this guide, coupled with eBay's highly detailed and easy to use website, buying vintage turntables is quick and easy.
Buying on eBay should be considered not only due to the potential of finding a good deal; but due to the extensive range of vintage turntables that the website offers. Remember to always keep all personal information and banking details safe and secure by using payment authority PayPal to complete transactions.