Welcome to my Versa Wrap Silk Skirt Dress Buying Guide.
***Up to 100 stylish ways to wear ONE Versa Wrap***
Before the Versa Wrap was designed I remember having a lot or trouble trying to find a good quality wrap that was right for me.
There are a lot of imitation wraps out there and I hope this guide will help in preventing you from purchasing a fake or low wuality wrap.
As i know from personal experience when purchasing a good quality wrap like the versa wrap,
Once you wrap there no going back!
Vintage wraps can also be known as:
Kariza wrap
Vintage wrap
Tilda wrap
Magic wrap
Enwrapture
Lotus wrap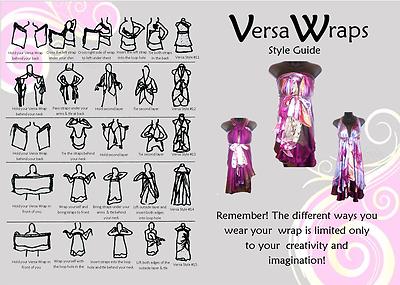 If you Like It! Buy it!
If you see a wrap that you really like, buy it! All Versa Wraps and other vintage wraps are one of a kind. So grab that wrap so you dont miss out as you will not see the exact same wrap again.
These wraps are fantastic maternity wear as the styles you wear can be changed to best suit your bod
y as your baby grows.
Also the plus size option is fantastic as you can discover and adjust styles of your wrap to best suit your body size.
Most wraps include a free style guide or DVD with style variations and ides for stylish ways you can wear your wrap.
But don't limit yourself, the styles and creative ways you wear your wrap is only limited to your imagination!
Be Mindful
You can spot a good quality wrap from the type of stitching it has. Versa wraps have a double a stitched hem, extra thick straps for neater looking style and extra long straps for even more style options.
Low quality wraps have a tendency to unravel, fray, fade and have short thin straps and are usually made from low quality blended fabrics which won't look or feel good to the touch. Also look for wraps that have 3 loop holes which can drastically increase the amount of different styles you will be able to achieve.
Caring for your wrap
Manufactures reccomend hand washing your wrap in cold water. I have always washed mine in the washing machine on cold wash. I just put it in a delicate garments bag and throw it in! After washing, hang it evenly over an airer or clothes line to avoind it drying with creases.
I hope this buying guide helps you as this knowledge has helped me in designing the perfect wrap. The Versa Wrap!