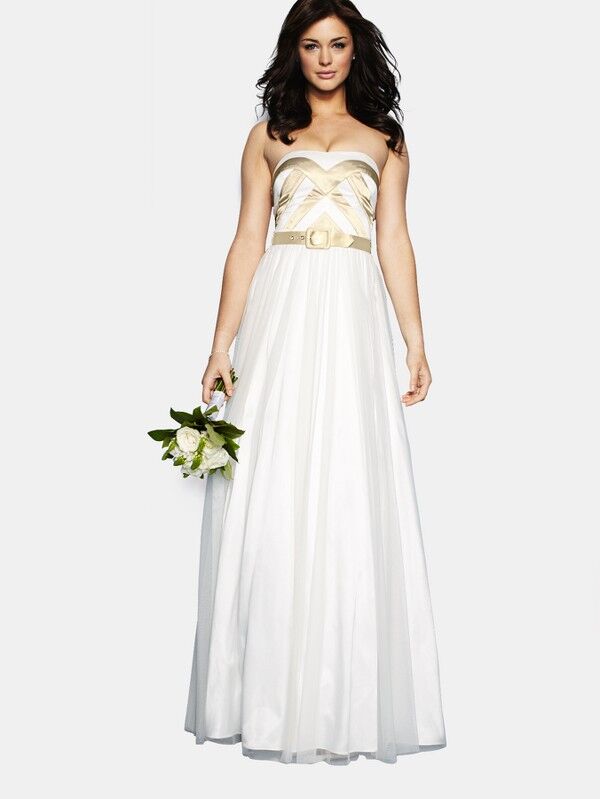 Choosing a wedding dress is one of the most important decisions in a woman's life. Every woman wants to look her best on her wedding day. Not only are there many styles of dresses to choose from, but there are also many vintage wedding dresses. If a bride is interested in an older, more retro look, she should think about a vintage dress that does not look like any other gown and provides a one-of-a-kind experience.
Vintage wedding dresses and new wedding dresses both have their benefits and downsides. Weighing the options that make each type of dress special, as well as the dress prices, fit, and styles helps a buyer make a more educated purchasing decision about whether to buy a vintage or new wedding gown.
Vintage Wedding Dress
Vintage wedding dresses are a perfect fit for today's modern weddings. Many of the classic styles of vintage dresses never go out of fashion, and there are many styles to choose from, from the detailed designs of the 50s to the romantic dresses of the 70s. Some popular vintage wedding dress brands include Yves St. Laurent, Alfred Angelo, and Gunne Sax.
Benefits
There are a variety of benefits to purchasing a vintage wedding dress. One of the most important is the price. Vintage wedding dresses are generally much more affordable than newer dresses, and in some cases, by thousands of dollars. A budget-savvy bride may want to opt for a vintage dress due to the low cost. Even gowns with designer names are more affordable vintage than they are new. This is a big selling point for a bride who would rather splurge on a lavish honeymoon or reception instead of putting all the money into her gown.
Vintage wedding dresses also offer the chance to be unique. So many newer dresses are copies of other bridal gowns or celebrity gowns, and a vintage dress has a look that is all its own. Dresses fit differently in the past, too, so a woman who is curvy may find a 1950s wedding dress works better for her silhouette than some of the styles now, and a slender woman may feel beautiful in a 60s shift-style wedding dress.
Styles and Designs
Vintage wedding dresses are available in many signature styles and designs, along with brand names. Dresses of the 30s were glamourous. They channelled the look of classic movie stars with a loose silhouette and added details. In the 50s, a fuller silhouette was popular, such as ball gowns with flowing skirts and small waists, which creates an hourglass shape. Floor length dresses were also popular. The 60s ushered in a more flowing and less structured shape, which works well on tall, slim women. These dresses did not have as much emphasis on the waistline as dresses in the 50s did.
Some of the most famous vintage dress styles included Grace Kelly's princess dress that she wore in 1956, Jackie Kennedy's 1953 wedding dress with its full skirt, and Yoko Ono's super chic white mini dress that she wore when marrying John Lennon in 1969.
New Wedding Dress
New wedding dresses are constantly changing. Fashions evolve, silhouettes go in and out of style, and purchasing a new dress is a chance for a bride to purchase a trendy, modern dress that is fashionable. Some common bridal brands for the seeker of a new gown include Vera Wang, Monique Lhuillier, and Maggie Sotero.
Benefits
One of the main benefits of having a newer dress is that the dress has no previous history. Another factor to weigh is that a new dress is not damaged, ripped, stained, or flawed in any way, as some vintage dresses are. New dresses are easy to alter and repair, but the materials, beading, and buttons on vintage dresses are harder to replace due to lack of supplies. It is also harder to find a vintage dress that fits properly, as shapes were different in the past and may not accommodate women's sizes today.
There are also more designs to choose from, and with the popularity of bridal salons and online shopping for bridal gowns, there are plenty of new dresses to choose from. A consumer who opts for a vintage gown may have a more limited selection, and it may be more difficult to find the dream dress that she is looking for.
Styles and Designs
Modern wedding dress styles are endless. From floor length to tea length and even knee length, styles and designs vary from brand to brand. New wedding dresses typically come in several different silhouettes: ball gown dresses, mermaid or trumpet style dresses, or traditional A-line gowns. Neckline styles are also widely different, with strapless, halter, cap sleeve, and one shoulder dresses, all available for purchase by a bride looking for a new dress.
New dresses offer a large variety of sizes and commonly go all the way up to plus sizes. Dresses are customisable, easy to alter, though it is time consuming and costly, and they are available in many colours for a bride who opts for a more daring look on her wedding day.
Selecting a Wedding Dress
There are several factors to weigh when a bride is choosing her wedding dress. Some brides may have their hearts set on a lovely vintage gown, and it is just a matter of finding the right style. Some brides are on the fence, and enjoy new or vintage dresses.
| | |
| --- | --- |
| Vintage Dresses | New Dresses |
| Less expensive than new gowns | Cost much more than vintage dresses |
| Unique, timeless designs | Many popular, trendy styles |
| Not as many dresses to choose from | A wide variety of dresses to choose from |
| Generally only white or ivory | Many bold colours available, and even pink, red, and black dresses are popular |
| May only fit certain body types, and hard to alter | Many sizes to fit all shapes of women |
A bride who is having a hard time deciding should weigh other criteria when choosing between vintage or new. Some important things to keep in mind include the price of the dress, condition of a vintage dress, and if alterations are necessary. Also, what the bridesmaids and other attendants are wearing may also be a consideration.
How to Buy a Wedding Dress on eBay
If you are looking for the right wedding dress, you can find great deals on wedding dresses when you shop on eBay. Use the convenient keyword search box to get the most specific results, and type in a search such as "vintage wedding dress" or "Vera Wang wedding dress". Filter the results based on your budget, size, brand, or style of dress.
If you are purchasing a vintage dress, contact the seller by clicking the "Ask a Question" button on the seller's page. Ask to see detailed images of the dress and make sure the seller has listed all of the dress flaws in the listing. Use a size chart and a tape measure to determine which size you wear so the dress fits properly.
Conclusion
Choosing the right wedding dress is a fun experience, but it is also a bit stressful. A buyer should enjoy wedding dress shopping as much as possible. Selecting a vintage or new dress is the first step to successful dress shopping. Once that decision is made, the buyer is able to determine which style is right for her based on her own body shape, the type of wedding, and what her budget is for a gown.
When a woman is buying a vintage dress, there are many selections to choose from, such as a Bohemian, flowing dress from the 70s, an elegant dress from the 40s, or a flared ball gown that is synonymous with the 50s. If a consumer is looking for a new wedding dress and is also faced with many selections, it is really a matter of which dress moves the bride the most.
Vintage Wedding Dress|Vera Wang Wedding Dress|Ball Gown Wedding Dress|Bridal Gown|1950s Wedding Dress