Recently, people on eBay (local and overseas) have been selling versions of Pokemon GBA games called "Chaos Black" and "Quartz". Before you bid on any of these, I am here to tell you that THEY ARE FAKE!
Why? Can you find it listed on an official Nintendo website, or a legit online store like Amazon? The only known official Pokemon releases are as follows:
-Pokemon Red/Blue
-Pokemon Yellow
-Pokemon Pinball
-Pokemon TCG
-Pokemon Gold/Silver
-Pokemon Crystal
-Pokemon Ruby/Sapphire
-Pokemon Emerald
-Pokemon Fire Red/Leaf Green
-Pokemon Diamond/Pearl
It boots up fine and plays well for the first part of the game, but when you get to Mount Moon, it will completely freeze and refuse to let you go any further. Not only that, the "Pokemon" displayed on the box isn't even a Pokemon at all, it's a character from Sonic called Chaos!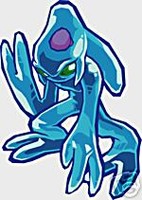 Compare that image to the image shown on the box - it's practically the same!
These pirates are out to get ignorant parents and children who don't know better than to buy anything that has the word "Pokemon" in it. So please, before you go spending big bucks on a game, don't get conned and buy a fake!
Credits for info in this guide go to this thread (damn you eBay for non-ebay linking):
http://www.catharton.net/electronica/forum/viewthread.php?forum_id=129&thread_id=154&rowstart=0