Reason to Buy:
Great format supported, i.e Mkv, H264
Great price, only $199
HDMI out and Optical audio out are included
High definition interface
Supports NTFS, FAT and HFS formatted devices
Remote control is plus
Reason to Bin:
USB rear positioning not so good enough
Doesn't understand ISO structure very well
Does not support Ethernet nor wireless compatible
No video skipping, only search
Have to buy HDMI cable separately
Supplied encoding software is token in functionality
Design and Features

Looking similar to Western Digital's own portable hard drives, the WD TV is, at a petite 125mm by 100mm by 40mm, surprisingly small compared to what we're used to with media streamers. The back features composite video/RCA audio out, digital audio out and HDMI out. Annoyingly as is seemingly the case with HDMI devices, no HDMI cable is included, Western Digital opting to include the cheaper composite/RCA cable instead.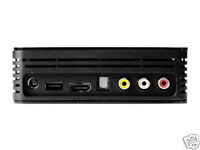 It also differs in the usual approach with not a network port in sight. Choosing to err on the side of simplicity for its maiden run, Western Digital has opted to stream over USB only this time around, even including a dock for its own My Passport range of drives. Two USB ports are included, one on the side, and one not so usefully on the back, between the HDMI and power cables. People with thick thumbsticks may find problems here.
Compatibility

Almost any USB device that can be browsed through a PC without specialised software should be usable with the WD TV, from cameras to iPods... in theory.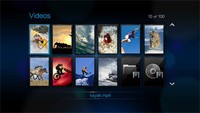 There are exceptions to the rule however, with a 64GB Corsair Flash Voyager coming up as an "Unrecognized Device" (although admittedly our PS3 refused to recognise it as well), the iPod Touch and iPhone simply charging and not displaying contents, and the CoolerMaster XCraft 360 external case being ignored altogether. Our SeaGate FreeAgent Go 160GB worked though, and eight other USB keys of varying brands registered near instantly. Our fifth generation 30GB iPod turned up as well, but took quite a long time to index — although we suspect this is the fault of the iPod rather than the WD TV. A generic multi-card reader also registered and worked fine, although it initially complained it was an "Unrecognized Device", presumably because the first slot it tried to initialise was empty.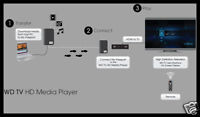 It won't read USB optical drives though and doesn't support protected formats, so don't think that a WD TV plus USB Blu-ray drive will get you to legal HD cheaply. We're probably beating this up a bit more than is necessary though, as the vast majority of devices we tested worked fine. Western Digital for its part wants you to buy its own "MyPassport" drive, and tries to seal the deal by including a drive cradle with the WD TV built specifically for it.
Assuming you've plugged in a compatible device, the WDTV will read devices formatted in FAT, NTFS, and non-journaled HFS.

Formats, formats, formats

Video format support is impressive for a non-software solution, with MPEG 1/2/4, WMV9, XviD, AVC and H.264 codec support. DivX and X.264 work fine as well. It also spruiks support for the AVI, MKV and MOV container formats, but all of them will only play if they contain the above codecs. Old school Quicktime lovers beware. The lack of RealMedia is also interesting, although we'd be surprised if anyone would really care. We hooked up the device through a Pioneer VSXAX2AS-S receiver, and unlike other streaming devices we've tried, the WD TV played back every MKV we had flawlessly, including a 1080p X.264 AC3 encoded file. Subtitles are also supported, but only through .SRT files.
The WD TV also supports .ISO, but seemingly only has a limited understanding of disc structure. As such, we'd recommend encoding any disc images, or extracting the video stream directly before attempting to play. Hopefully with the next revision menu support and a better understanding of disc structure (as well as other formats such as .BIN and .NRG) will be supported.
On the audio front, it's listed as supporting MP3, WMA, OGG, WAV, AAC, FLAC, Dolby Digital, AIF and MKA. It handled our mixed MP3, OGG and FLAC collection without skipping a beat. Due to its read-only nature, it's sadly impossible to create a playlist, and you'll have to make the playlist file in either PLS, M3U or WPL format on your PC first.
For those formats not supported, Western Digital includes ArcSoft's MediaConverter to translate to a supported codec — however for video it only outputs to an . AVI container using H.264 as the video codec, at a maximum of 720x576, 3Mbps, 25FPS and 192Kbps MP3 audio. Similarly, JPG conversion only goes up to 1024x768, and audio conversion only supports MP3 at 192kbps maximum. Given its simplicity, it's a bit of a token effort on behalf of Western Digital and will leave video fans scrambling for their favoured encoding tool of choice. Despite the WD TV support the Mac file system, no Mac software is included.
We should note at this point that the WD TV does not support any copy protected files.
Picture viewing is covered, although a little laggy in slideshow, and supports JPG, GIF, single layer TIF, BMP and PNG. While we could have tortured it with all manner of odd PNG and TIF files, since its primary use will be as a photo viewer and most cameras save in JPG, we weren't too fussed.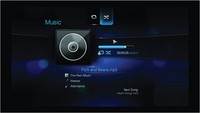 Interface and remote

In a stark contrast to other companies, Western Digital has actually employed a high definition interface. Why other companies use a standard definition interface on a high definition device has always been a question that's puzzled us, and it thrusts Western Digital's attempt into the limelight.
The interface itself is like a pared down version of Microsoft's Media Center, and is easy enough to navigate. A user customisable setting of viewing in either thumbnail or list view is in the options, and although thumbnail is nice, we'd recommend list view for speed, especially if you have a lot of files.
After you've plugged in your device and its been indexed, you can sort and view the files in a few different ways. You can just load everything it finds under either Video, Photo or Music categories, sort by date, view the available folders, or the files you've recently accessed. The Music and Video categories also allow viewing of playlists, while the Music category allows further sorting by either artist, genre or album based on metadata.
You can also search for files through an on-screen keyboard, either using a string that the file contains, or searching by whatever the file starts with.
Responsiveness of the interface isn't as great as it could be, but it's certainly acceptable. More problematic is the remote, which requires far too much pressure to activate the buttons, and is absolutely critical to the system — if you lose it, you can no longer control your WD TV. The infra-red remote also requires a very direct, and hence very irritating line of sight — compared to say, today's radio equipped game controllers, it's significantly inferior.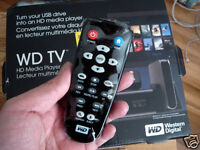 Movie viewing and manipulation is generally a good experience, although the lack of ability to skip forward in intervals (say, at 10% of the total movie length) or simply select where to start a movie on the timeline is irritating, leaving you to seek forward at a maximum of 16x from the beginning if you want to see something at the end of the film. Pressing the fast forward button simply switches to the next film in queue instead.
Conclusion

It's Western Digital's intent to introduce the WD TV as a simple video streaming device, which is why it has foregone ethernet this time around, opting to not scare consumers with the "safe" USB format.
And for what it's worth, it's worked. The WD TV is an excellent device with a broad spectrum of format support, decent speed and a high definition user interface. And at AU$199, it offers all this at a fraction of the price of networked media players, which now only carry the advantage of ethernet. We sincerely hope Western Digital includes ethernet in its next revision.
Its firmware is upgradeable too, meaning potential future feature updates and bug fixes, and there are already firmwares posted by WD as time of publishing.
The WD TV's only real competition is MediaGate 800HD, which are readily available from our eBay store as well, and software HTPC solutions like XBMC and Windows Media Center. But for price and ease of use, this is the one to beat.
Source: cent
Like this guide, then please vote 'YES' for my 30 eBay reviews, and any comments are welcome. Please also ensure to checkout my eBay store for more media players and latest gadgets!