Choosing the right length for your new bracelet or necklace chain is the purpose of this guide. The decision depends upon your personal preference, your size, the thickness of the chain links and often the garment you may wear with it. Here are some tips to help you get it right and some hints with measurements.

What chain length do I need?
Obviously this depends on your personal choice, your height and weight, how chunky the chain is and even the neckline of a garment if you are choosing an item for a specific occasion. You also need to take into account the size of your neck and the width of your shoulders.
The bigger your dress size the longer the length you may need in a necklace.
The thickness and chunkiness of a chain also needs to be considered. You will need to adjust the length you choose according to the fineness or thickness of the chain. If you choose a 3mm flat chain it will sit longer on your chest than a chunky 10mm belcher chain (as pictured above) does. Choose a longer length than you think you need when choosing chunky, thick chains.
The chunkier the links the tighter the fit.
To measure for your ideal chain length simply use a tape measure to drape around your neck and note the length. Alternatively you could use a cord or a piece of string. Adjust the string to where you want it to sit. Tie a knot or mark with a texta pen and then measure the length with a ruler. The total length of our necklaces include the clasps.
18" = 45cms 20' = 50cms 24" = 60cms 30" = 75cms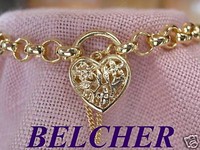 What bracelet length do I need?
Bracelets need to be measured to suit your individual preference. Some like the bracelet to dangle a little while others like a firmer fit. Ordering bracelets is much easier if you know your correct wrist size.
Of course the easiest way would be to measure a bracelet you already have. Even if the bracelet is too small or too long it is a good starting place for you. The quoted total length of our bracelets includes the clasps. Otherwise measure your wrist by placing a tape measure just above the wrist bone. Now simply allow a little extra so it is a comfortable fit for you. You may find it suits you to pop a finger under the tape and take that measurement as your bracelet size. If you don't have a tape use a piece of cord or string and measure the length with a ruler. The bracelet size you order will of course be larger than your wrist measurement. For instance my own wrist measures 16cms and 18cm bracelets suit my comfort level. However my chunky 10mm belcher bracelet feels more comfortable to me in the 20cm length. Remember to add a little extra again if the links are thick and chunky so it's not too tight for you.
The chunkier the links the tighter the fit. You may need to choose the next size up.
Just as a general guide, BABY bracelets are usually 12cms, TODDLERS require 14cms, TEENAGERS or SMALL LADIES 16cms while the AVERAGE LADY wears an 18cm bracelet. This size guide refers to bracelets made with small flattish 3mm to 5mm links not to thicker 10mm belcher links.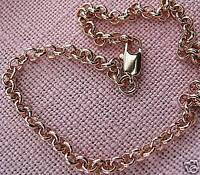 What about my anklet size?
Anklets should be measured loosely enough to allow flexibility of your ankle. Measure using the same method as you would to determine your bracelet size. Again if you are ordering the 4mm belcher anklet pictured above make sure you allow for the extra chunkiness of the links compared to a finer, flatter chain.
What width do I need?
Here are a few chains to help you determine what width you need for your purpose. Please click the links below and compare chain widths. This will help you decide what suits you best. Of course we have chain widths all the way from 01mm up to 10mms to choose from.
01mm to 02mm = 1/16" to 1/8" This is a fine chain suitable for a small pendant or charm.
05mm = 3/16' This is a medium width often available in a figaro chain or curb chain. A 2mm rope chain also qualifies as a medium chain.
07mm = over 1/4" This is a thicker noticeably chunkier chain.
10mm = over 3/8' A very thick, lush belcher chain.
Please scroll down to vote for this guide if you found it helpful.