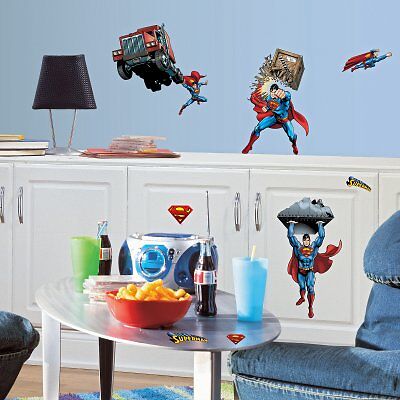 Wall stickers are an easy and imaginative way to decorate a home or office space. Quick and easy to apply, the wall sticker is not permanent and will not leave marks on a wall. Despite their name, wall stickers will adhere to most flat and smooth dry surfaces. Given the temporary nature of wall stickers, different designs and aesthetics are constantly updated, allowing this art from to be an affordable home decoration alternative.
There are a number of different locations to purchase wall stickers. With fairly recent the introduction of ecommerce, perhaps the easiest location to find these products is online. Auction sites like eBay offer an abundance of different choices.
This guide offers practical advice on how to buy wall stickers.
Different Types of Wall Stickers
There are a variety of different wall stickers available on the market. Below is a list outlining some of the different types:
| | |
| --- | --- |
| Blackboard wall Stickers | A blackboard wall sticker is designed to be written and re-written on by chalk. . To use as a blackboard, it is also required to have chalk. Chalkcan be washed off the sticker using warm water and a cloth. This is an excellent idea for children's playrooms or in the kitchen. Blackboard wall stickers are both decorative, as well as changeable and practical |
| Wall murals or scenes | Wall murals are a larger version of wall stickers and depict a scene or environment. It is also possible to purchase wall murals that are stuck to the surface using a paste similar to wallpaper. |
| Personalised or Bespoke Wall Stickers | Some suppliers will offer the opportunity to design bespoke wall stickers. It is also possible to request changes to current line of stock in colour and size. This could be a work logo or specific quote for a family home. The possibilities are endless. |
| Wall Stickers | Wall stickers that either create a small scene or spell out a word or sentence. Designed to be a feature in a room. Suitable for any environment. |
Important Information about Wall Stickers

Materials
Wall stickers are made out of a low tack gloss or matt self-adhesive vinyl. This material as aforementioned is not only easy to apply to a smooth and flat surface, but it is also guaranteed not to affect or damage paint or wall paper.
Life Expectancy of the Material
The life expectancy of wall stickers is approximately 5 years. This may vary depending on location. If indoors and away from direct sunlight (and water), the sticker can last considerably longer.
How to Care for Wall Stickers
The most effective way of caring for wall stickers is by washing occasionally with a damp cloth. Do not use any chemicals. This will help to keep the stickers clean and clear of dust or dirt.
How to Apply Wall Stickers
When a location has been identified and it comes time to applying wall stickers to a surface, the most important factor to take into consideration is preparing the wall. To do this, follow the outlined steps below:
· Prepare the area by washing and drying. Ensure that this removes all dust and dirt. It is advisable to use a wall cleaner to wash the walls.
· Measure and mark the area where the sticker will be placed. Be sure to check that the measurements are straight and accurate.
· Pull back one edge of the sticker and place on surface. Adjust accordingly.
· Gradually pull and apply the sticker to the area using a flat object, such as a ruler or credit card, so to eradicate any air pockets (bubbles).
Buying Considerations for Wall Stickers
As with most home decoration products, there are factors to take into consideration when it comes time to purchase. These considerations include:
· Know where the stickers are going: Undertake adequate planning before purchase, which includes identifying the location, checking its suitability, taking measurements, and having a clear design vision for the space.
· Cost: Ultimately the cost of the product will be determined by the size and detail of the sticker. The larger the sticker, the more costly it is going to be. Be sure to take this into consideration when setting a budget.
· Postage and packaging. It is important to keep the stickers as flat as possible during postage. It is advisable to check with the seller their method of shipping to ensure the stickers arrive in the best possible condition. Be aware that a folded item, although it looks creased, will flatten out once the back is removed and it is applied to the flat surface. Be sure to include postage and packaging in the budget.
How to Purchase Wall Stickers on eBay
eBay's extensive range of home decorating products means that it is not only the perfect place to purchase wall stickers for any setting, but also all manner of home DIY product. Alongside this, eBay is considered a leader in its field worldwide, as well as being a safe and secure site for both seller and buyer. The following section offers practical advice on how to purchase products on eBay.
· Searching for Products: The first point of call when using eBay is to search for a product. This can be done a number of different ways. The most accessible search is via the keyword search bar, which is located at the top of every page. Simply add in a search term to the bar for an immediate search of the whole site. eBay will collate all the answers onto one page for easy browsing. If the exact product is known, it is possible to complete an advance search. In addition to these options, it is also possible to search via categories. For wall stickers, simply follow the categories, home décor then wall stickers sub-category pathway.
· Product Suitability: Once a product is identified, and before purchase, it is important to ascertain if it is exactly what is desired. Reading both the description and photo provided by the seller can help with this. Be sure to ask the seller if further information is outstanding and required before a purchase can be made.
· Refunds and Exchange Policy: It is important to be aware of the seller's refunds and exchange policy, just in case. All sellers offer excellent customer service; however, this knowledge can assist in the unlikely problematic scenario arising after a purchase. eBay also offer a buyer protection programme for peace of mind.
· Payment: Payment for a product on eBay can be done one of three ways, which are by credit card, debit card, or PayPal. All are safe and secure options.
· Additional Information: If additional information is required, this can be found on the helpful tips page. Additional information is available here as well as frequently asked questions and answers.
· eBay Deals: eBay deals is a sister site to eBay. Be sure to check for wall stickers on eBay deals for additional deals not found on eBay.
Conclusion
Since the wall sticker became recognised, different designs and aesthetics have become widely available. Wall stickers are the ultimate DIY project, as they are easy to assemble, prepare, and stick onto any flat or smooth surface. They are a cost effective way to make over any space or environment and with the extreme range of designs, there is an alternative to suit any personality or taste.
eBay's excellent range of products makes locating the product easy, acting as a one stop shop for any buyer. All that is left to do is browse and purchase.