You can get amazing & Beautiful baby clothes at incredible prices on eBay......... But, & there's always a but, it helps if buyers are educated and informed, to help make decisions about their purchase/s. Having this advantage helps you bid, buy and recieve confidently. Here are a few very helpful tips, to make eBay a safe & happy place to purchase.
1. Firstly........ALWAYS Read feedback comments from the seller or store you are interested in purchasing from. I do this before anything else. Feedback is the best way to make a judgement. 100% feedback is prefered, Negative Feedback tell's it's own story. If the Feedback is consistent and praising, you are pretty safe, if the consistency is negative, eg, over charging of posting, slow to post or non reciept of items, Steer clear, even if you really like the article. Always check the posting persons feedback also, do they regularly leave negative FB, Have they recieved negative FB, is it retaliation FB.....

Positive

Neutral

Negative
2. Don't become emotionally attached to any article, it maybe cute, beautiful or just perfect for your little one, but this gaurantee's you'll pay toooo much. Set yourself a spending amount, with postage included, and you will be OK. There will always be another one......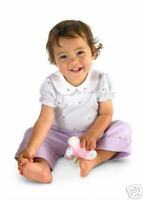 3. Check if the seller Pay pal or Square trade verified? The easiest way to tell is by looking for the PayPal or Square Trade seal on the seller's auctions. With Paypal you are covered as a buyer with the Free PayPal Buyer Protection. The SquareTrade Seal, is one way for sellers to show bidders that they are committed to high selling standards and have had their identity verified by a third party. 100% commitment from your seller.


4. Thoroughly read the item description. I know this sounds silly, but many buyers do not read item descriptions. Many questions I get from buyers are repeated statements clearly outlined on the listing page. Take the time to read the auction completely, article description is most important, I once recieved FB complaining there were no tags, but the listing clearly stated, used condition. With Postage & insurance options, I recomend NOT buying from any sellers that does not clearly state the postage costs. Condition of article, NWT, NWOT, EUC, payment methods, Postage cost's & expected delivery time from payment turnaround, Combined post should all be clearly marked in a non-confusing manner.
4. If in doubt, ask the seller questions!
If the seller respond quickly, and gives a detailed answer, and are curtious, you can be sure they are interested in good customer service and this will basically gaurantee the service you recieve will reflect this. If you are bidding on more than one item, ending at different times or days, notify your seller, so they know what you are doing, a email is free and the communication is really appreciated.
5. Paying for your article. If possible, pay with Paypal, that way you get your item faster, you are both protected by the Free PayPal buyer protection plan. The transaction is faster and smoother and positive feedback is a given. If you pay by bank transfer or money order, do so as quickly as possible (with in 48 hours) and email the buyer, when payment has been sent. If you have problems approach the seller, they usually are fine with waiting a few extra days, don't be shy, it'll get you in trouble.
6 Waiting for your article. If you purchased express post and the seller's handling time period is 24 or 48 hours, and you have not recieved your item in the specified mailing time, Email the seller. Don't wait to long. If you are buying internationally, remember you only have 60 days protection, so if it's not in the specified time, email seller and if you get no response, but in a item not recieved claim.
7. Lastly, ALWAYS leave Feedback, it is an important part of the eBay community, how will others know of your experience with the seller. If you have any issues with your purchase, contact the seller and try to work it out amicably, before leaving feedback. No Body want's Negative Feed Back.

Helpful Discription Terminology EUC: Excellent used condition, BNWT: Brand new with tags, NWT: New withtags, BNWOT: Brand new without tags, NWOT: New without tags, FB: Feed Back