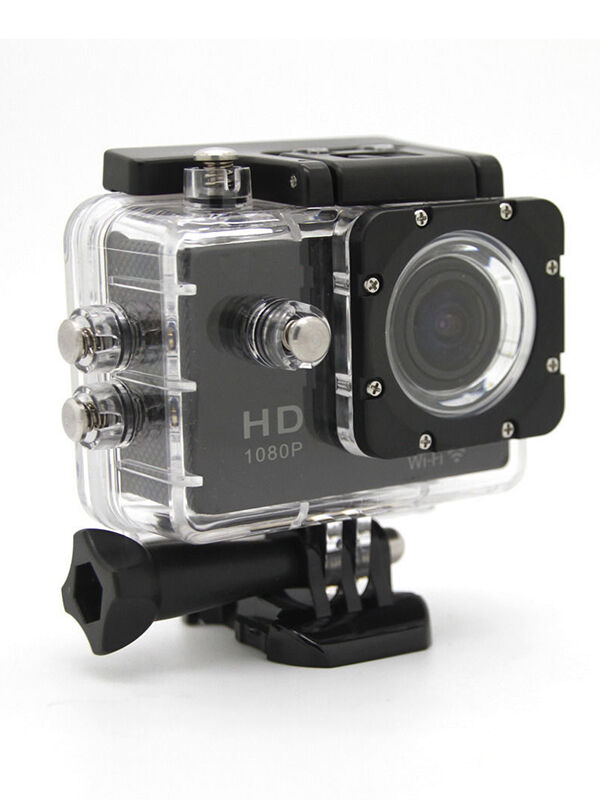 Wearable cameras are a piece of technology that has managed to capture the hearts of tech lovers, adrenaline junkies, photojournalists, and many others. Wearable tech owes its popularity in part to the convenience it provides. Compact and streamlined, it hugs the body and seeks to merge with the experience, not remove the user from it through a cumbersome form. Wearable cameras record film, take photos, and record audio, whether for professional or personal purposes. Below you'll find information on three innovative wearable cameras: a waterproof camera that thrives on action shots, an entirely discreet camera you'd be lucky to spot, and the trending favorite, Smart Glasses.
Waterproof Action Cameras
The virtually indestructible, The Contour Roam 3 Action Video Camera HD is waterproof and wearable. The Contour Roam 3 is often mounted onto a helmet or a bike. The emphasis is on action shots, and the hands-off option is a plus here. It's waterproof up to 30 feet without the addition of a case, and is extremely easy to use. It takes 1080p HD video and boasts capture rates of 30 FPS.
Covert Cameras
Not everyone wants to make it blatantly obvious that they're taking film. Indeed, this is true for many professionals, from photojournalists to spies and everyone in between. The Spy Watch Camera, especially the Covert Camera model, is perfect for anyone who wants to be secretive about their photographic activities. Discretion is played up here, and the models are stylish. The camera masquerades as a watch and thus looks natural on the wrist. The beautiful watch also takes photo and record sound in crisp, high quality. It comes with 4G built-in storage and will never appear out of place. What better way to capture a game-changing moment, an improvised song, or someone's authentic smile than to conceal the camera's presence?
Smart Glasses
Smart Glasses are about as wearable as it gets while still letting others know the accessory is tech, too. They're certainly convenient; Bluetooth calls are taken directly at the recipient's ear, web browsing is conducted on a tiny private viewing screen, and let's not forget the camera.
The perspective provided by taking photos with smart glasses is intimate, life-like, and unobtrusive. The camera is perfect for a photographer who wants a camera to be like a second skin. Photographers can peer at the chin of a lover and photograph that fleeting angle or capture snapshots while jotting down notes for a story.
Conclusion
These three options certainly don't span the entirety of all the products available from online retailers. More sweet gadgets, tailored for every need, pop up every day, so keep your eye out.