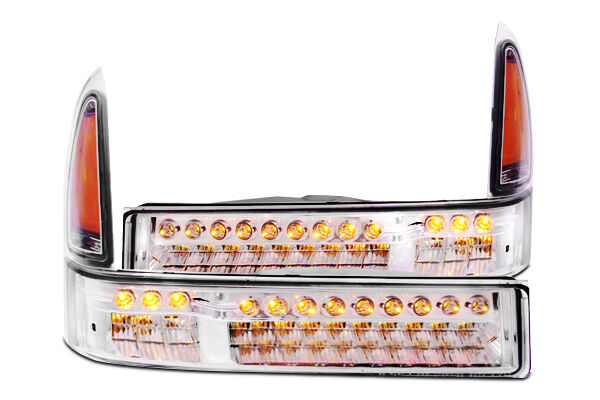 Weatherproof LED lights can make a great vehicle accessory because they can be used on the exterior of the vehicle as well as the interior. There are many types of LED lights available for vehicles and many of them are waterproof. Buyers need to decide on power options, types of lights, compatibility issues such as attachments, and of course, what type of light they need. For example, weatherproof LED lights commonly include fog lights, light strips, and flood lights.
Buyers can look for waterproof LED lights almost anywhere that auto accessories are sold. Shops ranging from car parts stores to online stores like eBay should list these lights, although the latter option most likely has a lot more lights to choose from. The following information is intended to help buyers find weatherproof LED lights for their vehicle.
Weatherproof LED Light Types
There are multiple types of automotive lights including those that serve a functional purpose and those that are decorative. Both are suitable for different uses and should be chosen accordingly. Other considerations include the power options as some lights are powered via batteries and others must be connected to the vehicle's main power supply before being used. LED weatherproof lights are typically sold for outdoor use so these lights focus on lights intended for the exterior of the vehicle.
Functional LED Lights
Functional lights include headlights, fog lights, blinker lights, brake lights, and other lights that are required by law to be on the vehicle. Functional lights also include waterproof LED lights that may be necessary for a specific use such as spotlights for someone who does work outdoors and requires additional light or for someone who frequently drives in the dark. However, spotlights are not usually intended for road driving as they can be too bright for oncoming traffic.
Decorative LED Lights
Decorative lights include any lights that serve no other function than decorative. In some cases spotlights do fall under this category but LED strips, coloured lights, and small lights are much more frequently described as decorative. It is important to check with local regulations before purchasing purely decorative lights because sometimes there are restrictions in which types of lights can be used on the road. However, it is also possible to install decorative lights that do not meet any local restrictions and then simply leave them off while driving on public roads.
LED Light Power Options
There are two types of power options for anyone who is looking to purchase waterproof LED lights. Wireless and wired lights each have their own pros and cons but are usually chosen according to necessity or the availability of extra wires. Buyers can also make the decision based on whether the lights are permanent or intended to be removed after a short time.
Wireless LED Lights
Wireless LED lights are typically intended to be portable and can mostly be easily removed from the vehicle. These lights usually run on a battery and are an excellent solution for placing somewhere that might be hard to run a wire or cable to such as the top of a vehicle or to the back of a trailer or long pick-up bed. However, battery powered lights are more expensive over time due to the cost of batteries and are less reliable than wired options. Batteries might run out of power during use, and lights on wireless batteries do dim over time. In addition, it might be necessary to actually turn wireless lights on from outside of the vehicle rather than from the interior.
Wired LED Lights
Wired weatherproof LED lights are a very common and popular option because while they are more difficult to install, they offer more reliability and control from the interior of the vehicle. Anyone who is not excellent at do-it-yourself type projects should consider having these lights professionally installed. Wired lights can usually be connected to the battery of the vehicle and installed with switches and controls in the cabin as well. However, they can be difficult to place on the roof or anywhere a long way from other wires.
| | | | |
| --- | --- | --- | --- |
| Type of LED Light | Installation | Brightness | Power Source |
| Wired | Difficult | Bright | Car Battery |
| Wireless | Easy | Dim to Bright | External Battery |
Both options are good options; however, it is usually always better to go with wired lights if they are intended to be permanent. Wired lights are easier to control, more reliable, and cost less money over time, although the initial purchase and installation fees are a great deal more expensive upfront. Wireless lights are perfect for temporary lighting solutions where installing lights would be too difficult and costly.
Considering the Vehicle
The vehicle should always be a major consideration for anyone who plans to purchase LED lights. Everything from where the lights are being placed to where the wires in the vehicle are located should be considered. Other factors such as the size and available space for the lights should also be considered. For example, LEDs for use in mirrors must fit inside of the mirror frame without reducing visibility. Waterproof LED lights mounted on the top of the roof must be light enough to be easily supported by the frame, and have some means of connecting to the vehicle's power source.
Frames and Attachments
Different lights have different types of frames and attachments, which are important to consider. Usually, the heavier the light, the bigger its frame should be in order to support it properly. Many smaller and lightweight lights can simply attach to the outside of a vehicle with one or two screws. Larger spotlights and bar lights usually require a metal frame that has been attached to the vehicle at multiple points. Some lights such as LED strips might also attach using glue or clips but this does vary depending on the manufacturer.
Replacing Current Lights
Replacing current lights requires that the new lights be the same size as those already in the vehicle. While the easiest way to do this is to simply replace the bulb inside with an LED bulb, the current lights might not be weatherproof. Buyers can check to see if their current lights are weatherproof and then consider just replacing the bulb as an alternative to replacing everything. Single light bulbs are most likely more affordable, which means that buyers can save money.
Buying Weatherproof LED Lights on eBay
Anyone who wants to purchase weatherproof LED lights can look on eBay to find a variety of options. eBay sellers list everything from new to used lights including decorative and functional models. As a result, you can usually find nearly any type of LED light you are looking for by simply going on eBay and running a quick search.
Read the listing description before making a decision as some lights might not be suitable for your vehicle. Consider the power options, brackets and mounts, the shape and size of the light, the wattage, the lumens produced by the light, and of course the cost. It is also possible to ask the seller about anything not listed in the description in order to ensure that the light is exactly what you are looking for. Comparing multiple options to find the best deal is also a great idea before committing to a purchase on eBay.
Conclusion
Weatherproof LED lights can be a great vehicle accessory but there are considerations for anyone who is purchasing them. In addition to power usage and the brightness of the light, buyers should decide if the lights are intended to be decorative or functional, what size the lights have to be, and whether they should be wired or wireless. Each of these options can be used to help with finding the right weatherproof LED light because it can help buyers to take their time and find a great option.
Buyers can choose to purchase lights from nearly any automotive shop but it is also possible to go on eBay to look for deals on automotive accessories like lights. eBay also has some used lighting options, so the site is great for anyone who would like to save money. Finally, it is always important to consider the installation of the lights and the cost of installation before making a purchase.
Weatherproof LED Light|Waterproof LED Light|Exterior Vehicle Light|Decorative Light|Headlight