A guide for the women who are planning a wedding (on a budget) and dont want to compromise on quality. I am one of the types of brides that were shocked at the cost of everything when planning my wedding in 2006. I got married and I didn't have to sell my soul to the bank to do it.
The average Australian wedding is $40,000 - that is a lot of money - enough to buy a new car, put a deposit on a house or go around the world. And all this expense is for one day of your life.This guide will break down into a few categories - the main things that all the worried and budget conscious bride's need for a wedding.

Shoes
One of my most favourite things in the world are shoes, and when it comes to these you want to be comfortable and still look fabulous. Being in Australia we do not have such a large choice of bridal shoes – Perth has maybe two or three stores and their shoes start at $100 or more. With shoes there is a few size differencescs when buying overseas. The table below shoes Australia sizes, UK and US size comparisons.

Australian Size Europe US& Canada Size UK Size
4 35.5 5.5 3
4.5 36 6 3.5
5 37 6.5 4
5.5 37.5 7 4.5
6 38 7.5 5
6.5 38.5 8 5.5
7 39 8.5 6
7.5 39.5 9 6.5
8 40 9.5 7
8.5 40.5 10 7.5
9 41 10.5 8
9.5 42 11 8.5
10 43 11.5 9
10.5 44 12 9.5
11 44.5 12.5 10
11.5 45 13 10.5
The do's and don'ts are:
* Always check the listing to see what country the shoes are from – then match your size to theirs
* Check the width listed – usually as "W" for wide or "R" for regular. The USA has about 5 different shoes widths and if you are not sure ask the seller.
* Check the postage costs to Australia – sometimes the shoes will be super cheap but the postage not (about $15US is average).
* My bridal shoes are below – absolutely gorgeous - the second pair I bought after the first was a bit tight.
Jewellery
When it comes to a wedding the jewellery you wear can cost heaps – especially from the stores that sell the costume type beaded jewellery – my sister paid $140 for hairclips alone. My jewellery was bought on eBay and cost me less than $50 for all of it – including bridesmaids.
My tips on buying are;
* Always buy from a reputable seller! – Its easy to see something gorgeous and bid without looking at buyer feedback. Feedback is there for a reason and its best to see what others thought of the quality.
*Jewellery doesn't have to cost the earth to be "real" Especially
pearls
– which can be cultured (man made) or freshwater – see
Pearl Buying Guide
* Crystals and cubic zircon can shine as much as diamonds and cost a lot less.
Invites/Paper
Another huge cost is
invites
– for every guest or so you have to have and invite, RSVP card, place card, thank you card.. And the list goes on. I am not crafty at all and I have found that it was simple to make my own gorgeous invites.. As I have shown below – these I got mainly from eBay and saved myself lots.
Tips for buying stationary;
* Check the size of the paper – A4 is standard size
* Check the printer compatibility of paper – does it only print on a laser or inkjet printer
* Check how many sheets you get for the price.
* Try to buy it all from the one brand or type as colour variations occur between similar colours.
* Buy a sample of the paper – to make sure your monitor is not distorting colour – it's very hard to get an accurate look.
* Ribbon is much cheaper in bulk – if you need it buy more than you think – you can always resell the spare.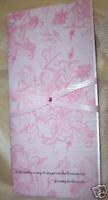 Perfume and lingerie
eBay is the best in the world for cheap
perfumes
– not even duty free can beat it. I have been buying perfume from eBay since I started and my wedding is no different. I have learnt a few tips since starting:
* Check the size of the bottle you are buying – the pictures can be deceiving - miniatures collectable bottles are mainly between 3-10mls (0.1oz -0.33) full sizes are 30 -125mls (1.0oz - 4.2oz)
* Is the item a tester? This may mean there is no box – or cap on the product – if that bothers you.
* Has it been opened? Perfume has a limited shelf life and can go off. Always store away from sunlight...
Lingerie
is another item that is so much cheaper- as long as you are aware of what size you are (get fitted at Myer or David Jones first) Have a look at another sellers guide I found.
What Size Bra
Be aware that lingerie is a personal item and I recommend only buying it new with or new without tags.
American sizes are slightly larger than Australian and their numbers are in inches. An easy guide is;
AU Size US Size
10 32
12 34
14 36
16 38
18 40
20 42
I have bought much of my honeymoon lingerie on eBay and I recommend
Shirley of Hollywood
and
Legs Avenue
as two good brands to look at – both are very good quality.
Accessories & Miscellaneous wedding things
I have also found that buying things that are unusual outside of the wedding field is cheaper and easier on eBay. For example I bought my
cake knife
for $5 AU and tied some ribbon to it - instead of paying between $20 and $50 at the specialty wedding stores – also its brand new and great quality.
Another little purchase was a dressing gown – now it's not something exclusive to weddings but as a bride you will realize that most of your getting ready on the big day is before the dress goes on. After paying to have your hair and makeup done you don't want to ruin it by pulling your shirt over your head – hence a big front opening fluffy gown. Most in shops are about $100 – I bought one from eBay for $55 and it was brand new - still packed.
Canning Vale
is the best brand – they supply at the 4 & 5 star hotels - so it's the same as the one you get there. Very fluffy..
I hope this guide has been a help – I have also found much more that is wedding related on eBay that will help save money such as
ring pillows
,
cake toppers
,
cake stands
,
garters
,
chair covers
,
tiaras
,
veils
and even
wedding dresses
.