For well over a century, people of all ages have delighted in wearing their favourite piece of Wedgwood jasperware jewellery. Because these items enjoy increasing popularity there has been a steady demand for new as well as classical designs. Among the favourites are the scenes from Greek and Roman mythology which are timeless and as a result, the same motifs have been reintroduced into the market decades later. It is worth remembering that these lovely pieces owe their appearance to the most famous Roman 'Portland Vase 'which inspired Josiah Wedgwood in the 18th Century to create his original jasper stoneware.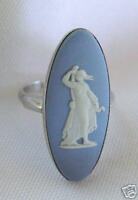 Fortunately for us, because Wedgwood jewellery is made to such a high standard of craftsmanship, the older pieces that have survived are now eagerly sought by collectors. With jasperware, each cameo on every item was hand assembled then kiln fired to fix the white relief motif to the jasper base in order to give each piece that unique unglazed Wedgwood look.
These cameo lozengers were then displayed in elegant settings of precious gold and silver, and sometimes alloyed in combination with various other metals selected for their aesthetic appeal and durability. Roughly from 1940's onwards most pieces carry a maker's mark, eg. JW (Josiah Wedgwood) or FAW together with a full set of British hallmarks which makes dating within that period a relatively easy task. Earlier items were often marked with 'W' either with or without an arrow, others are stamped 'Rainbow sterling'. Some have 'sterling silver' stamped on the setting in an upright position. Later, when the design was reissued, these same words were inverted. In the 19th century and early 20th century older pieces often have a block letter indicating the year of manufacture together with Wedgwood impressed into the back of the jasper lozenger.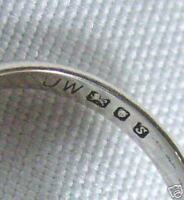 Many people prefer to leave the aged patina in place however, if you feel you need to clean your Wedgwood jewellery, be guided by the manufacturers instructions or refer your item to a jeweller. Remember harsh chemicals and detergents will damage your jewellery.
When choosing Wedgwood jasperware jewellery look for pieces that are authentic (The jasperware appears the same colour on the front as well as the back of the setting), the inside lozenger is impressed with the Wedgwood stamp and watch for evidence of flimsy pealing of colours caused by dipping. Make sure that the item in good condition without chips or cracks and double check to see if the setting is in need of repair.