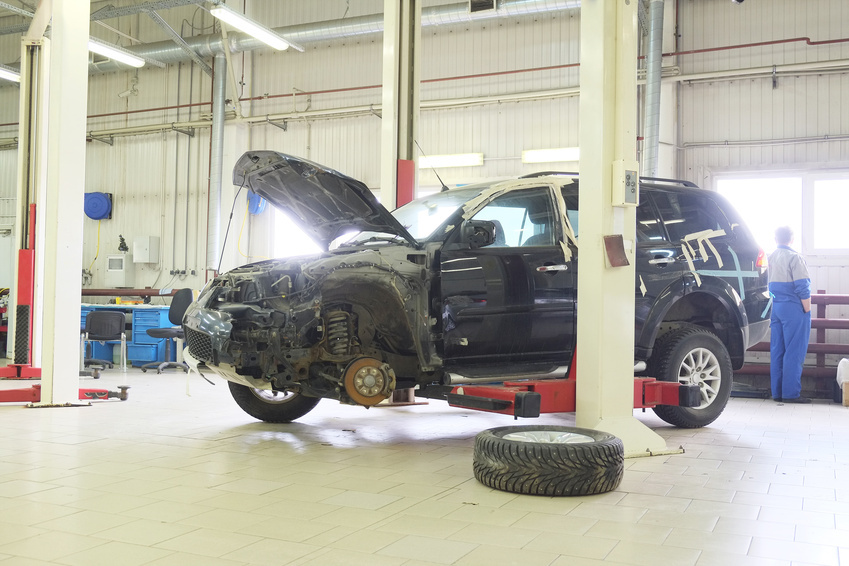 Hydraulic brakes, which are also called disc brakes, have advantages over traditional drum brakes and air brakes. Hydraulic brakes are more effective in stopping a vehicle than drum brakes, and hydraulics offer better economy of space and cost compared to air brakes.
Hydraulic brakes have been installed on most car models since the 1930s, with combination systems added to cars in the mid-1960s. Combination systems combine hydraulic brakes with drum brakes to offer back-up braking support in case the hydraulic system fails, though modern drums are also part of the hydraulic brake system. Many modern cars feature only hydraulic disc brakes because they have proven to be more effective in safety testing.
Hydraulic Brakes Versus Drum Brakes
Hydraulic disc brakes distribute heat more evenly and dissipate heat more thoroughly than drum brakes, which means that hydraulic brakes last longer. This is known as resistance to fading, and it is due to brake fluid that resists compression and heat in a hydraulic system. The result is increased safety in vehicles with hydraulic disc braking systems.
Hydraulic brake systems are also one of a vehicle's easier systems to repair, with readily available disc brake parts for these closed systems. Hydraulic brakes are considered closed systems because, when functioning properly, everything is sealed and they do not lose fluid. Hydraulic brakes only leak when the brake system is damaged.
Hydraulic Brakes Versus Air Brakes
Size and cost are the big differences between air brake systems and hydraulic brake systems. Air brakes are typically found on semi trucks, buses, and large service vehicles. An air brake system requires a large, bulky compressor to be built into the vehicle. Hydraulic braking systems, on the other hand, take up less space.
In addition to being smaller, hydraulic brake systems are less expensive to maintain than air brake systems. The main costs in a hydraulic brake system include a master cylinder, hydraulic brake lines and the brakes themselves, which include calipers, pads, and rotors. On occasion, the brake pedal or actuating rod can break, but that is a rarity.
Common Hydraulic Brake Problems
Leaks. Drivers should check the brake fluid level frequently to make sure the system does not have a leak. Signs of leaking brake fluid are commonly seen around the master cylinder, the lines or in a vehicle's wheel well.
Worn pads and rotors. Squeaking or grinding noises when the brake pedal is pressed are signs of worn pads and rotors. Also, if the brakes feel as if they are catching and releasing randomly when pressing the brake pedal it can be a sign of worn pads and damaged rotors.
Air or dirt in the hydraulic system. If it feels soft when pressing the brake pedal, as if the vehicle is going to stop slowly or not at all, it can be a sign of air or dirt in the brake system.
Race car drivers and sports enthusiasts can find anything from brake parts to racing memorabilia with a bit of browsing, and everyday drivers can easily test out a vehicle's brake system and make minor repairs at home if a certified mechanic is not available to repair a vehicle's hydraulic brakes.