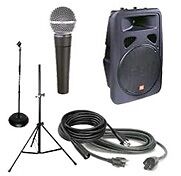 One of the most common misconceptions about the audio industry is that PA
stands
for Pro Audio, but in fact it stands for Public Address. The original idea, of course, was that a Public Address, or PA system was needed for a orator to be loud enough to address the public.
With time the term "PA system" has evolved to usually stand for a pair of two-way speakers and the amplifiers used to power them. Technically, however, a PA system comprises all other components including
microphones
, cables and a mixer.
Additionally, the specific term "PA Speaker" has come to define a speaker that has an amplifier built in to it. These have become popular as part of mobile PA systems you can hold in one hand.